STUDENT
ART PRIZE
2020/21
HEROISM

Welcome to the Student Art Prize 2020/21 online exhibition!
This exhibition showcases the 26 shortlisted artworks created by Durham University students as part of this year's Student Art Prize. The theme chosen for 2020/21 was 'heroism', a subject intended to encourage a wide range of creative interpretations.
The artworks were selected from over 85 entries by a panel made up of representatives from University Student Wellbeing and University Colleges, UK-based contemporary artists and current University Artists-in-Residence, Sofia Barton and Lady Kitt, and regional arts organisation, East Durham Creates.
The prize fund this year has again been generously supported by alumnus Richard Roberts and offers £1500 for first place, £1000 for second and £500 for third.
The final prize-winners were announced on 23rd June 2020. The final prize winners were voted for by a judging panel made up of:
-Caroline Silver, V&A trustee
-Emma Dean, Curator, BALTIC
-Tim Gustard, artist
-Saskia Wootton-Cane, Student and art president for St Cuthbert's college art society
-Professor Simon Forrest, Principal of College of St Hild and St Bede in the Department of Sociology, Durham University
-Richard Roberts, Durham University alumnus, founding partner and sponsor of the Art Prize


Go to the People's Vote and Prize Winners section of the exhibition to find out the results.
Heroism
NOUN: the state or quality of being a hero.
Scroll down to view the artworks, read the artist's own words and explore our four exhibition themes - history and heroism; alternative heroism; people in heroism and community heroism.
Disclaimer: All artworks and captions displayed as part of the Student Art Prize online exhibition are the unique works and opinions of the individual artist and not the views of the wider University.

The images, artworks, films and materials on this site are the property of the artists or the property of Durham University and are subject to copyright.
History and HEROISM
Heroism, in a historical context, leads to visions of ancient heroes, myths and legends from around the world. Individuals from history who truly show us what heroism can be. Durham University cares for many of these stories.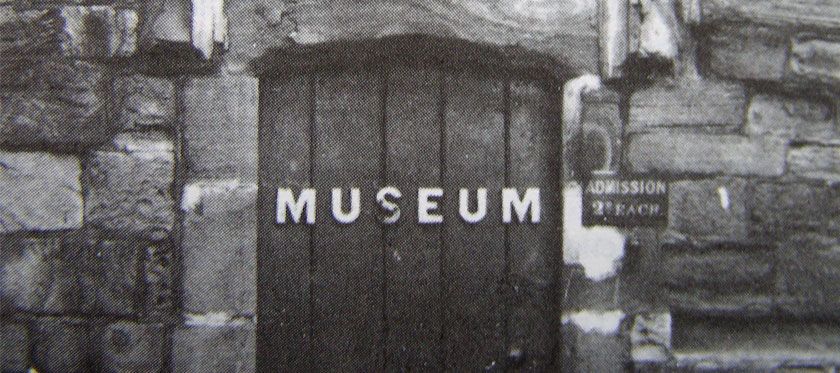 Watch Durham University's Curators investigate heroism and explore objects from the University Collection. Join Gemma Lewis, Museum of Archaeology Curator, as she explores Ancient Greek heroes.
Emma Newnham (First Place Winner)
Charlotte Perkins Gilman with Gold Wallpaper, 2021
Acrylic on paper
'Charlotte Perkins Gilman was an American feminist, activist, author and theorist. Gilman's story The Yellow Wallpaper is an account of a young woman imprisoned in her bedroom and banned from writing, working, and socialising. This was the so-called 'rest cure' that Gilman herself experienced as treatment for postpartum depression. The bravery to transform her own suffering at the hands of a vicious patriarchy into works that motivate societal change is what makes her heroism unmistakable. The oppressive yellow wallpaper of the story is replaced here with brilliant gold. A lotus motif symbolises regeneration and enlightenment; the flower growing up from the stagnant mud to emerge into the sun.'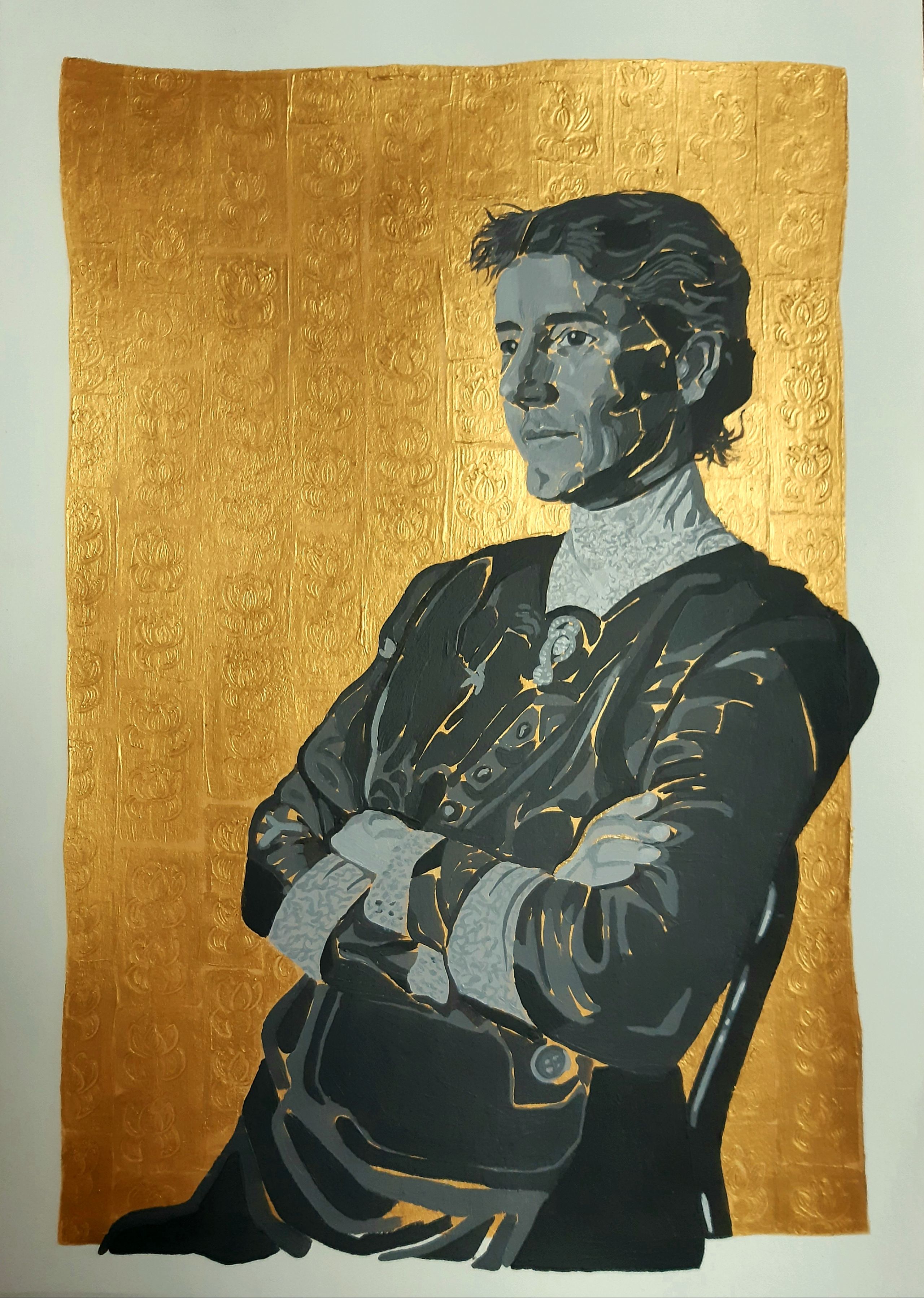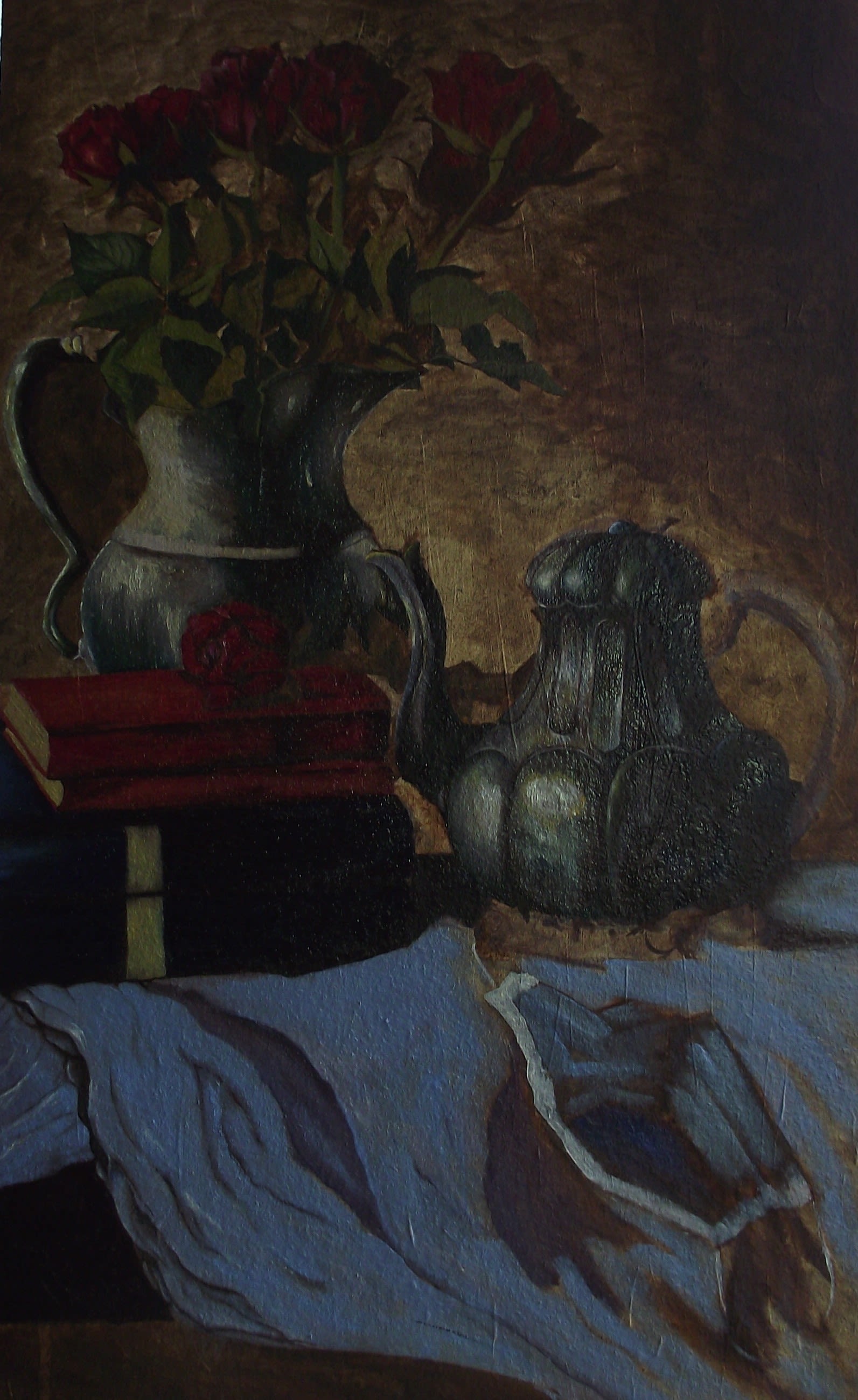 Eleanor Booty
End Table, 2021
Oil on board
'We usually shroud our heroes in myth and legend. However, due to the pandemic, we have seen displays of heroism in NHS staff, keyworkers, and volunteers throughout our communities. I chose to exhibit this real world heroism through a piece of furniture; the mundane end table. An often forgotten about piece of furniture signifies the liminality of the inside and the outdoors - particularly pertinent during lockdown. A place to put your keys, or more recently a facemask. I chose to portray it in a dated way, reminding us of past where we were not so lucky to have vaccines or a national healthcare system.'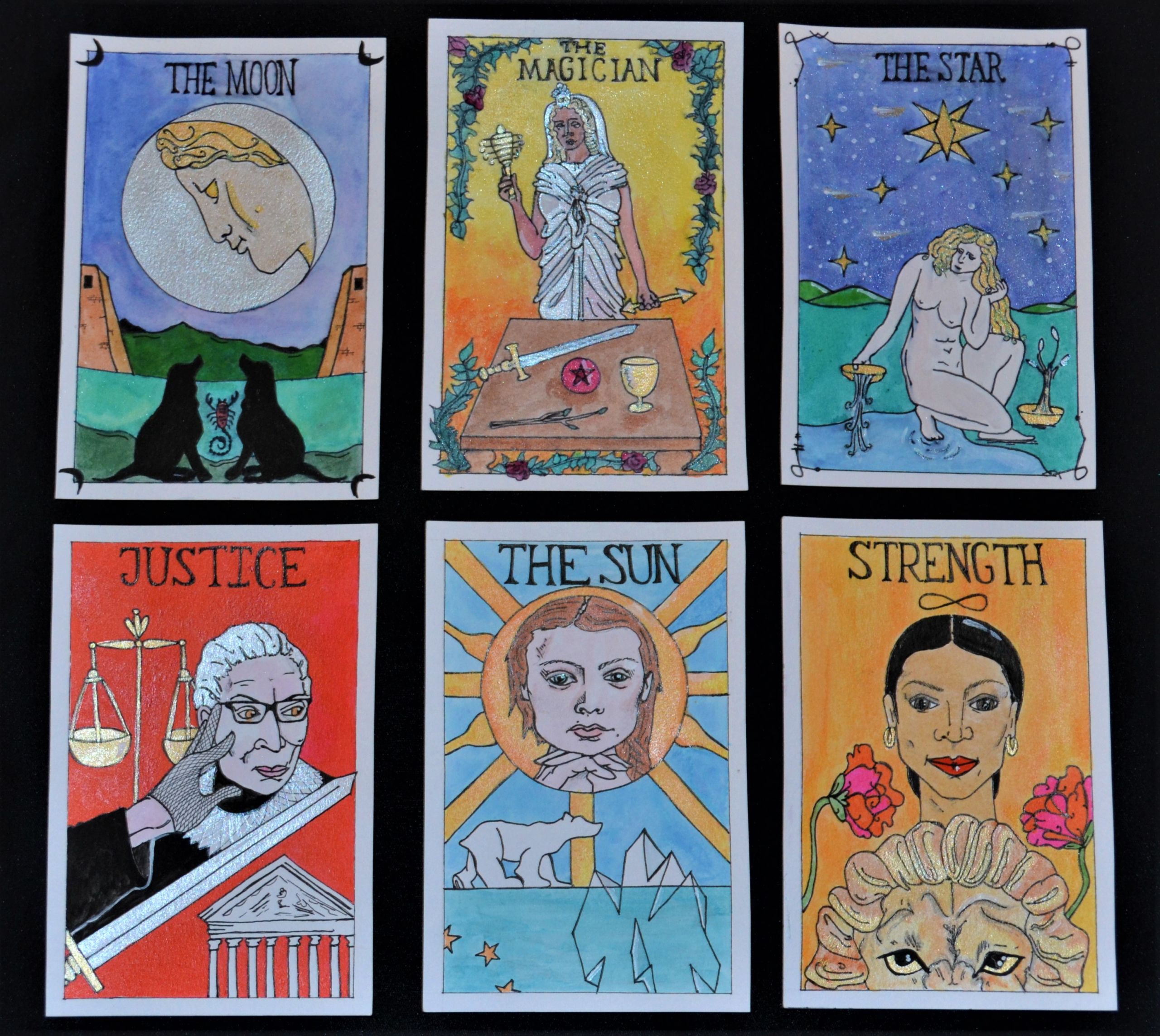 Rachel Roberts
The Heroic Tarot, 2021
Acrylic ink and pen on paper

'Heroism is inherent in many people, but has often been overlooked in women. This work explores the multi-faceted nature of female heroism. One aspect of this piece re-positions Greek goddesses as heroes. They achieve heroism through expressions of their physical power (Aphrodite - The Star), through duty (Selene - The Moon), or through the protection of others or of motherhood (Isis - The Magician). These mythical heroines are juxtaposed against my own modern heroes, who represent Strength (Alexandria Ocasio-Cortez), Justice (Ruth Bader Ginsburg), and hope for the future (Greta Thunberg - The Sun). Women have, and always will be, heroes.'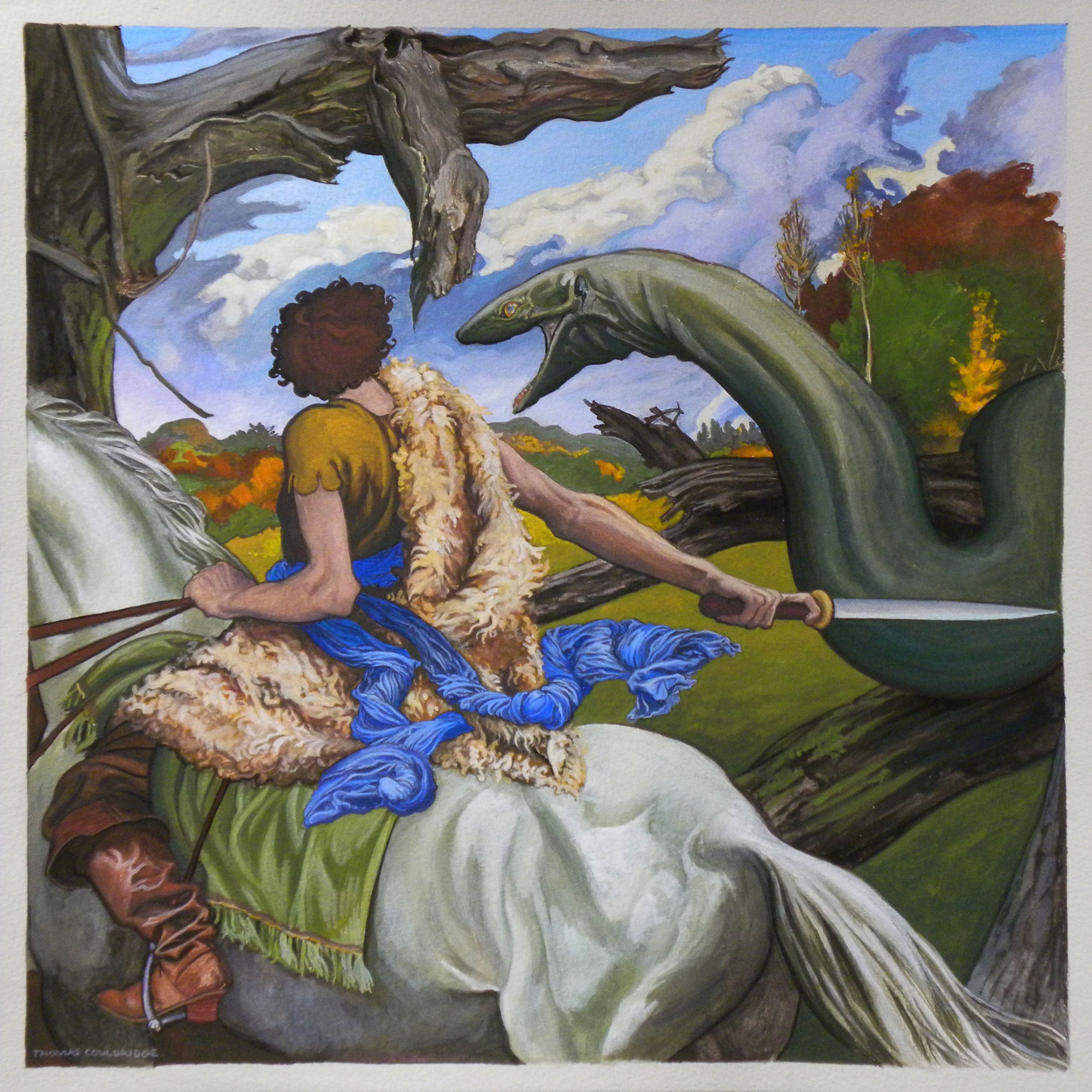 Thomas Couldridge
The Lambton Worm, 2021
Gouache on paper
'County Durham is particularly associated with 'worm' legends such as the Sockburn and the Lambton Worm, in which serpents, traditionally symbolic of poison and plague, ravage the countryside and its inhabitants, and must be defeated through acts of heroism. John Lambton is our hero, though in victory he falls victim to a curse that will cause tragedy for his own family for generations to come. The worm aside, all my studies have been drawn from Durham, especially Flass Vale Nature Reserve. Legends such as this need not be taken literally, and can be understood as representing indirectly more mundane realities.'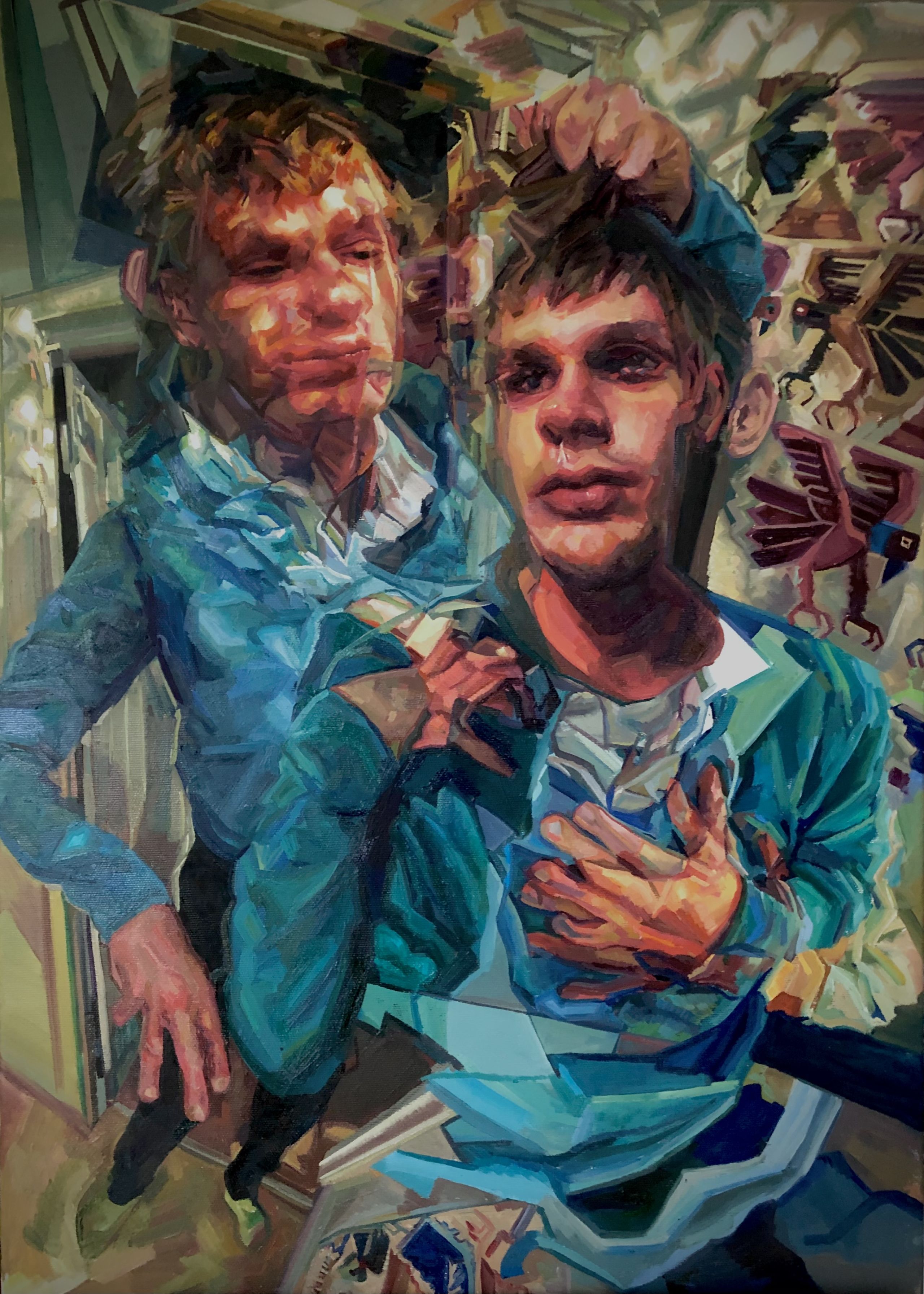 Aelfred Hillman (Joint Third Place Winner)
Self-Portrait as Judith and Holofernes, 2021
Oil on Canvas
'As standards of heroism are socially imposed, often retrospectively awarded to indicate collectively lauded morality, casting the self in such terms of higher nobility becomes problematic. At a time when self-responsibility is poised in opposition to the 'heroism' of key-workers, I have sought to create a dialogue around personal distinctions of duty and liability, contrasting the trenchant identifiers of heroic performance with the gradation of personal values. The 'Judith' narrative is innately socially conditioned, but by casting both subjects as self-signifiers I have sought to internalise such social mores, challenging viewers to consider the problematic condition of heroism as ideological necessity.'
Jasmine Cash
Fall of Icarus, 2021
Mixed media sculpture
'From the start, I was interested in creating a piece of artwork inspired by heroism as depicted in literature and mythology. However, rather than the indomitable hero, I was most interested in the tragic hero, and the idea of heroism when it goes wrong.
This led me to consider tragic figures in classical mythology, such as Orpheus and Eurydice, Narcissus and Echo, and Daedalus and Icarus.
I settled on Icarus because of the tragic and beautiful visual potential of his flight and fall; captured in sculpture he is suspended for eternity at the climax of his tragedy.'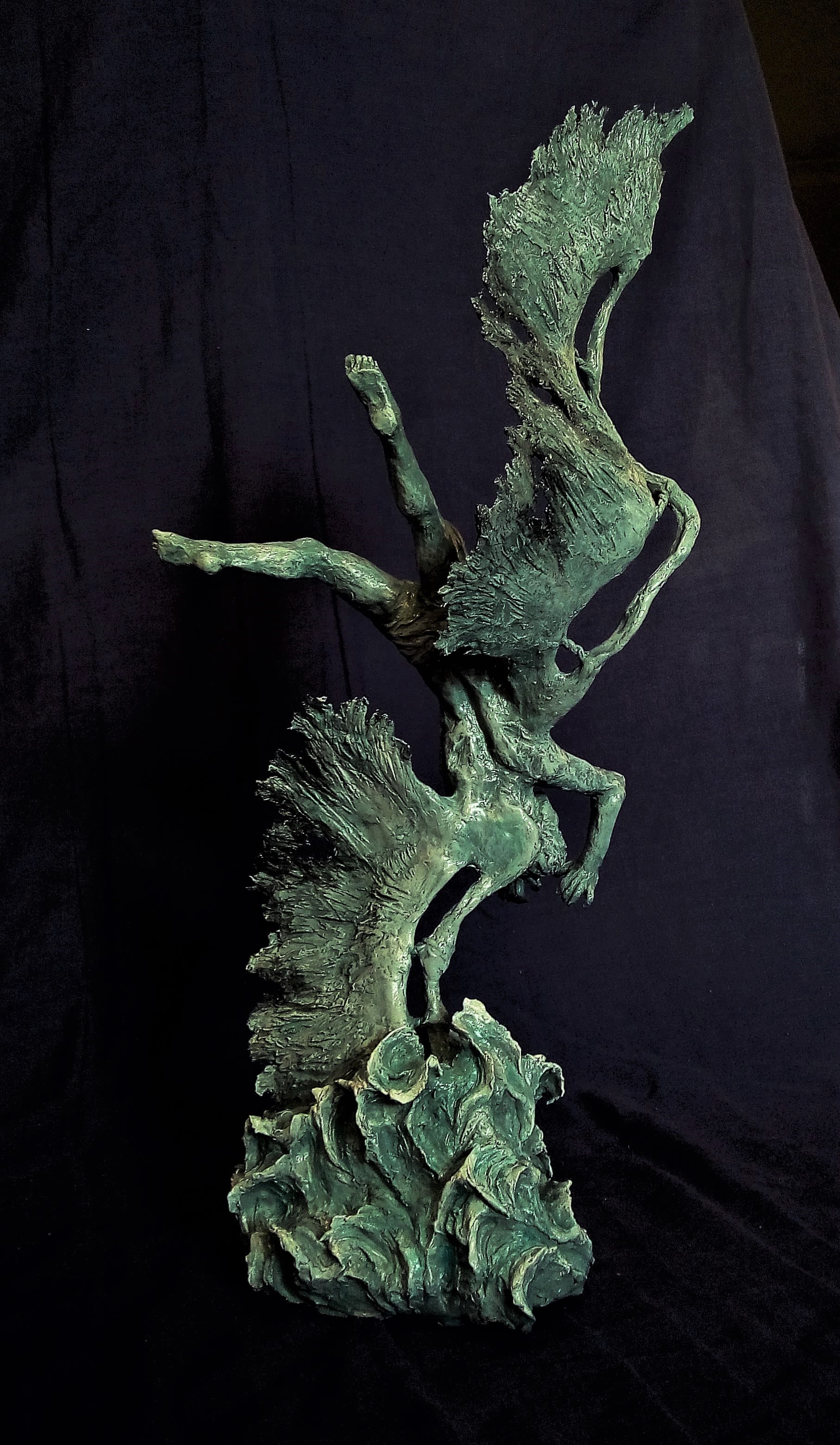 Alternative heroism
Alternative Heroism can been seen in the presence of individual voices, presented in acts of activism, protest and going against the grain.
Find out more about Durham University's Art Collection and listen to our Heroism Podcast Playlist made by our Students.
To further explore our theme, Turner Prize winning artist Jeremy Deller chatted to Durham University Contemporary Art Curator, Alix Collingwood-Swinburn as part of the Art Prize Art School.
Covering opportunities for collaboration, new interpretations of heroism and suggestions as to how to approach the theme, Deller offers a unique insight for anyone interested in how to approach an artistic brief.
Grace Marshall, Ludo de Falbe and Ishaan Shukla
Meatgun Died for Our Sins, 2021
Installation (Meat, nails, canvas board)
'Our approach to this installation piece was informed by Pop art themes and artists such as Andy Warhol, Damien Hirst, Marc Quinn and writers/video-artists Adam Curtis, Ebbe Roe Smith and Chris Burden. The elements of 'Meatgun' are meat, canvas, and nails; 696 nails driven into canvas form the base for a handgun made from beef steak, pork belly, and pig liver.
Tired of conventional models of 'heroism', we seek to highlight its anachronisms by choosing an object rather than an individual, an instrument of violence rather than one of creation, and something hyper-masculine rather than something universal. Simultaneously, we seek to redress the word's modern uses. By invoking imagery of Christian martyrdom (nails/flesh), and that of mechanic, non-autonomous action (handgun), we suggest another reality of 'heroism': financial imposition of 'heroic' behaviour and the commodification of sacrifice. Finally, immersive lighting and sound replicates the way that pressures of a consumerist, individualist existence distract from these truths and inform our complicity.'
Descriptive Text: Metal nails in a white canvas board support a sculpture of a gun made of meat. Shadows, caused by bright disco lights, are cast by the nails.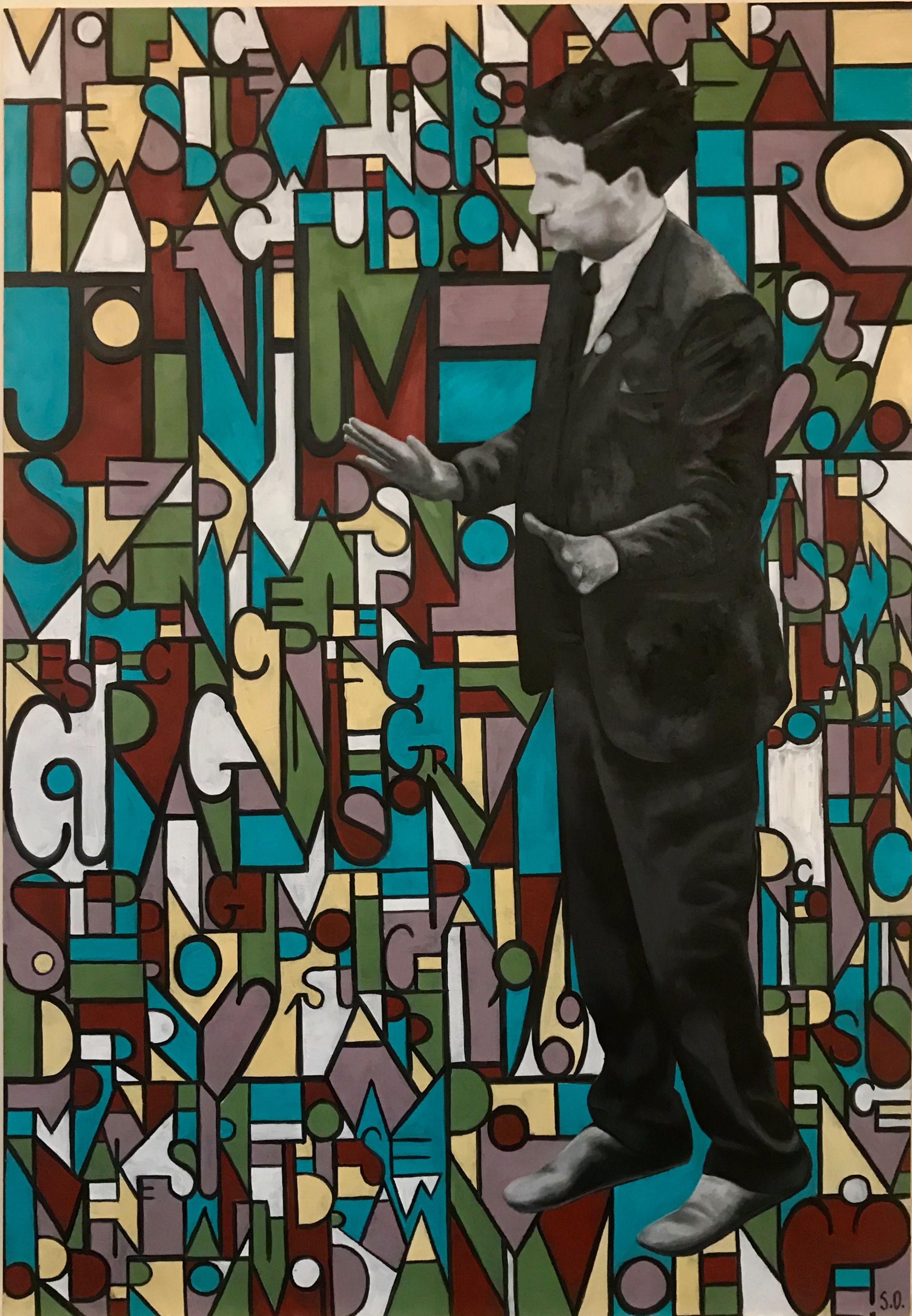 Shoun Obana (Highly Commended and People's Vote Winner)
John Hume, Derry, 21st April 1969, 2021
Oil on wood
'The inspiration for this piece began with a photograph of Hume, taken on the streets of Derry on 21st April 1969. Police can be seen moving in to break up a group of demonstrators while Hume is seen stepping into their path. It is my hope that the text, along with the removal of some of the photo's context, might shine light on the human side to Hume's extraordinary actions and speak to the idea that not all heroes wear capes.
In highlighting Hume's humanity, I aim to inspire the viewer to be courageous, show leadership and advocate peace, the things that make us think of Hume as a hero. The aesthetic was inspired by the modern stained glass at Durham Cathedral. This association felt essential in setting the reverend yet celebratory tone of my homage to Hume and resonates with the religious and community themes which served as a backdrop to his heroic work as a civil rights leader.'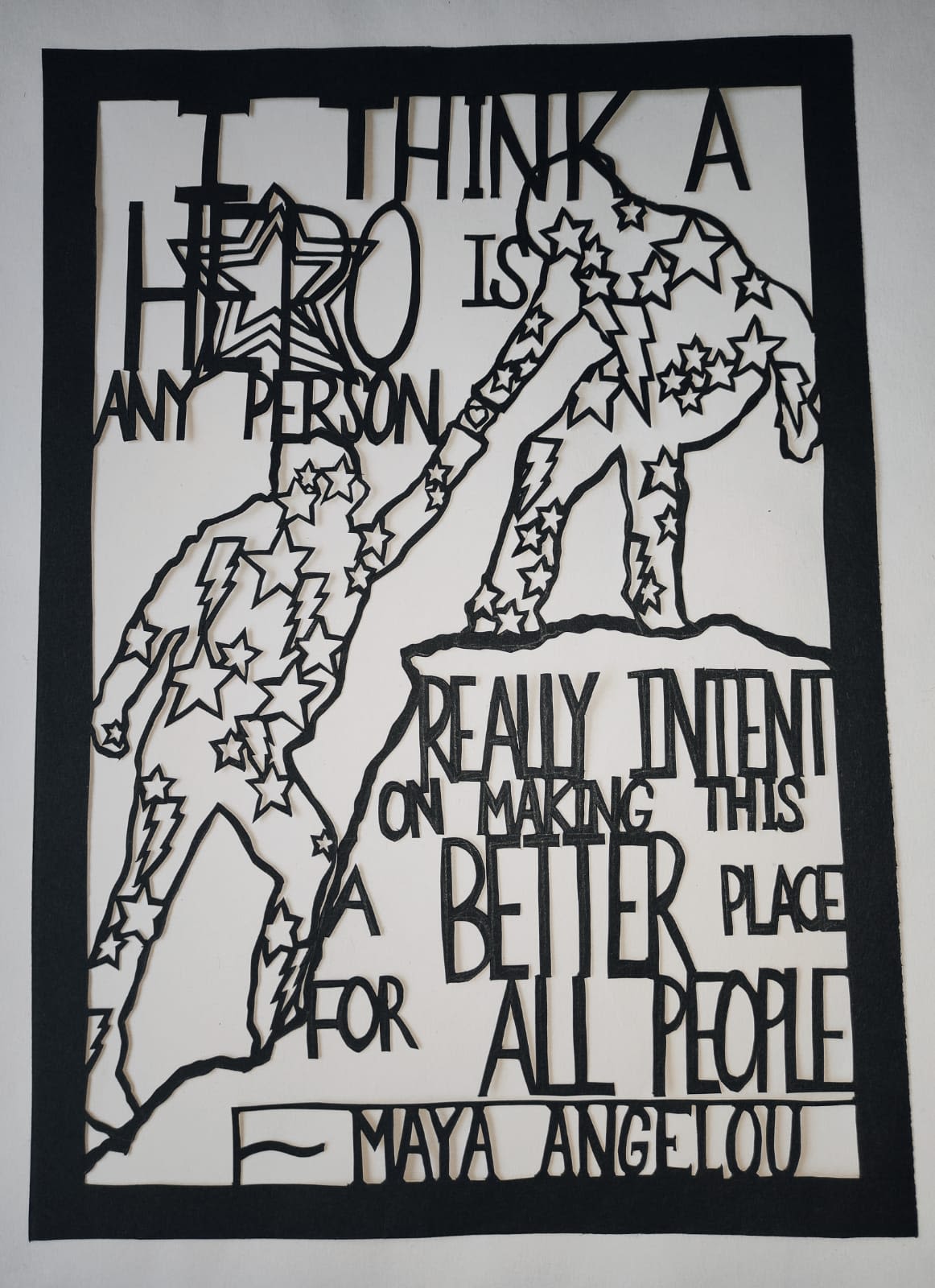 Nicole Wu
A Hero Is Any Person, 2021
Papercut on black paper
'I think every human has the capacity to display heroism, however for the ordinary person, this isn't through huge feats of bravery. It can be heroic to help one individual. It can be heroic to know when to ask for help in times of need. Both figures are depicted equally with heroic symbols of stars and lightening. I used abstract figures to acknowledge the current situation and symbolise the lack of physical human contact which often make us feel unable to help. It's a reminder that little things make a difference, and we can get through this together.'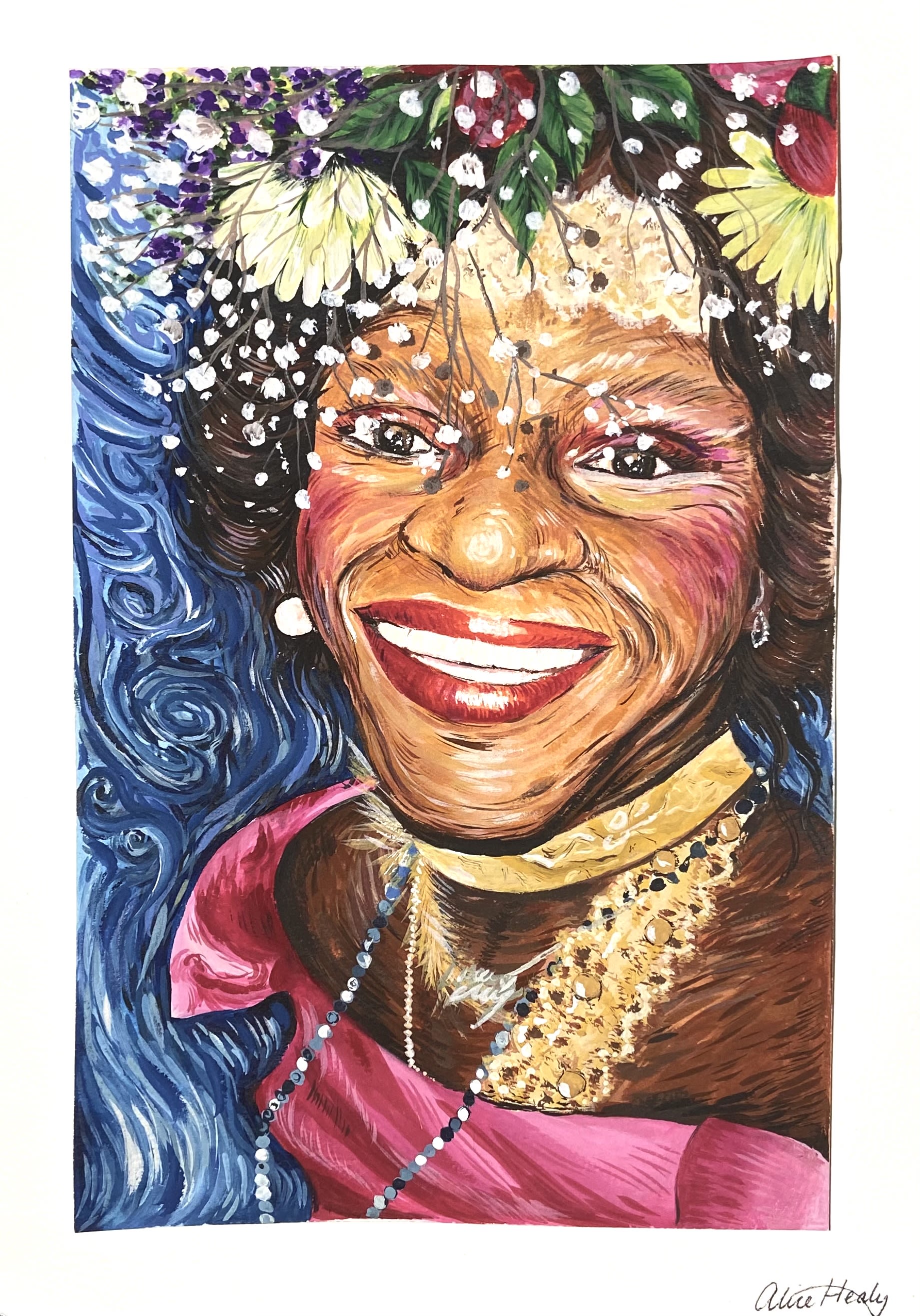 Alice Healy
Pay It No Mind, 2020
Gouache on Watercolour Paper
'Marsha P. Johnson embodies the theme of heroism on multiple levels. As both an LGBTQ+ activist and drag artist, Johnson championed the unapologetic expression of individual beauty and selfhood, within a socio-political climate dedicated to suppressing it. Standing against police brutality, leading a series of protests, and co-founding an organisation which supported gay and trans individuals who faced homelessness are just a few of Johnson's actions which display a heroic, dedicated, and ultimately compassionate legacy. This painting hopes to capture an aspect of the joy, beauty and strength which made Marsha P. Johnson a true hero.'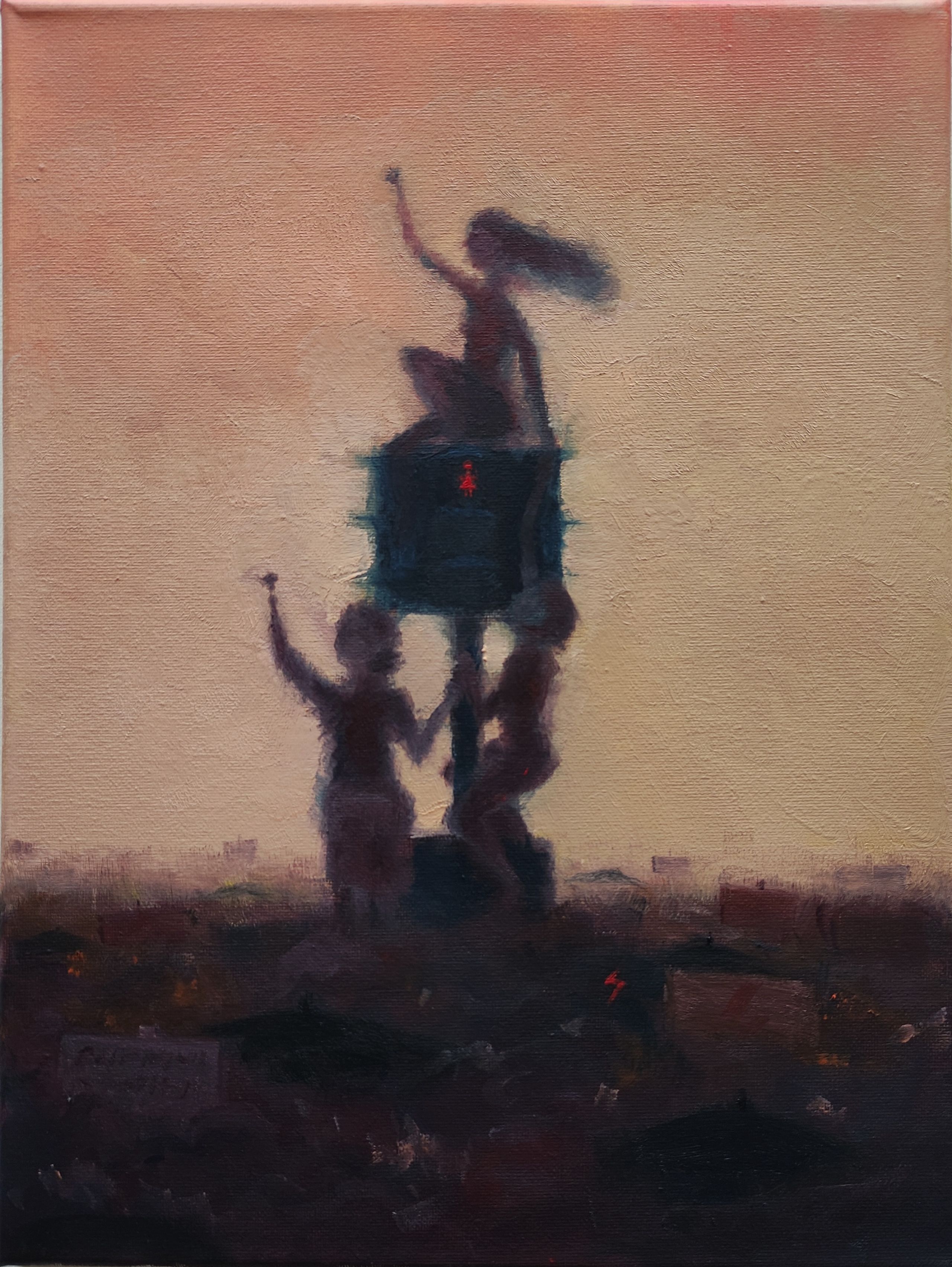 Emilia Zeslawska
You Will Never Walk Alone, 2021
Oil painting on canvas
'The subject of this painting is a feminist protest. It is inspired by the recent protests taking place in Poland in defence of women's reproductive rights, particularly as a reaction to the recent abortion ban. My artwork represents the heroism of people who take action in the face of injustice. It is a tribute to the courage and persistence of feminist protesters in my home country and the rest of the world, who risk their personal comfort and safety in order to secure a better future for their community. Not all of the protesters are affected by the changing laws, some might get injured or arrested, and almost none will be recognised for their perseverance, but they decide to fight back regardless. This, in my opinion, is a sign of heroic spirit.'
People in Heroism
How can we dissect and radically redefine what it means to be heroic?
To explore PEOPLE IN HEROISM, creative collective Eden Szymura and Emily Walters (also known as MEDUSA) have explored the unlikely icons that inspire them and challenge you to find an unlikely icon of your own.
In their resources, MEDUSA examine the importance of unpicking and reshaping preconceived ideas within artistic practice and provide you with a springboard from which to critically examine society's representation of your chosen icon.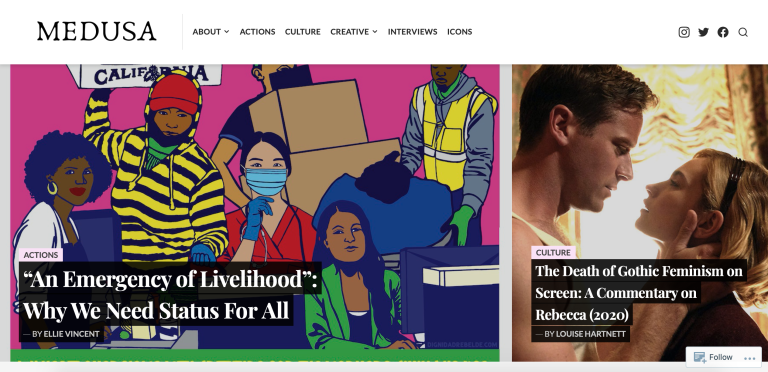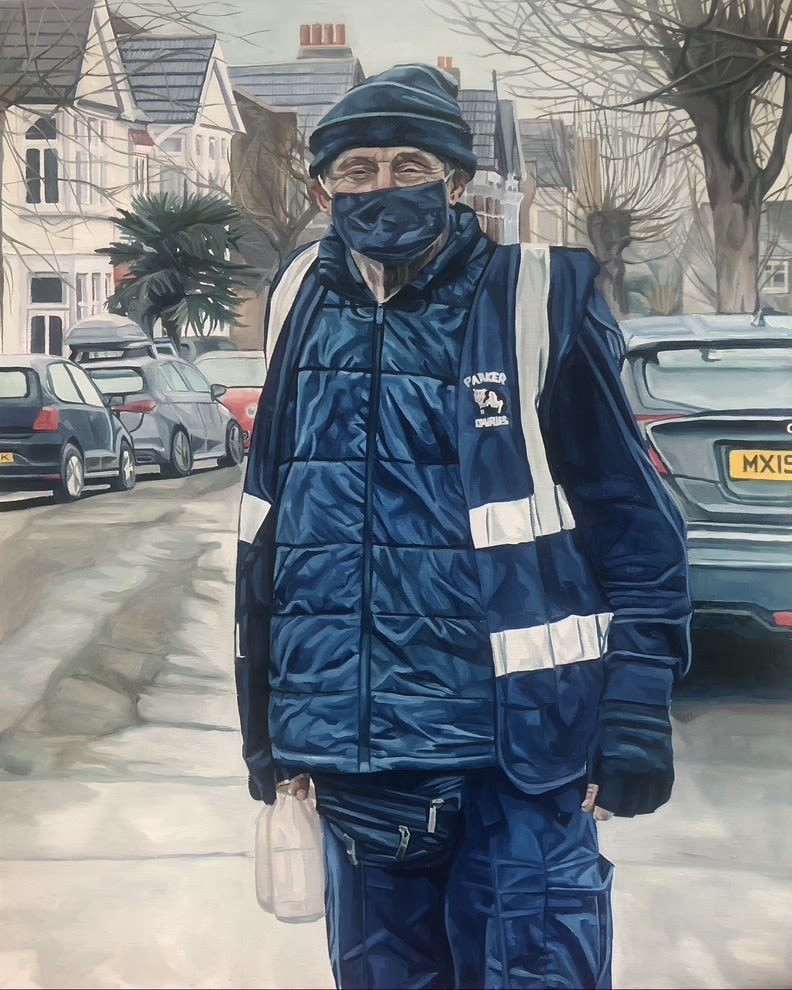 Ellen Fasham (Joint Third Place Winner)
Milkman Steve, 2021
Oil on Canvas
'This painting explores the relationship between individualistic heroism and the heroism of a community itself. After thirty-six years of delivering milk, Milkman Steve is regarded as a hero in the community. He views his customers 'more like family' and has saved two lives during his rounds. During the pandemic, he took on a longer working day and offered the only point of contact for those shielding. While the pandemic has tested the strength of society, it's ultimately highlighted the symbiotic nature of our communities. This painting celebrates not only the quiet heroes of society, but also the value of community itself.'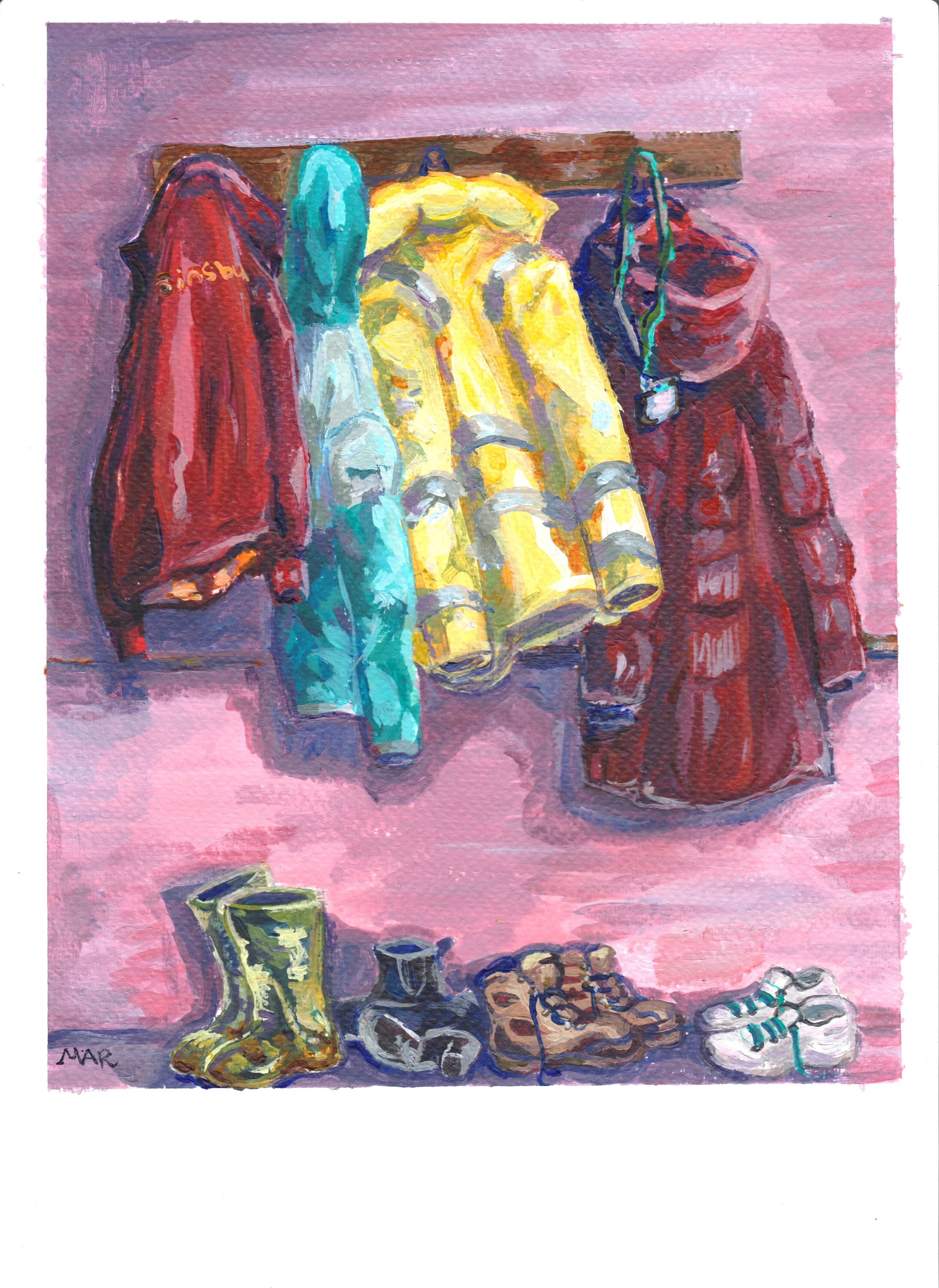 Madeleine Ramsey
Off the Clock, 2021
Acrylic on paper
'The artwork depicts a domestic snapshot, a hallway of a hypothetical house shared by key workers. The edge is deliberately left blank to evoke the feeling of a snapshot, like viewing a polaroid. The focus of the work is a coat rack displaying uniforms which are intended to be representations of different keyworkers. These are retail workers (Sainsburys uniform), delivery drivers (Deliveroo uniform), infrastructure personnel, farmers etc. (High vis jacket) and teachers (Coat and lanyard), with a jumble of shoes underneath.
While there are many worthy candidates for the accolade of "Hero", This last year has highlighted the many shapes and sizes a hero can take. While a lot has been (rightly) said about the traditional heroism of NHS workers, less has been said about the quiet heroism of everyday people who keep the country running. I wanted to depict that everyday heroism and keep the domesticity and banality of it. Very much the sentiment of "Not all heroes wear capes" was central to the idea. Every hero has a costume, sometimes it is a cape, sometimes it is a high-vis!'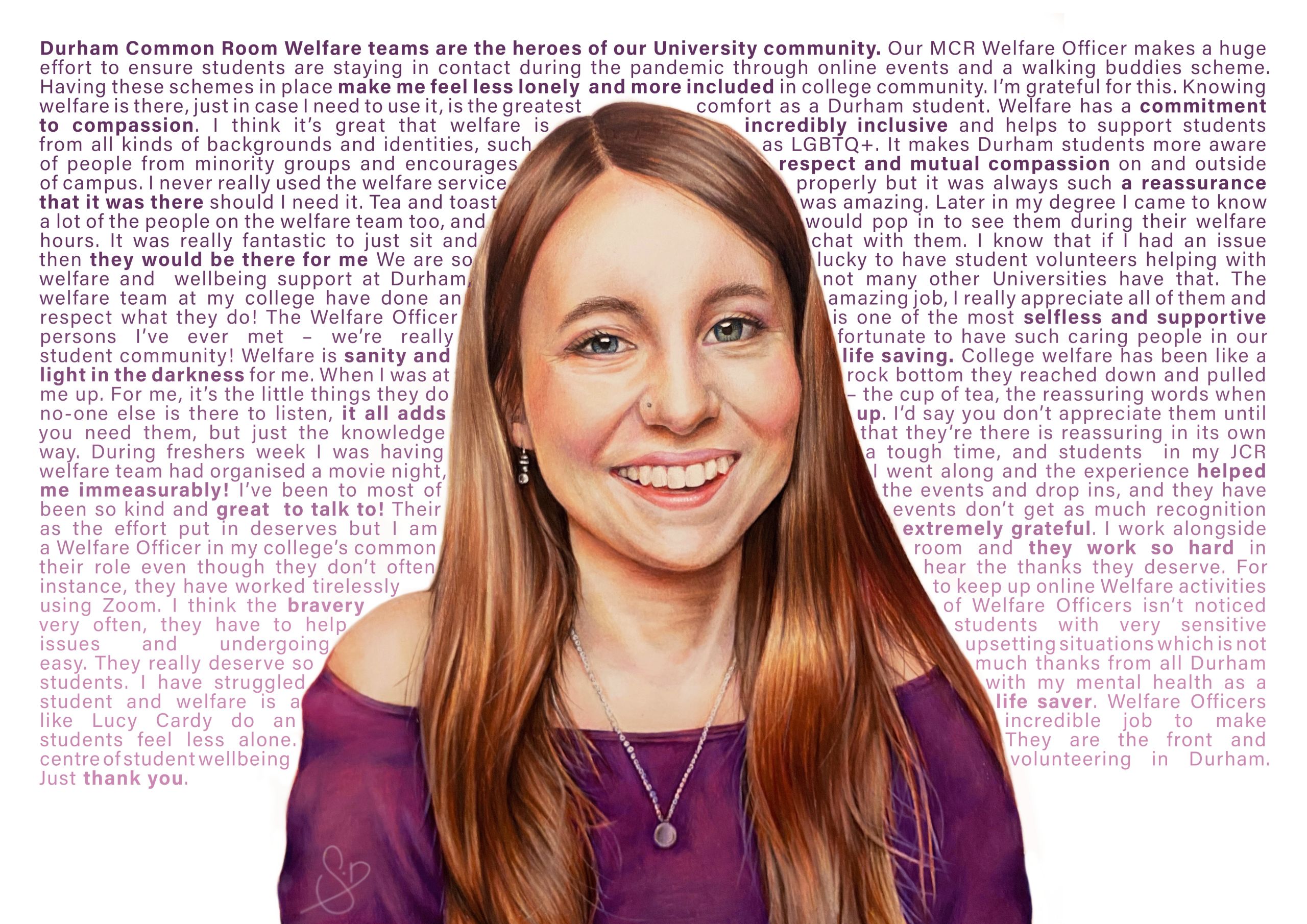 Sophie Draper
Words for Welfare, 2021
Coloured pencil and markers on paper. Text added using Adobe InDesign.

'In the last year, it has been inspiring to see the work of Lucy Cardy, a JCR Welfare Officer. Lucy has worked selflessly and tirelessly to ensure no students in her common room have felt isolated, particularly during the pandemic. She has done this with compassion, professionalism, and moral integrity with no expectation of thanks or praise. This is what modern heroism is. People like Lucy make a genuine impact in our Durham student community. It's time that we give words of gratitude to those involved in Common Room Welfare who make our university experiences happier and more inclusive.'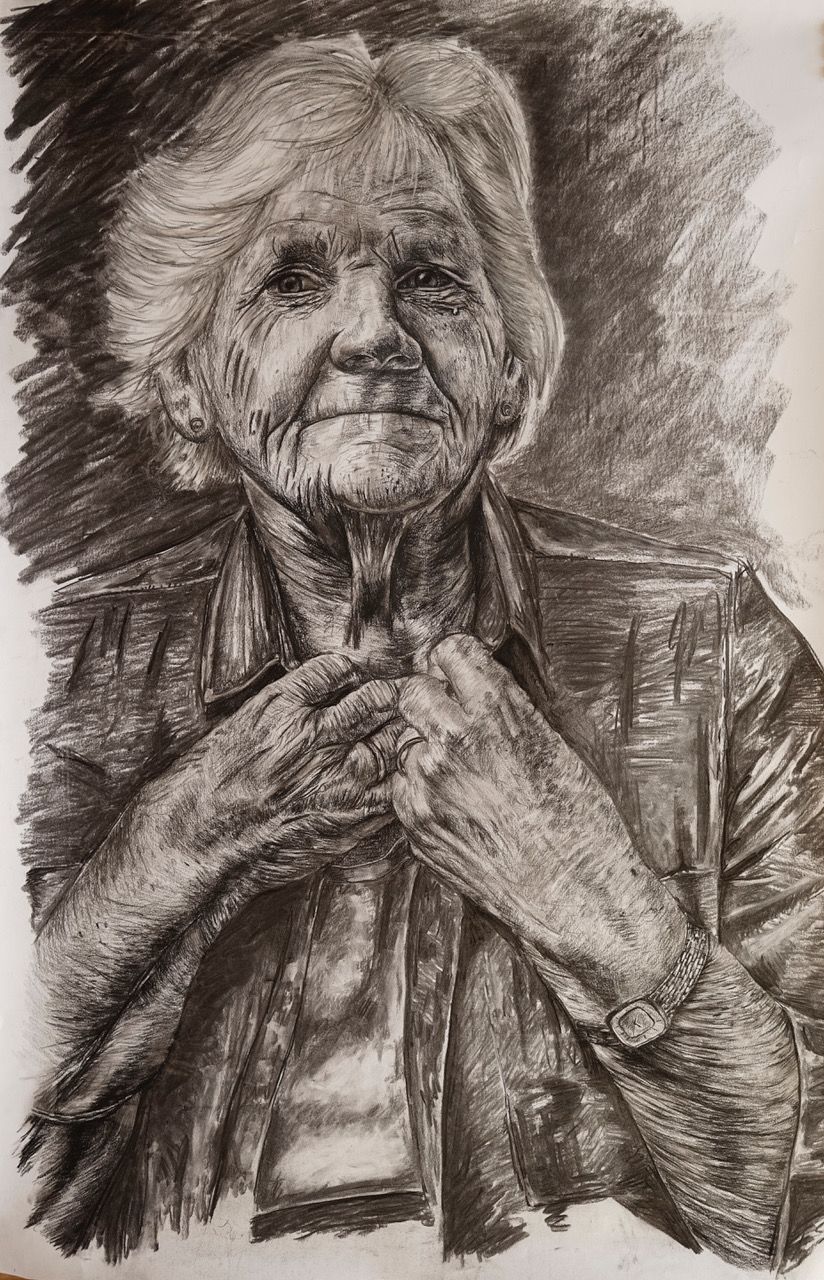 Lucy Adams
Grandma Alan, 2020
Charcoal
'The sitter is my grandma, whom I felt deserved to be acknowledged as a hero due to her drive and determination when faced with the trials of life. Things haven't been easy, and Covid-19 hasn't helped. But through it all, she has been there for her friends and family, constantly contributing to their lives in ways to make them just a little brighter. This piece stands as appreciation of all she does for everyone in her life, which certainly makes her a hero in my eyes. The title replicates the name I called her when I was younger, displaying fondness and sentimentality.'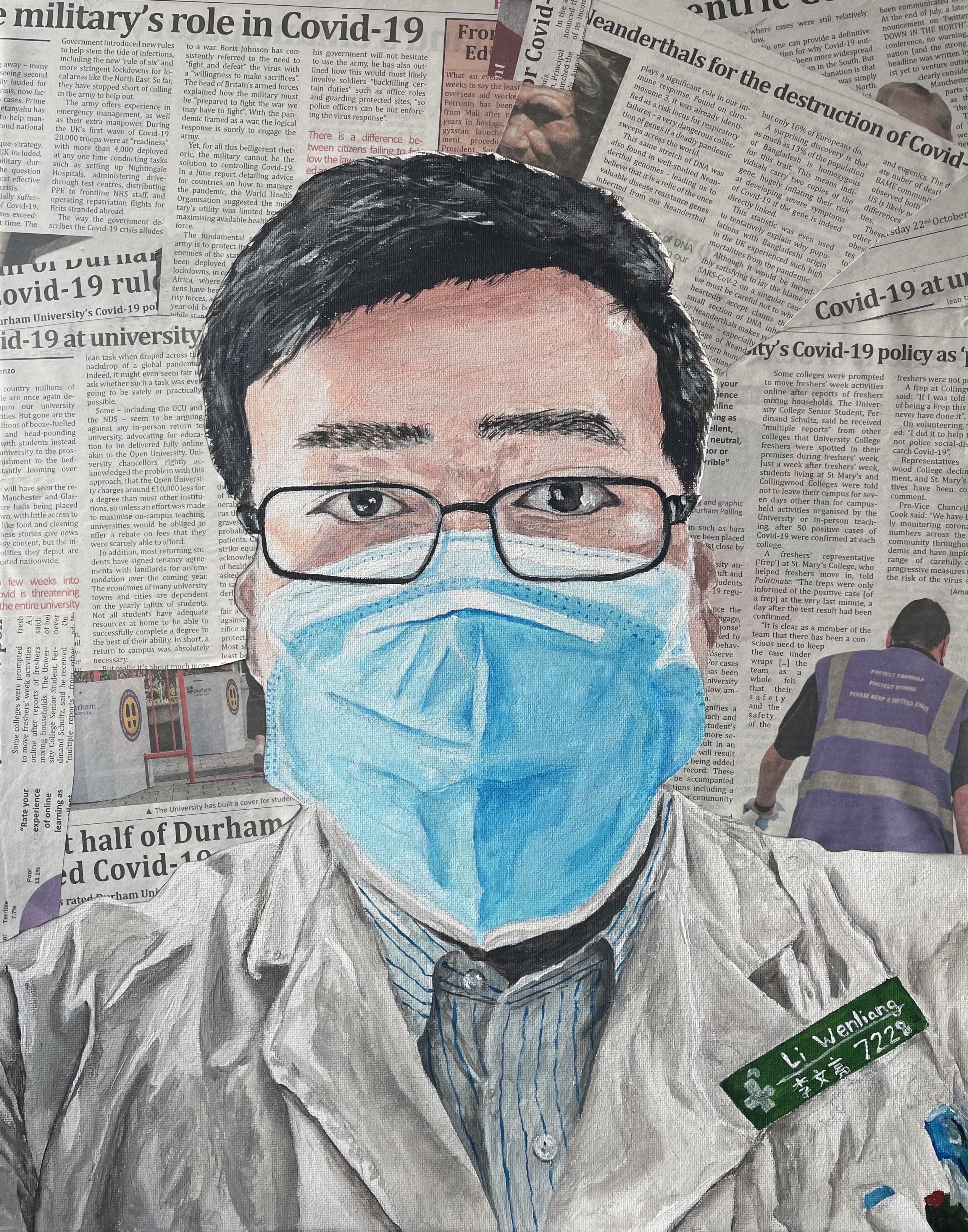 Ewan Jones
Before the Flood, 2021
Acrylic paint and newspaper on canvas
'In my opinion, Dr Li Wenliang is one of the first heroes of the Covid-19 pandemic. Whilst working in a Wuhan hospital, Li noticed cases of a SARS-like disease, which he attempted to make public on Chinese social media. Local authorities promptly took him to the police station, requesting that he stop 'spreading disturbing rumours'. Li submitted and continued his life-saving work in the hospital, however after getting infected by the disease himself, the authorities apologised and announced Li a hero. Even bedridden with Covid-19, Li demonstrated heroism as he continued to post on social media, informing the world about the coming catastrophe, represented by newspaper clippings in my artwork. Following his death, Li is remembered as a coronavirus hero around the world.'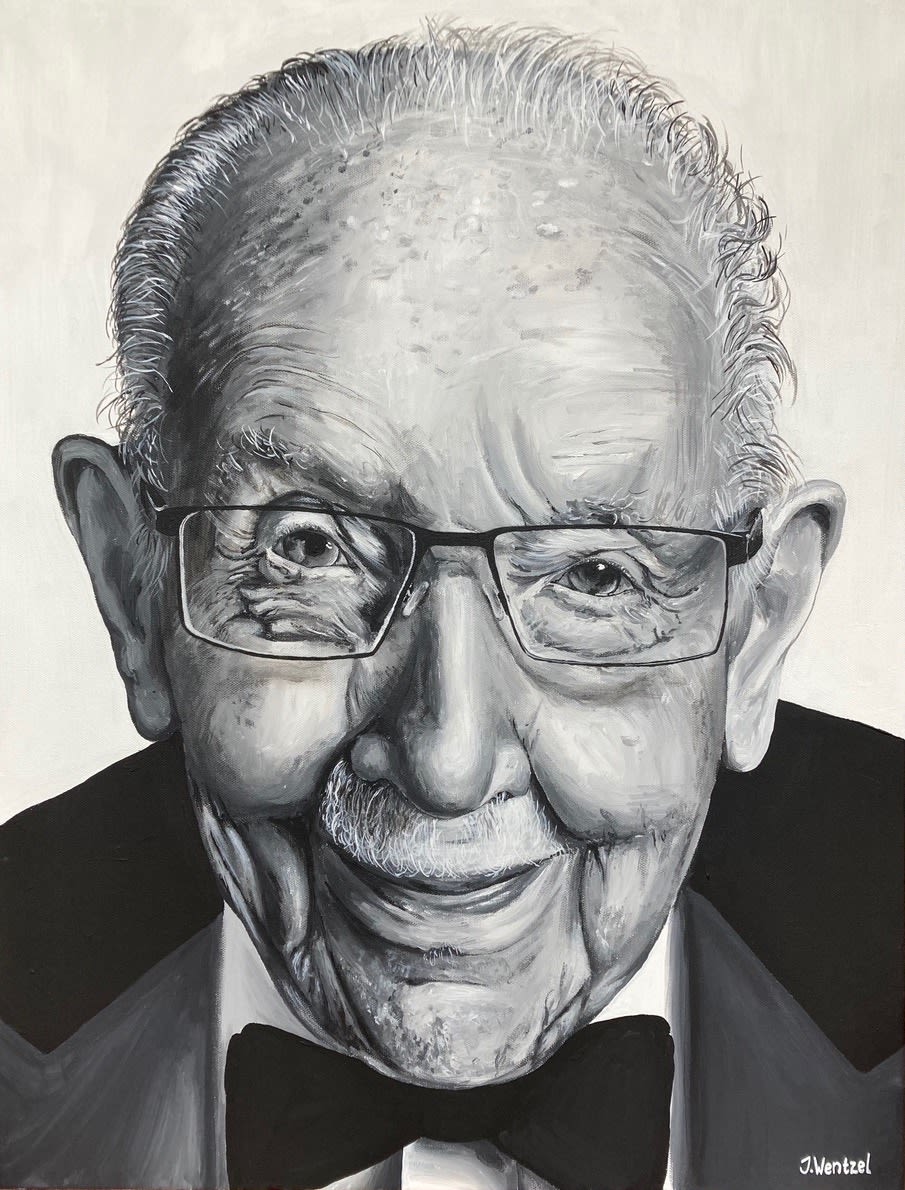 Jess Wentzel
Captain Tom, 2021
Acrylic on canvas
'Captain Sir Thomas Moore epitomises what it is to be a hero. He served for Great Britain during the Second World War in the India and Burma campaign. During the lead up to his 100th Birthday, Captain Tom walked one hundred lengths of his garden in aid of NHS Charities Together and raised over £32.79 million. His lifelong bravery, courage and determination is what inspired this artwork as a true hero of our nation. This painting is dedicated to the life of an extraordinary human, Captain Tom.'
Charlie Barnett
Mettle, 2020
Oil on canvas board
'I wanted to capture the quiet heroism that so many have practiced over the past year. Unlike previous crises, the pandemic is something that we have each had to tackle alone. Heroism has manifested in a way that I don't think we have ever seen before - in not hugging our loved ones and locking ourselves away. I wanted to portray the introspection that this inspires, and the isolation that we have all felt. I wanted to contrast to the grand portraits of historical heroic paintings, and capture how heroism has been redefined in a subtle and modest way.'
community HEROISM
Live art? Craftivism? Socially engaged art?
In this section we explore how communities can respond in heroic ways; whether that be through coming together, environmentalism, new partnerships or activism.
Watch artists Lady Kitt and Dan Russell delve in the world of socially engaged art as they talk` about their recent 'Art Prize Art School' workshop.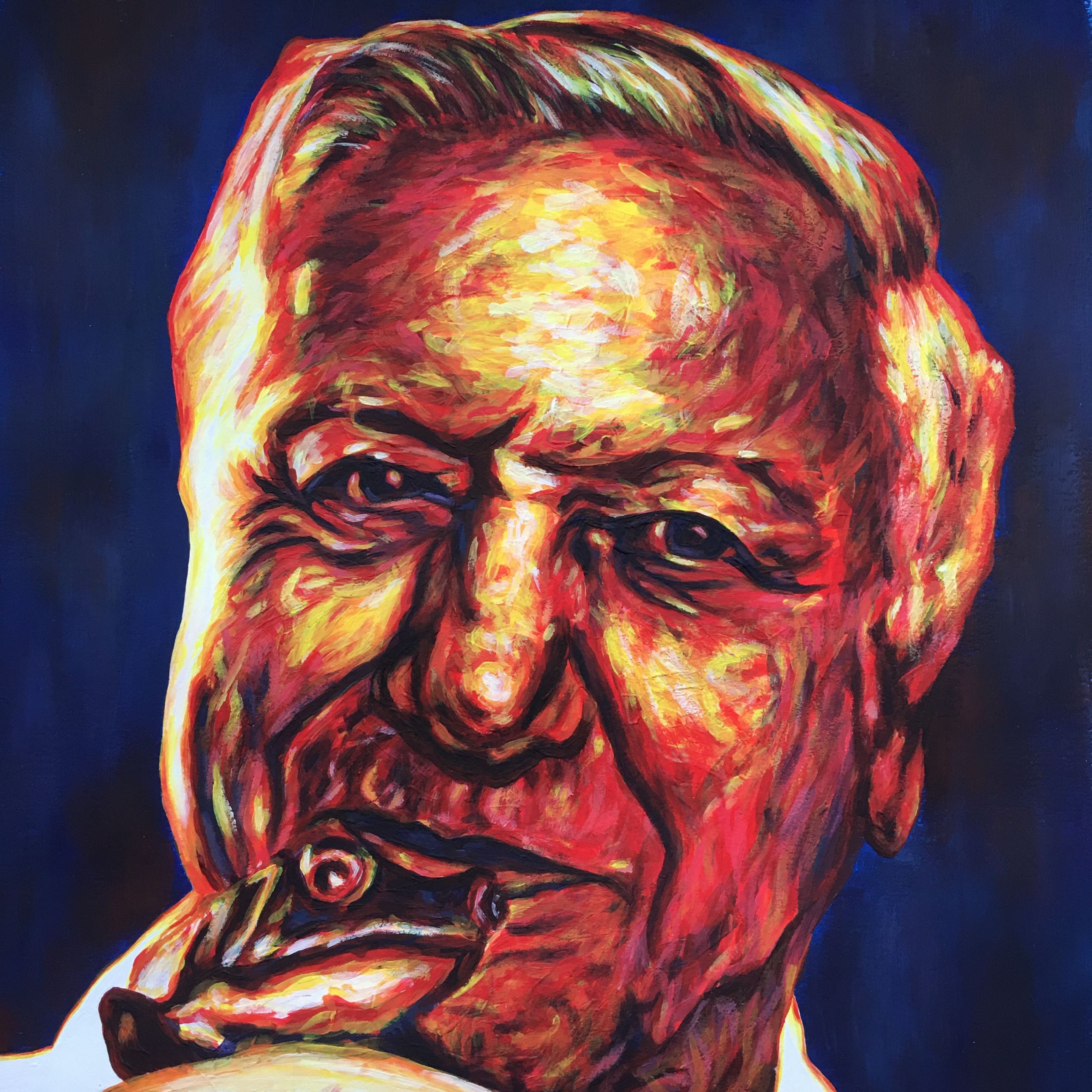 Drish Patel
Earth's Custodian, 2021
Acrylic on paper
'An icon across four generations, he's the voice that everyone instantly recognises. Sir David Attenborough has delighted, entertained, educated and inspired countless people across the world. A broadcaster and naturalist, his contribution to wildlife conservation through his renowned documentaries is remarkable. Thanks to a life marked by a tenacious desire to explore, innovate and enlighten, his actions have been for the betterment of humanity as a whole and his impact, widespread - the sincere characteristics of hero. Now aged 93 , he has turned his full-attention to raising the alarm of climate change, dedicating his last years to saving the planet.'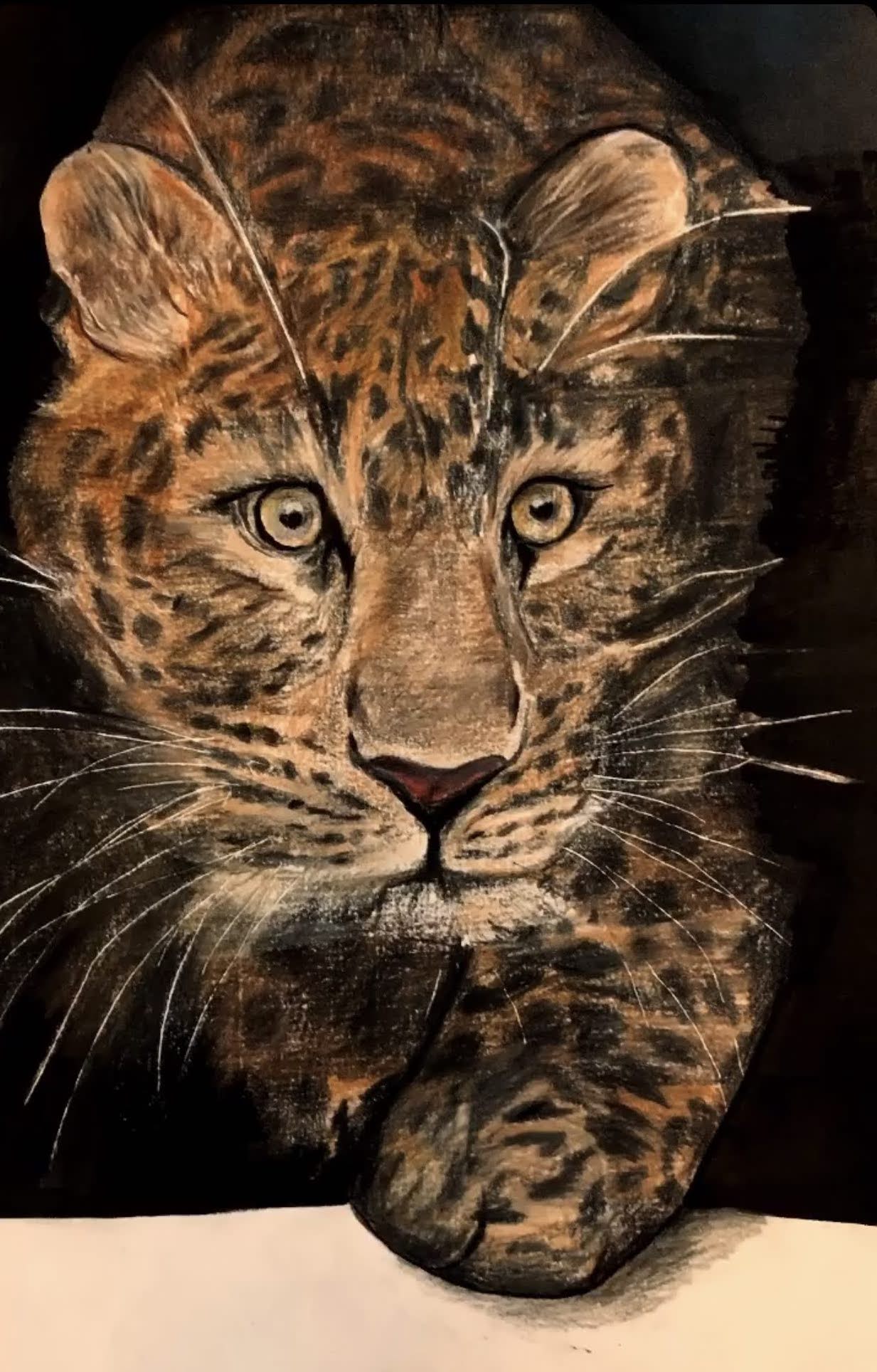 Anushka Suresh
Heroism in the wild, 2021
Colour pencil on paper
'Watching a little leopard grow and adapting to the wild needs tremendous courage. My time-lapse art similarly builds the character coming to life piece by piece, it captures the way how it carries itself, reflected in the way it walks and the fierceness in its eye. Even with extinction coming its way, it battles for its survival until it's last breathe. These thoughts were very inspirational to me, as it demonstrates how much there is to learn from animal heroism.'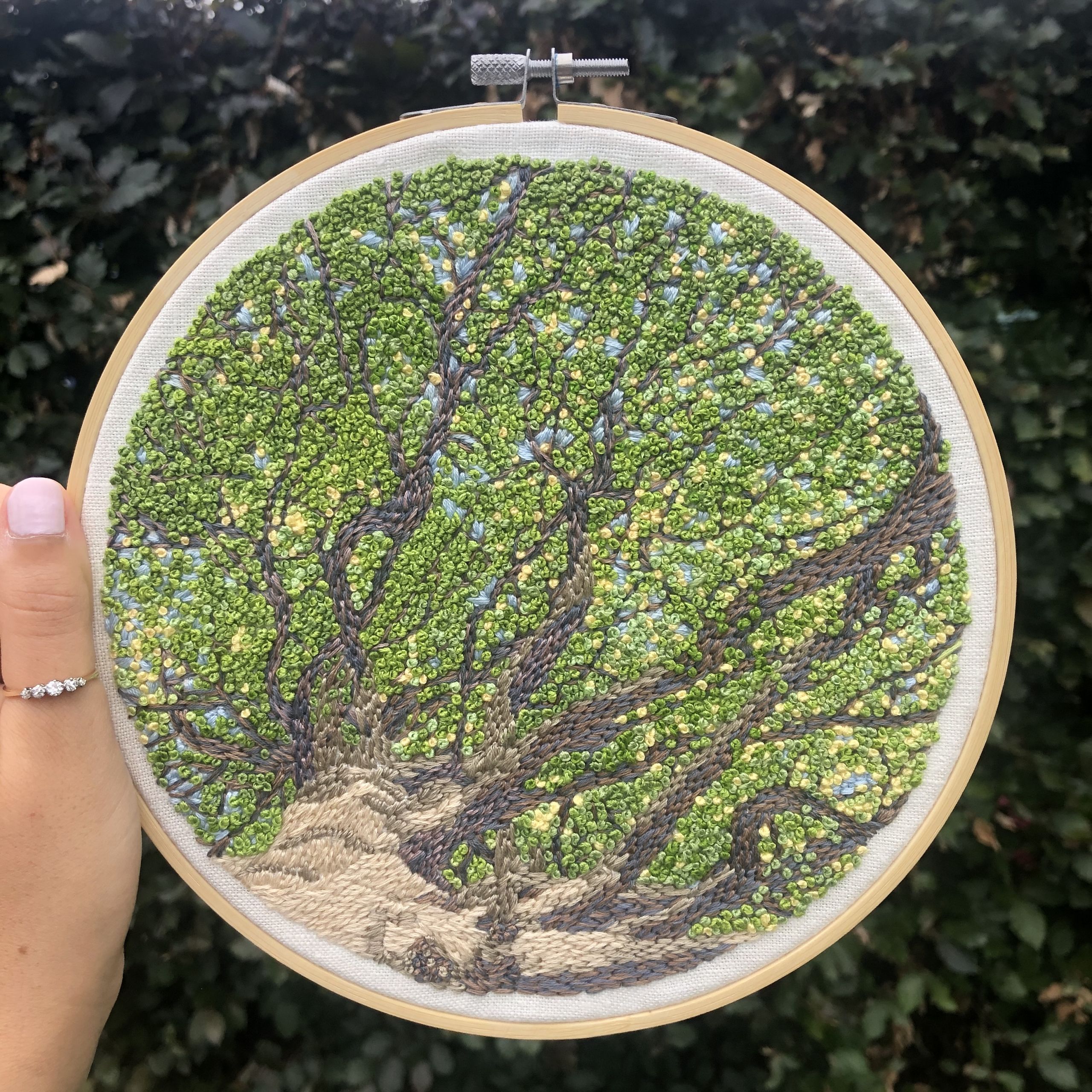 Fran Beal
Upward Gazing, 2020
Embroidery on linen fabric
'Trees are arguably the most heroic living organisms on the planet and don't receive the recognition they deserve. In 2010 it was found that America's trees absorbed 9-23.2 million tonnes of air pollution, subsequently preventing around 670,000 cases of acute respiratory problems (Nowak, et al., 2014). And yet, despite their enormous long-term benefits to the planet, trees are being remove at a rapid rate. In fact, according to the World Bank, the earth lost half a million square miles of forest between 1990 and 2016. Instead, we need to be celebrating forests and trees as the heroes that they are.'
Descriptive Text: Animation of a bee flying and an animal eating flowers in a summery landscape.
Eloise Jenninger
Bees, 2021
2D digital animation

'This animation suggests that the good maintenance of a whole system, thanks to the sum of small, repetitive actions by hundreds of individuals should be as, if not more, recognised and valued as a single heroic action or individual. The actions of pollinators keep alive thousands of species, including humans. The animation questions the ideas of individuality and exceptionality often assumed in the concept of heroism. It also suggests that 'maintaining alive' may be as important as 'saving', thus interrogating why the latter is often considered as heroic when not the former.'
Matthew Fackrell (Second Place Winner)
Agapē or Love Unconditional, 2021
Papier-mâché, reclaimed cement, acrylic paint, lacquer
'Based on a medical face mask, the deteriorating material oxidises to resemble a blue the entire world is intimately familiar with. And like the act of compassion that wearing such a mask is, the metal completes a seemingly impossible feat; straining to hold up the concrete of society from the brink of collapse as rust and residue stains the foundations in gruesome sacrifice.
In a reality where the unthinkable has become common, everyday acts of empathy are true heroism; not what a sensationalist agenda displays on a pedestal like the pillar depicted, but the key individual acts of work that collectively define who we are. When something as small as wearing a thin ribbon of fabric to protect others becomes controversial, it is heroic to defy adversity and overcome fallibility towards a better future. A face mask - like metal wearied from constant exposure - is both a sword and shield, helping the vulnerable and facing down the cruel possibilities of human error.'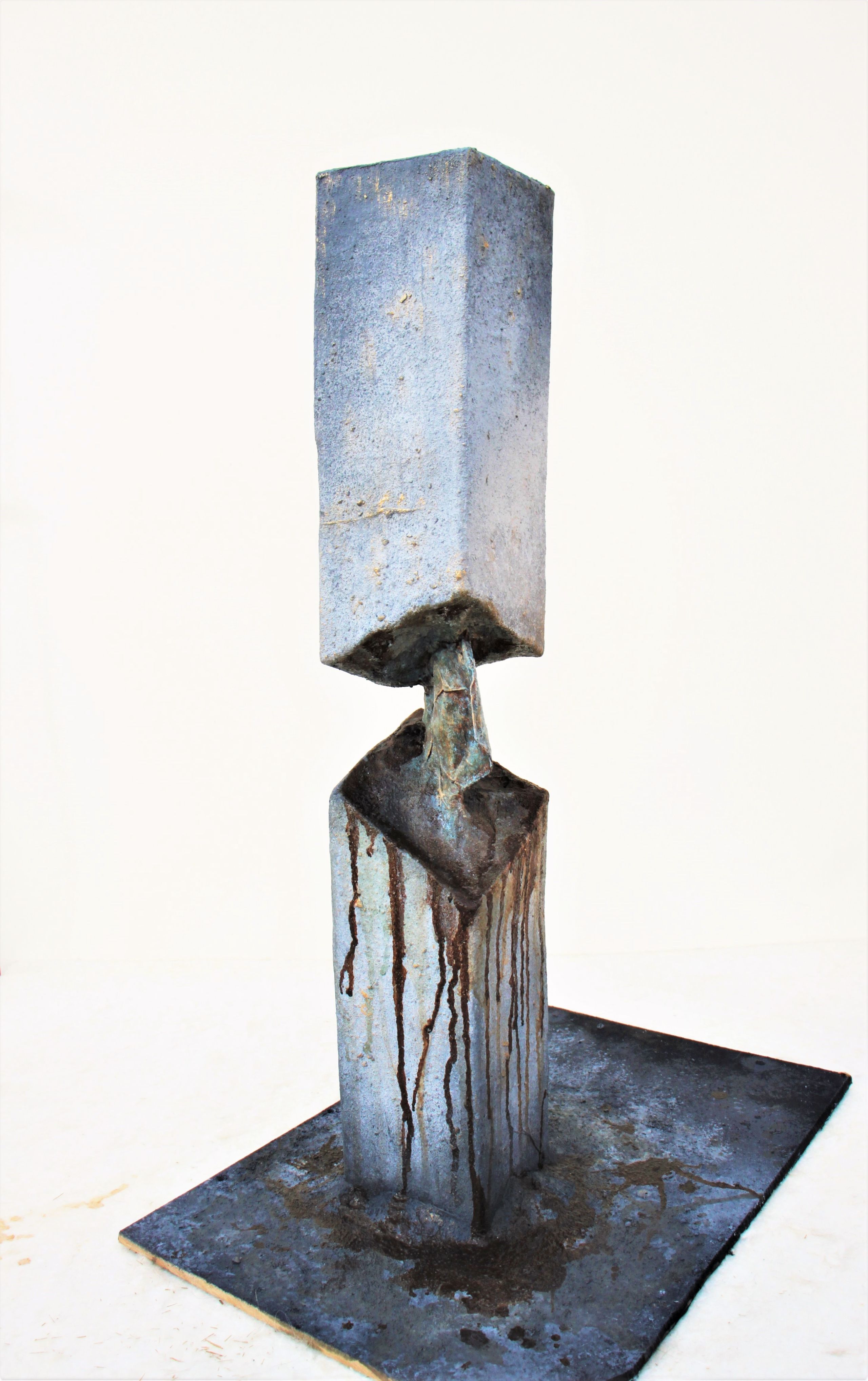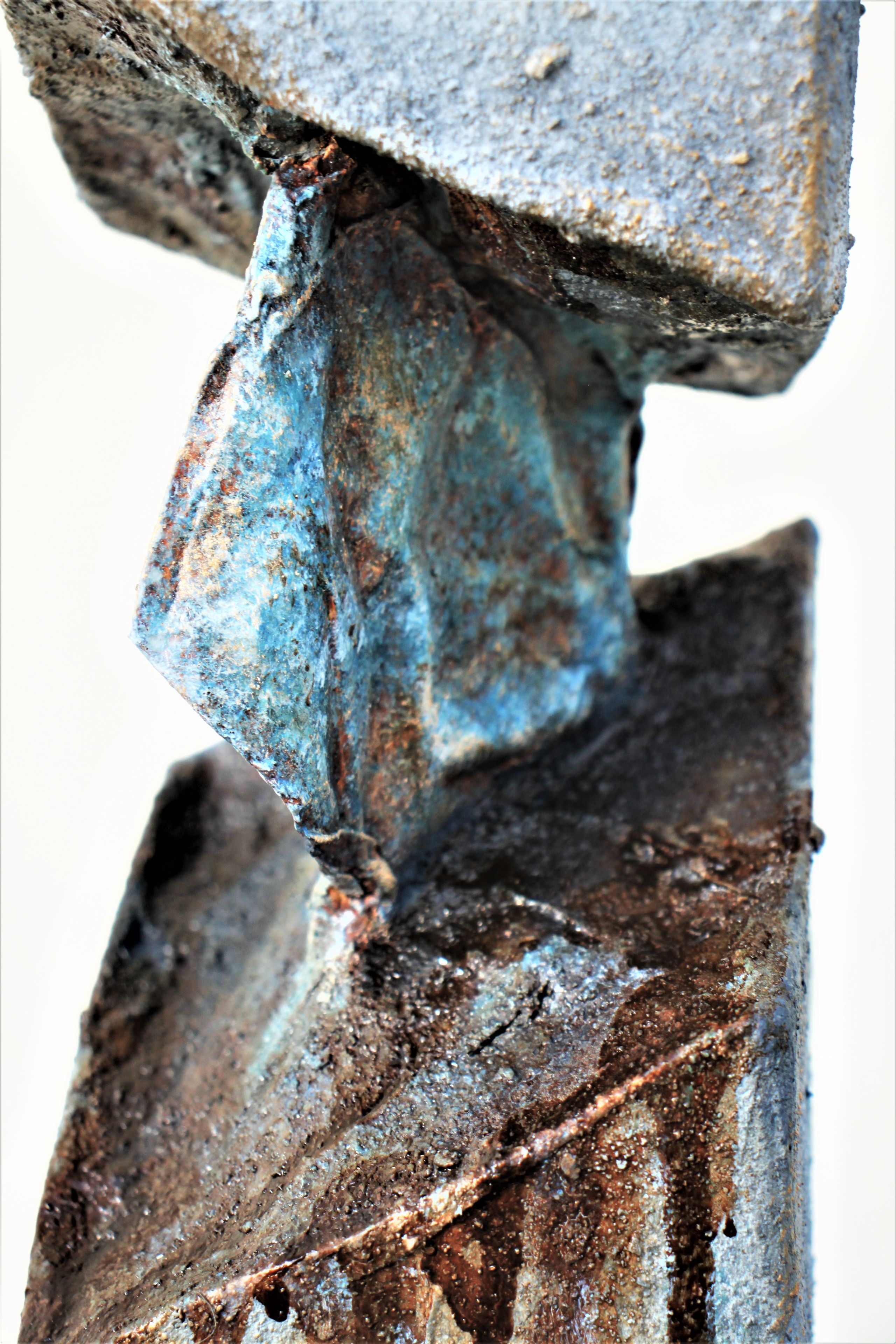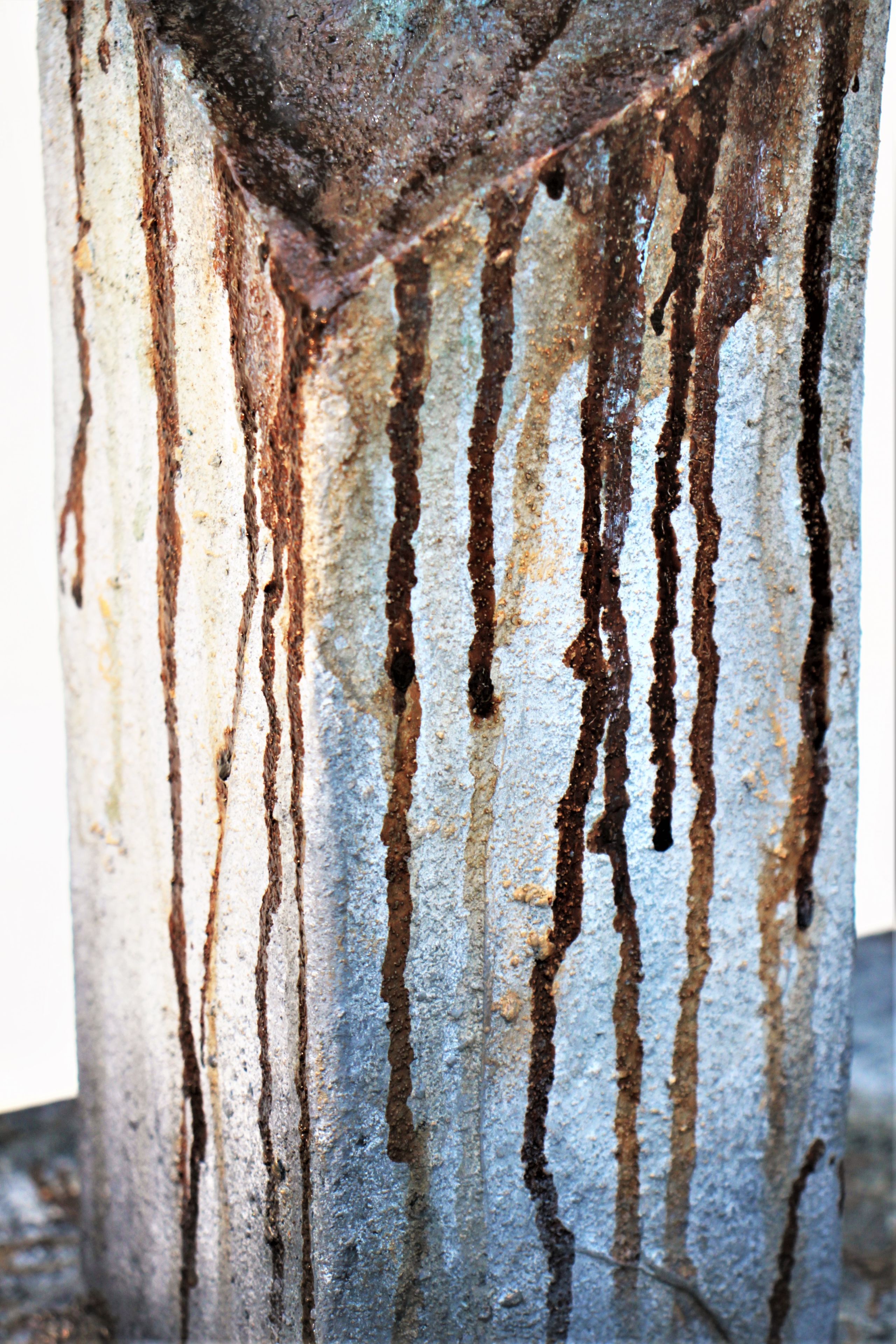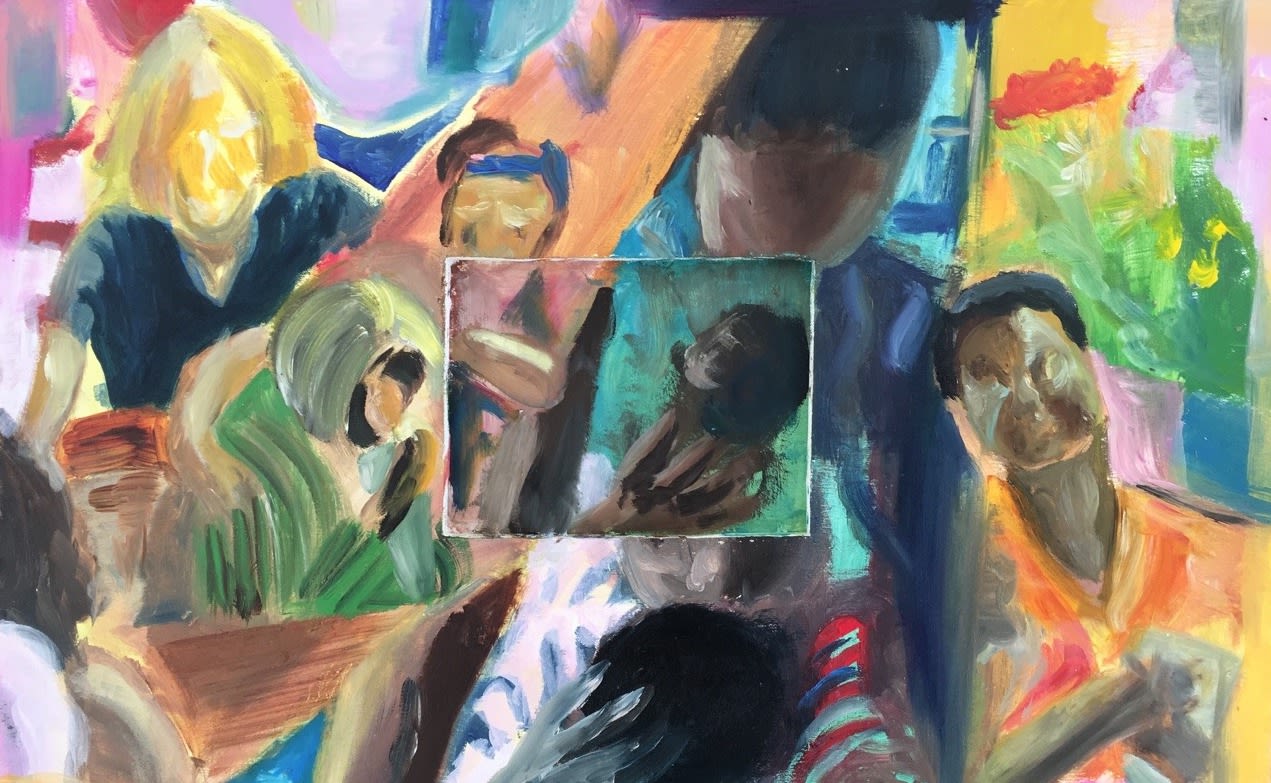 Amana Moore
Where Ends Meet, 2017
Oil on MDF board
'This painting depicts life at the contact points in society. It seeks to capture the border spaces, where people who are different come into conversation, conflict and community. Community is a space where simple heroism takes place, through daily heroic acts of choosing to care for another. It takes a brave willingness to move from where you are to engage in meaningful relationships, which in turn produce insight. Choosing to listen, to love, to understand, is the simple heroism we must all have the courage to pursue if we are to see tangible progress and build genuine community in today's world.'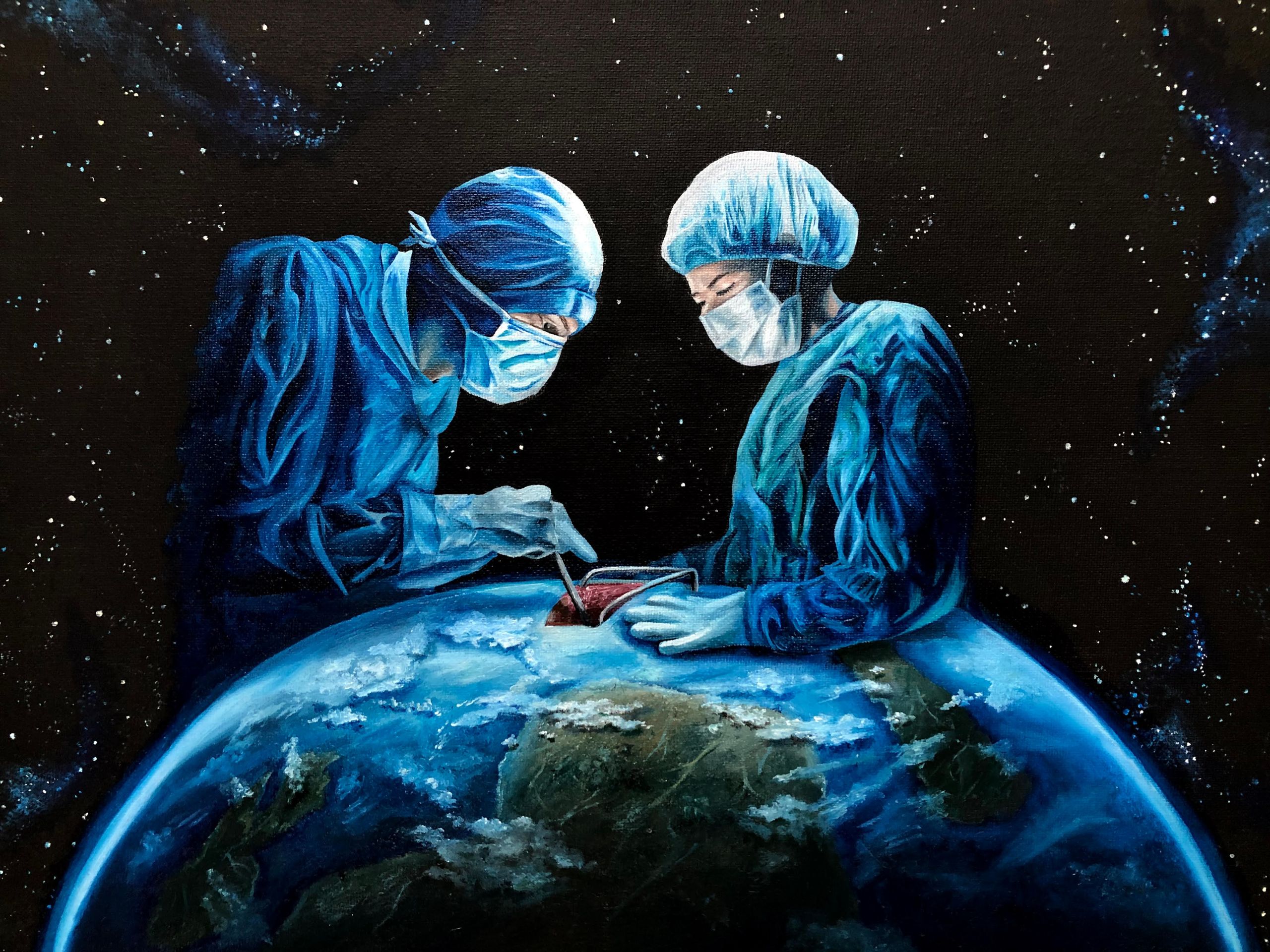 Lucy Baker
Global Operation, 2021
Oil on canvas board
'Amid a global pandemic, it is a reasonable assumption that one's thoughts will turn to the NHS when presented with the theme "heroes". That accolade is thoroughly deserved – never before have healthcare workers faced such pressure. On a small scale, individual NHS workers are helping people every day, while on global scale, health workers are collectively "healing the world." My painting combines these two concepts, illustrating that handling the COVID-19 pandemic is a global operation. In this sense, healthcare workers truly are heroes.'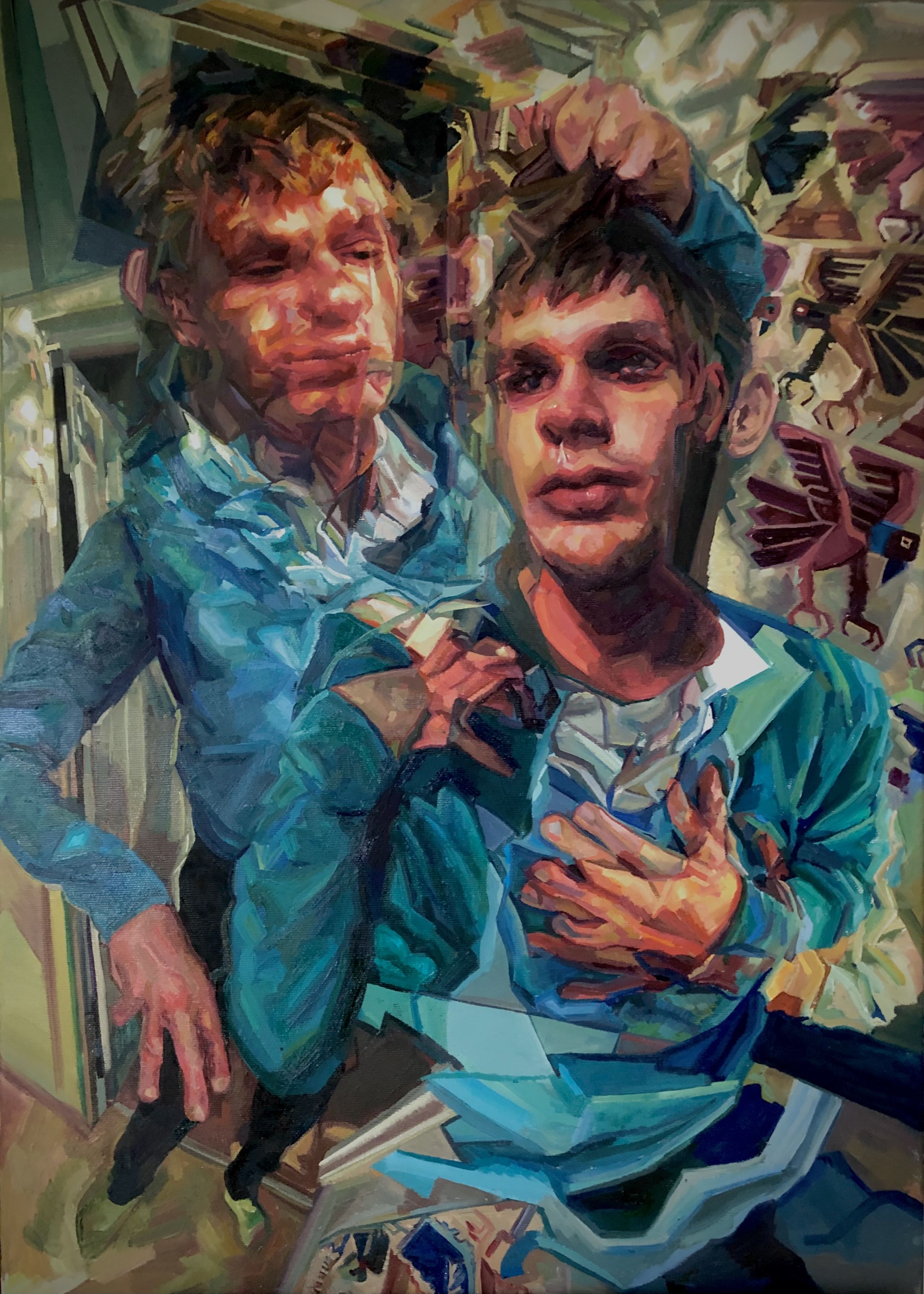 Self-Portrait as Judith and Holofernes by Aelfred Hillman
Self-Portrait as Judith and Holofernes by Aelfred Hillman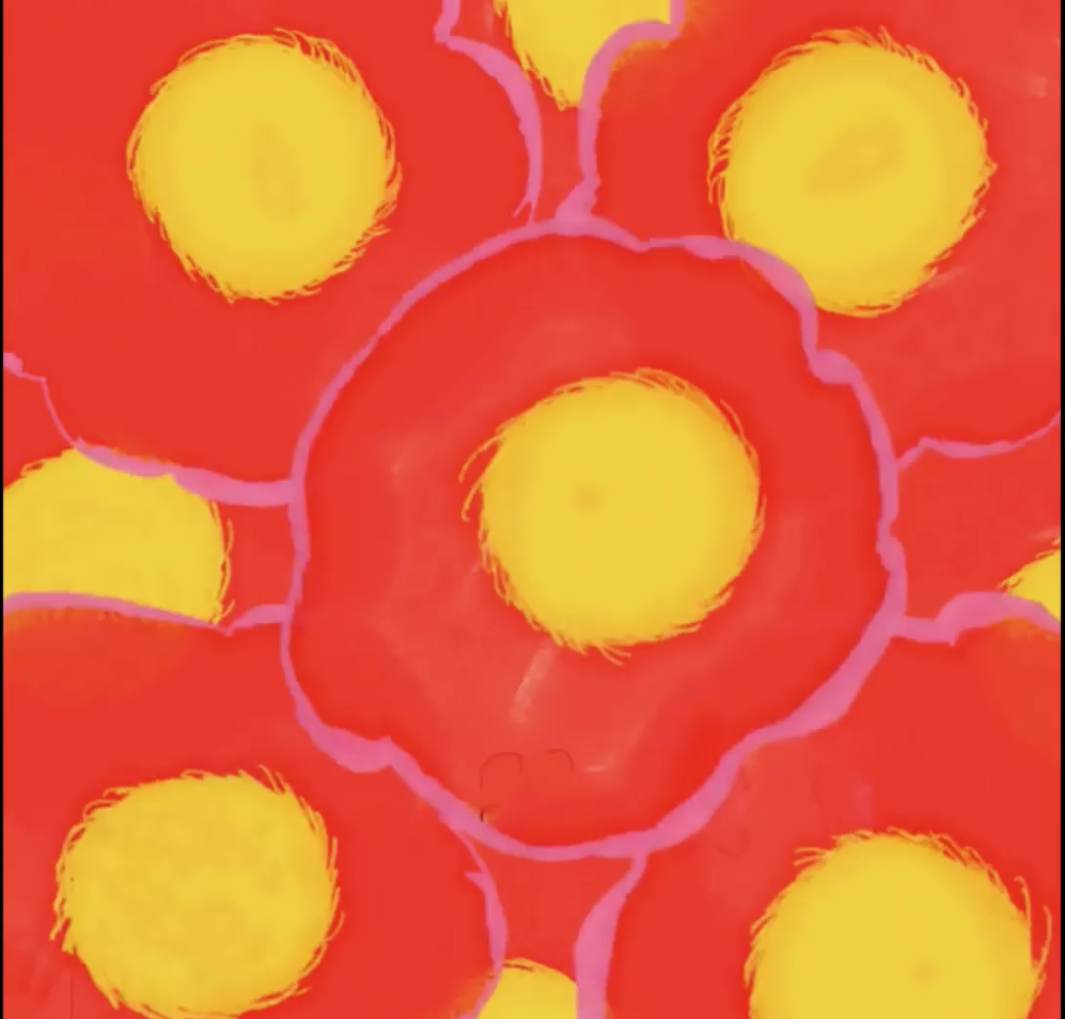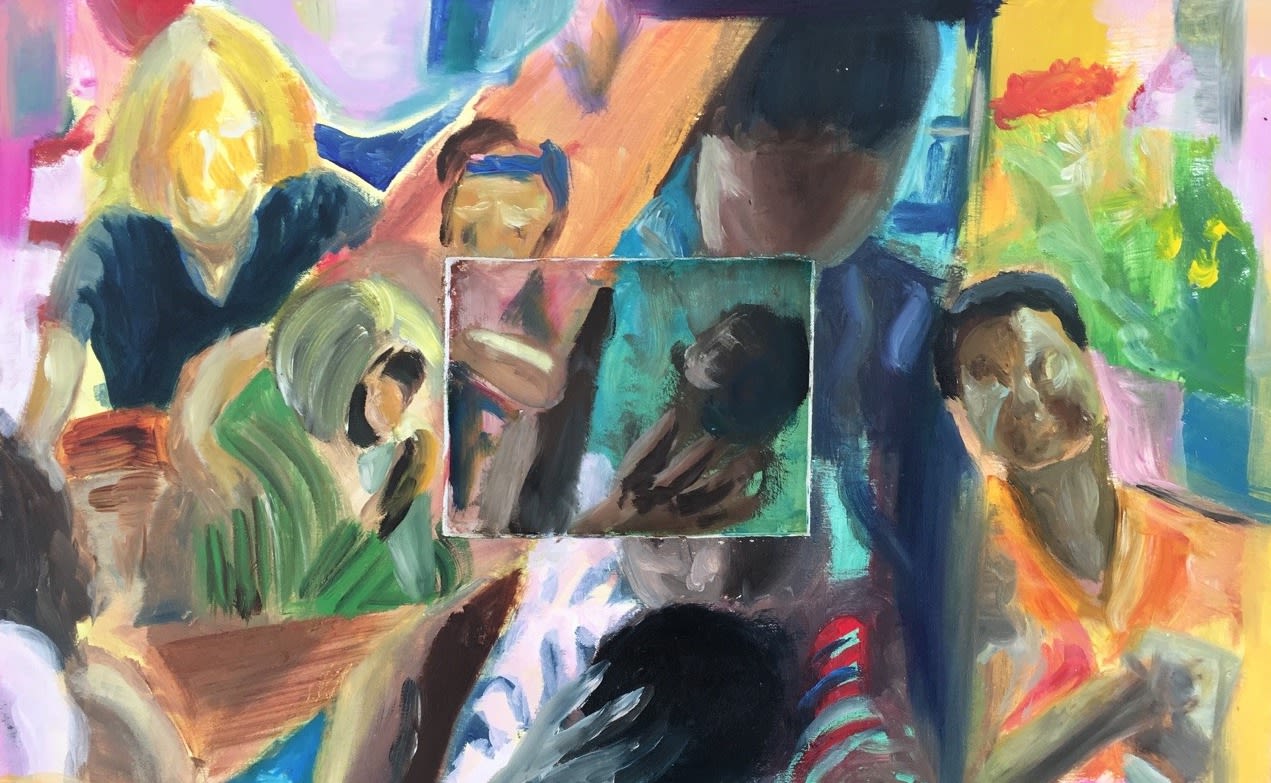 Where Ends Meet by Amana Moore
Where Ends Meet by Amana Moore
Pay It No Mind by Alice Healy
Pay It No Mind by Alice Healy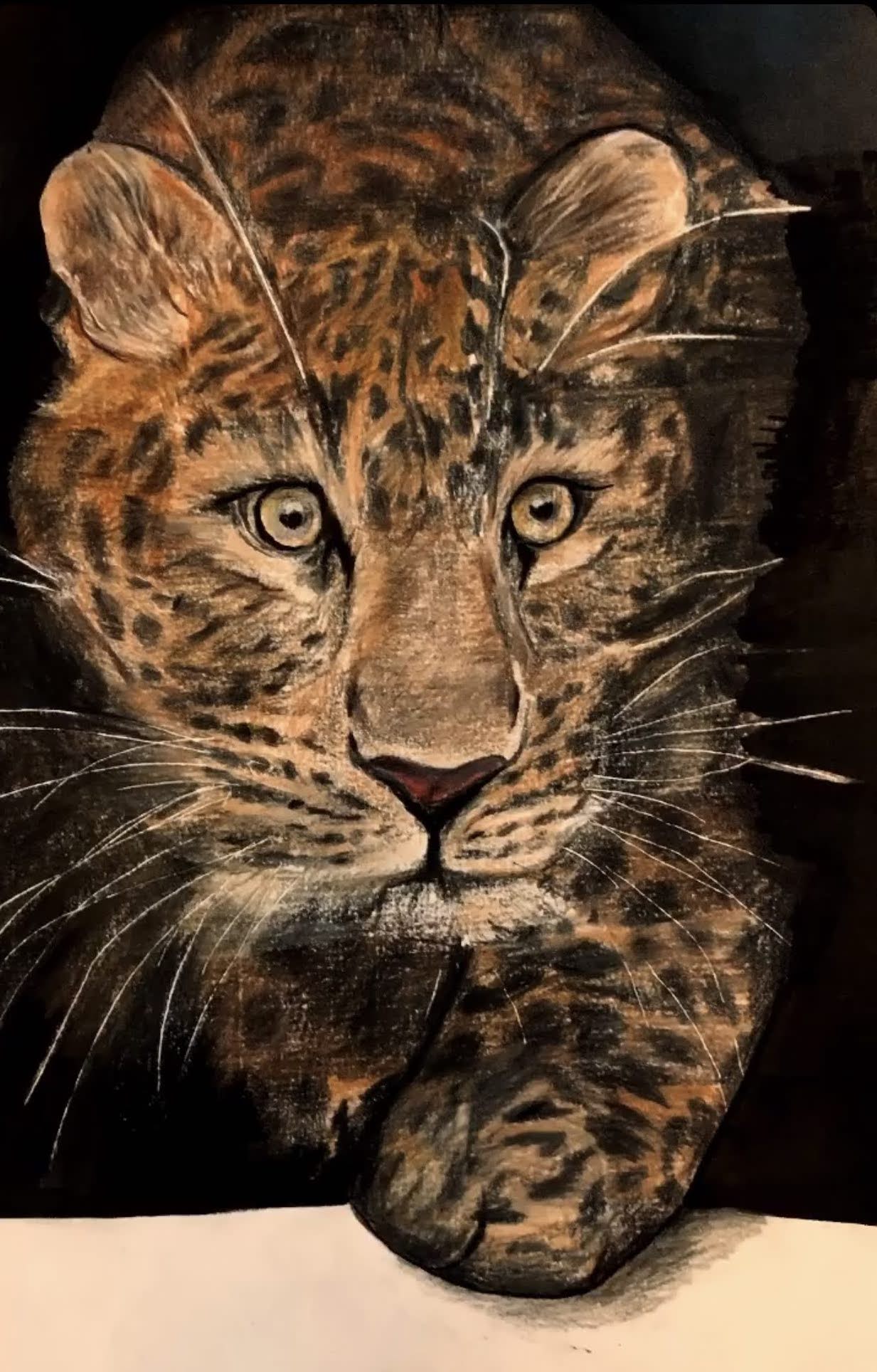 Heroism in the wild by Anushka Suresh
Heroism in the wild by Anushka Suresh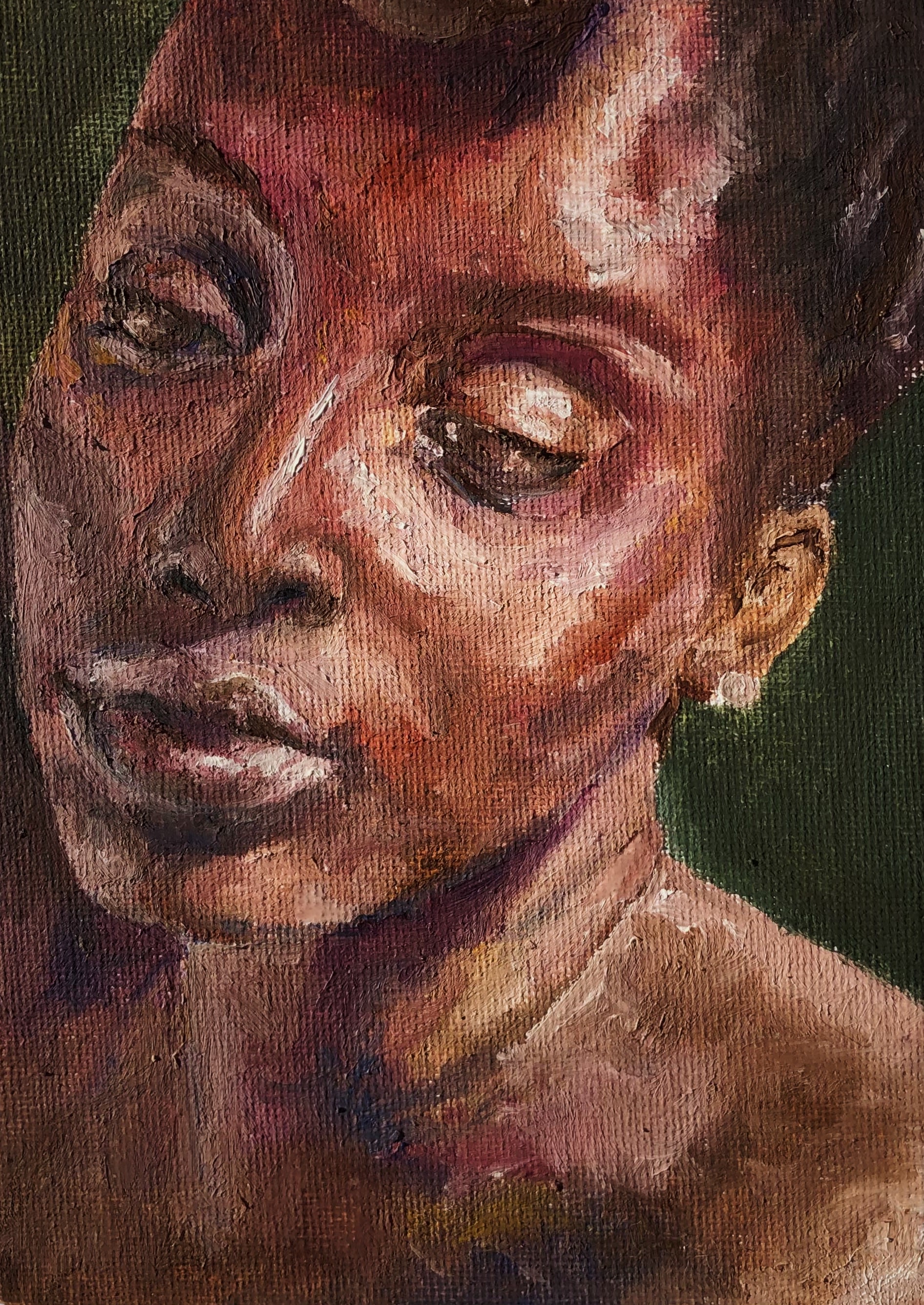 Mettle by Charlie Barnett
Mettle by Charlie Barnett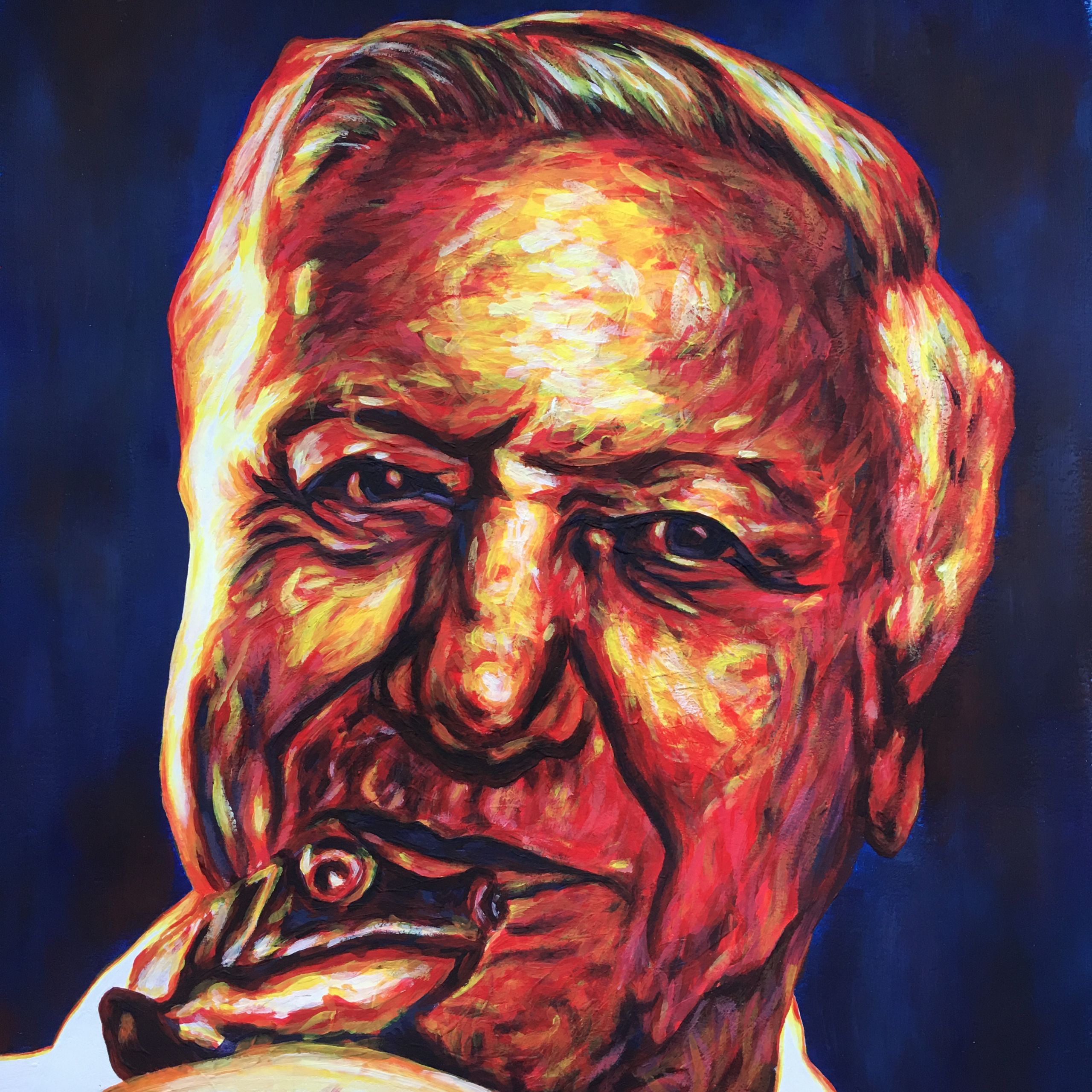 Earth's Custodian by Drish Patel
Earth's Custodian by Drish Patel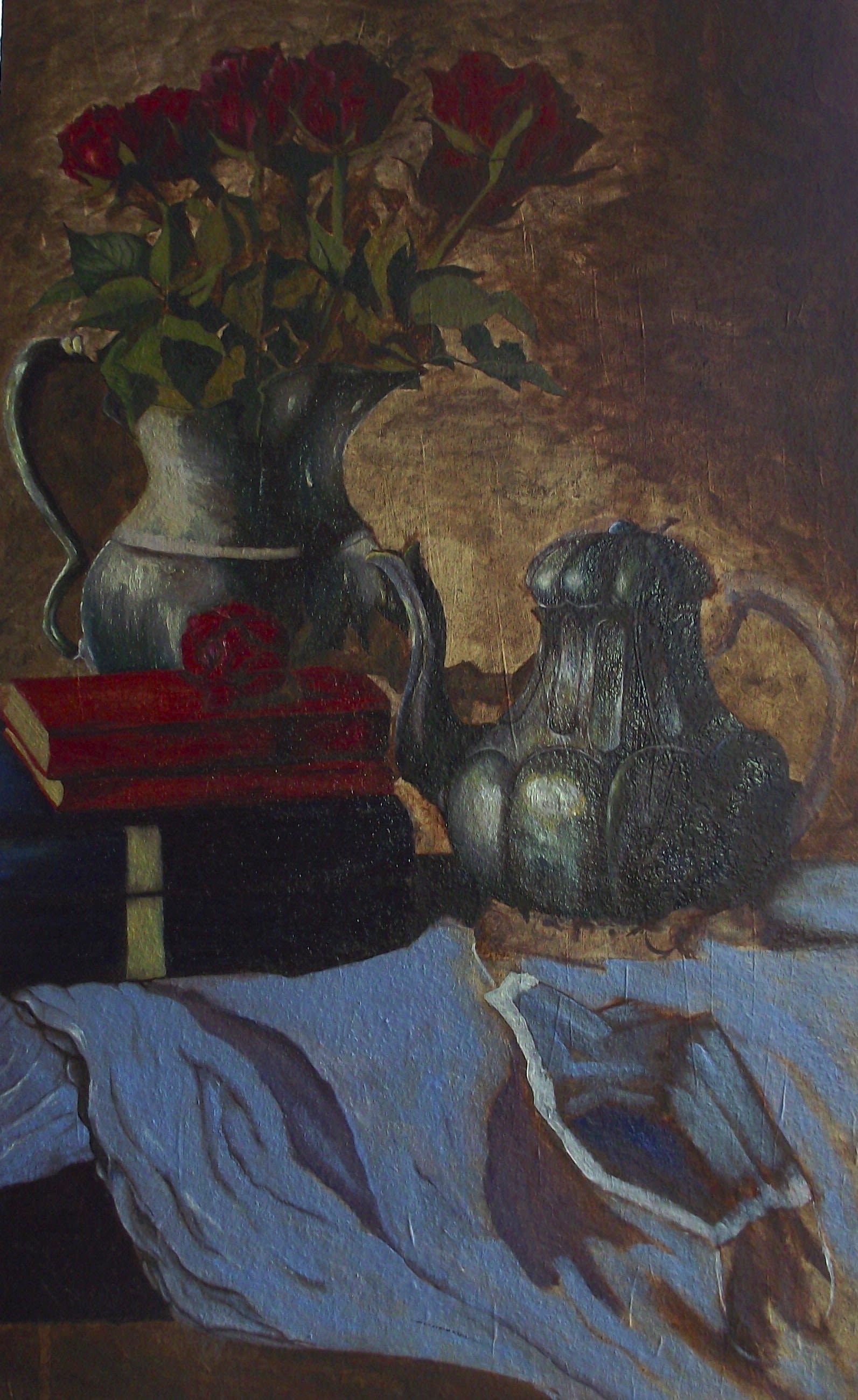 End Table by Eleanor Booty
End Table by Eleanor Booty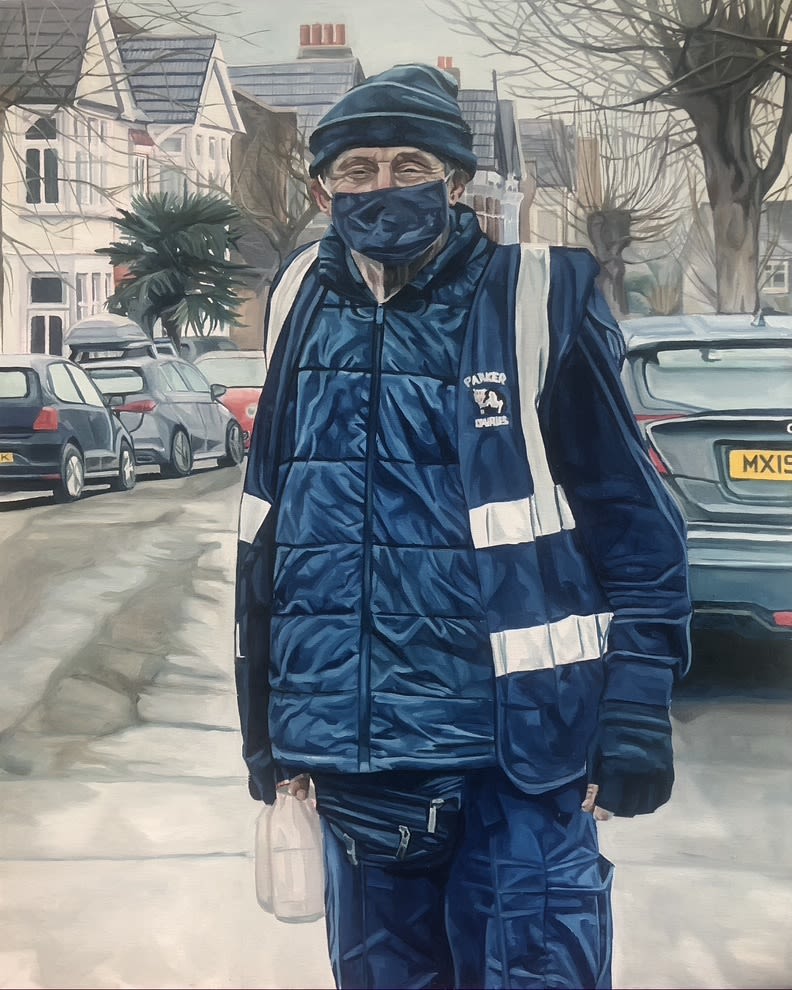 Milkman Steve by Ellen Fasham
Milkman Steve by Ellen Fasham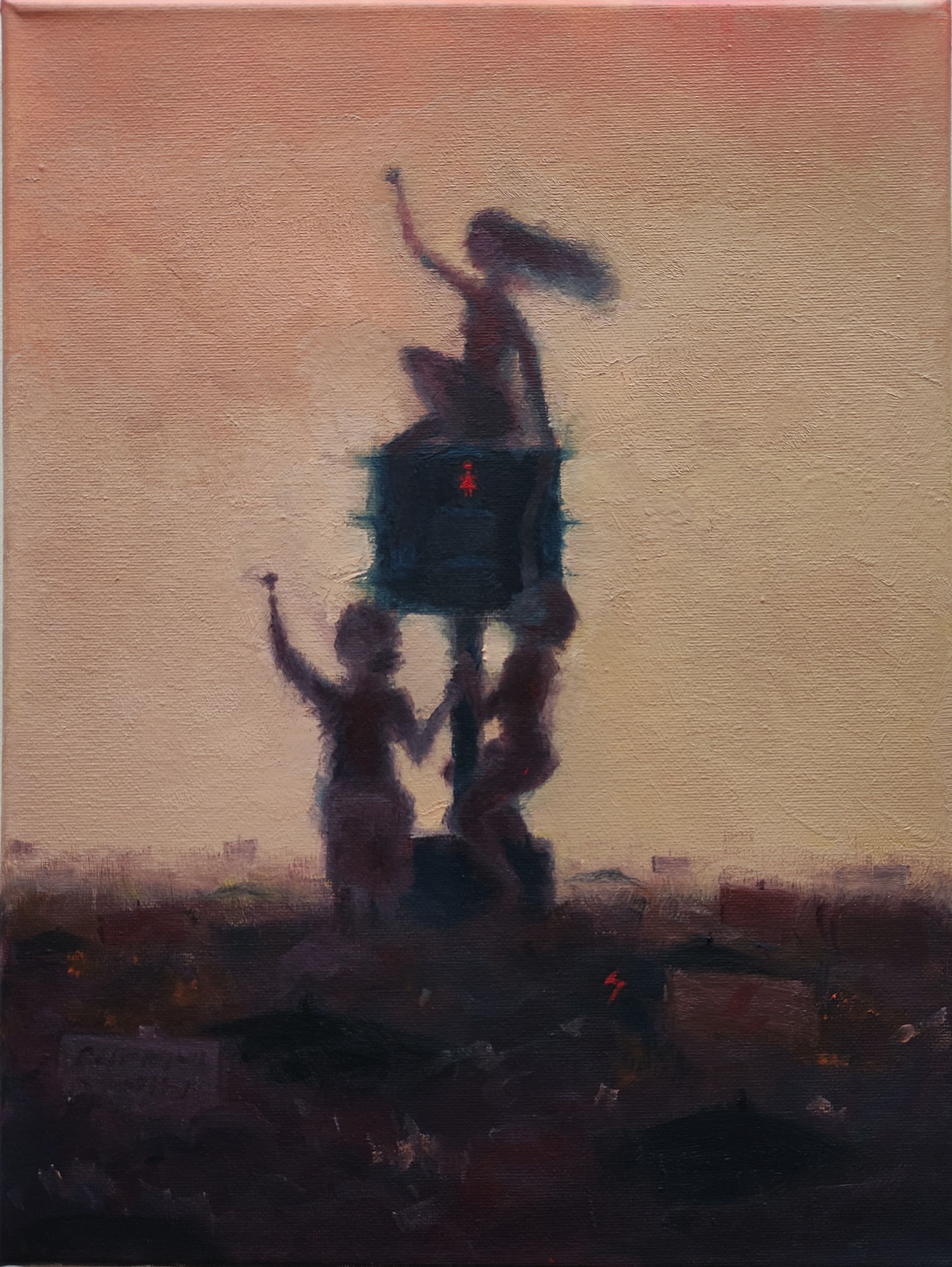 You Will Never Walk Alone by Emilia Zeslawska
You Will Never Walk Alone by Emilia Zeslawska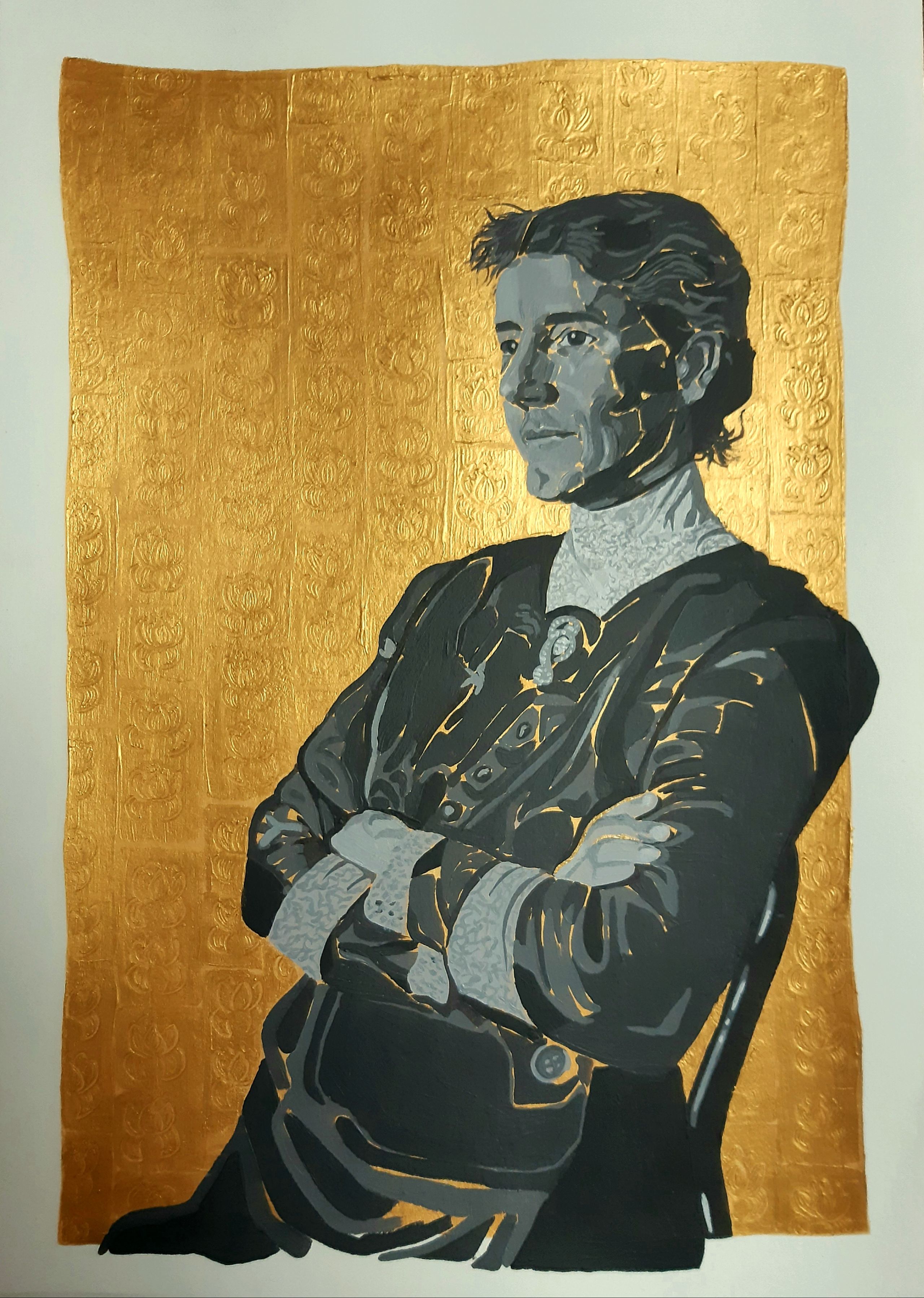 Charlotte Perkins Gilman with Gold Wallpaper by Emma Newnham
Charlotte Perkins Gilman with Gold Wallpaper by Emma Newnham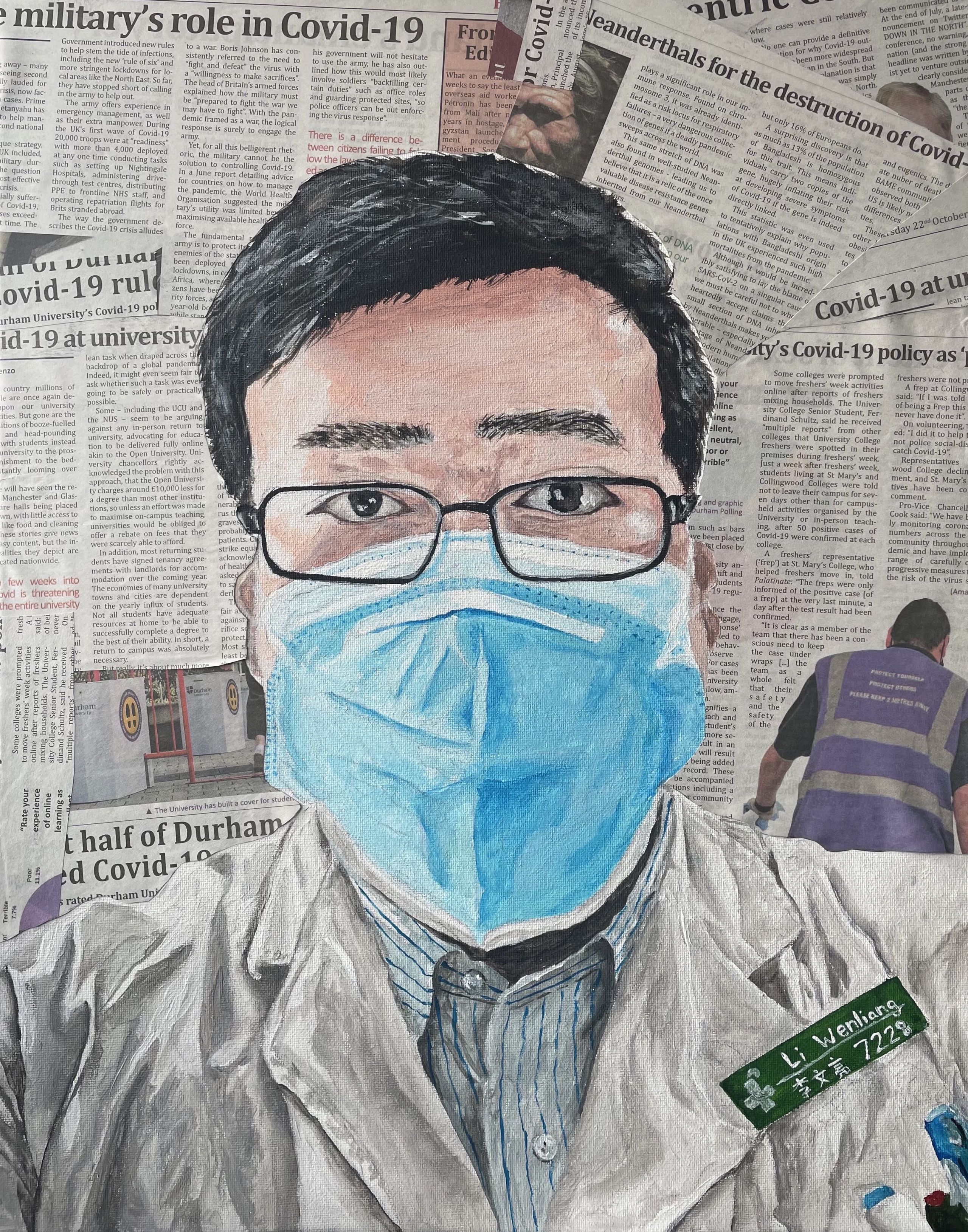 Before the Flood by Ewan Jones
Before the Flood by Ewan Jones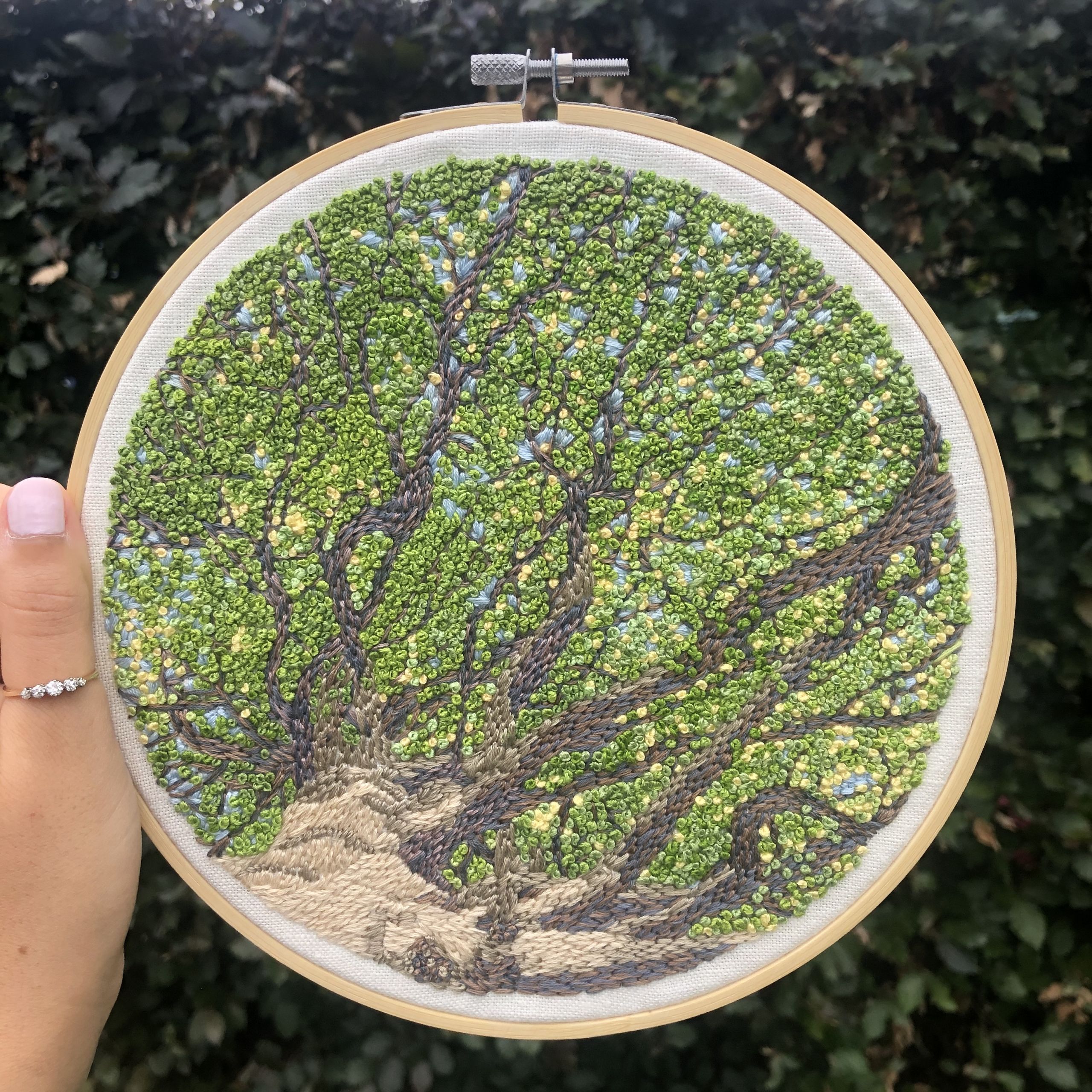 Upward Gazing by Fran Beal
Upward Gazing by Fran Beal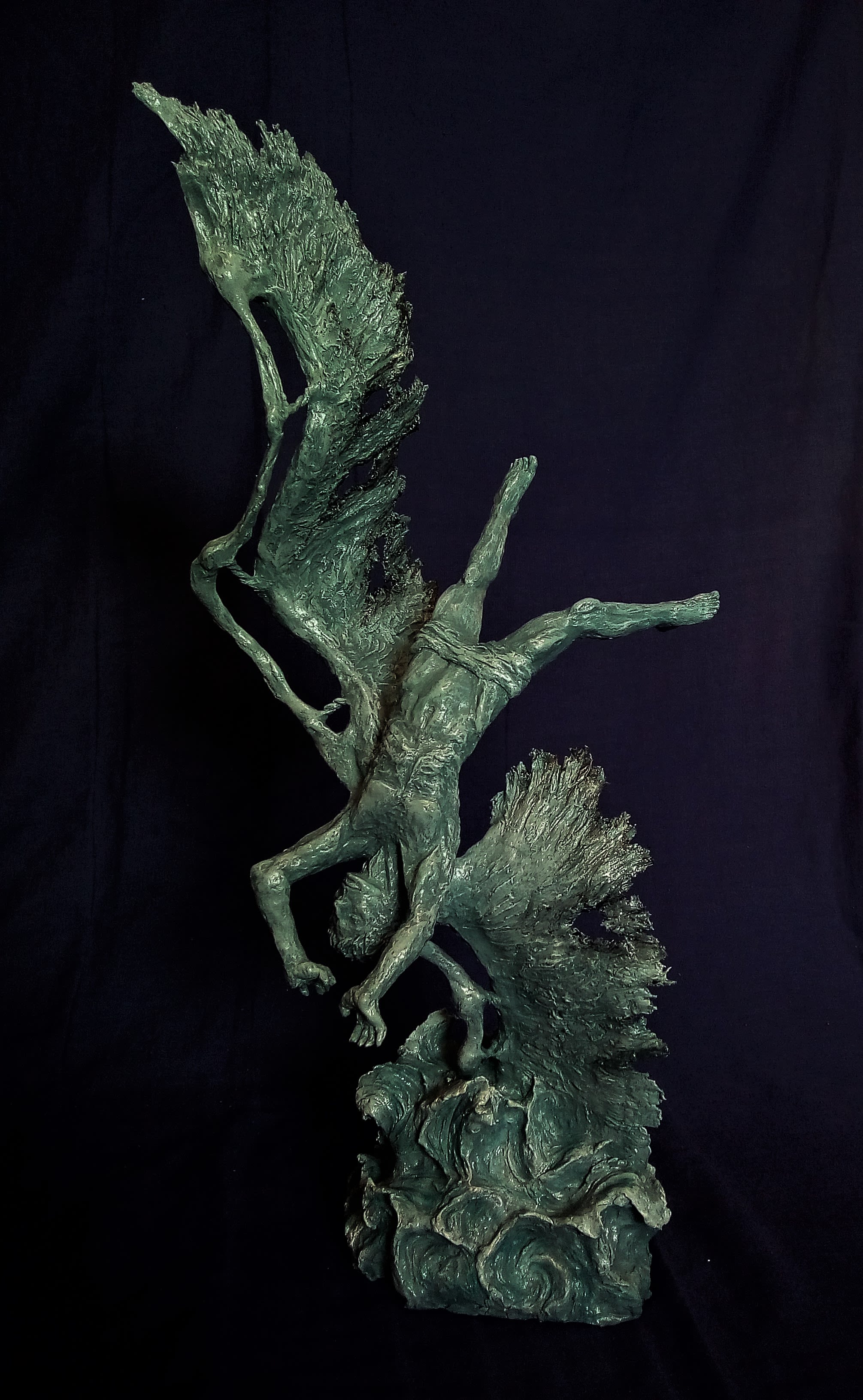 Fall of Icarus by Jasmine Cash
Fall of Icarus by Jasmine Cash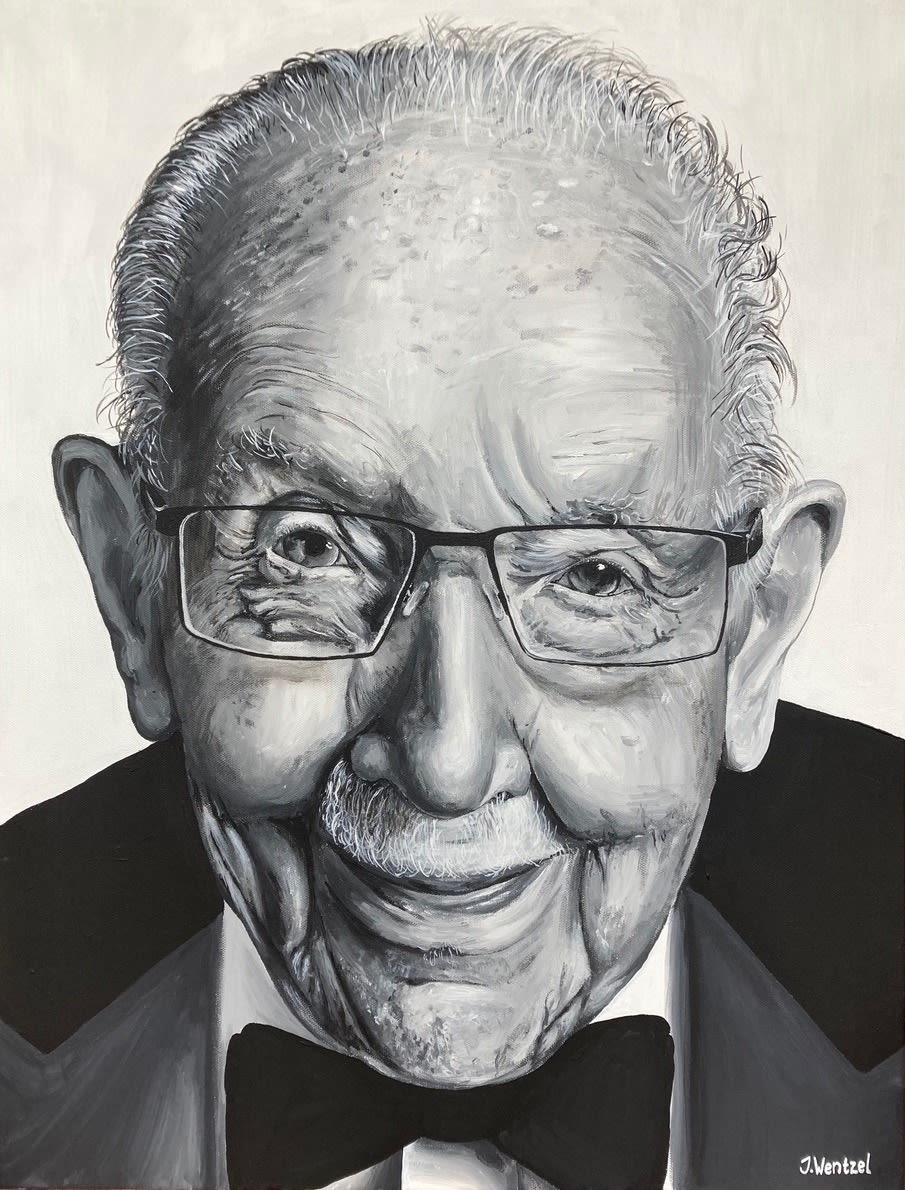 Captain Tom by Jess Wentzel
Captain Tom by Jess Wentzel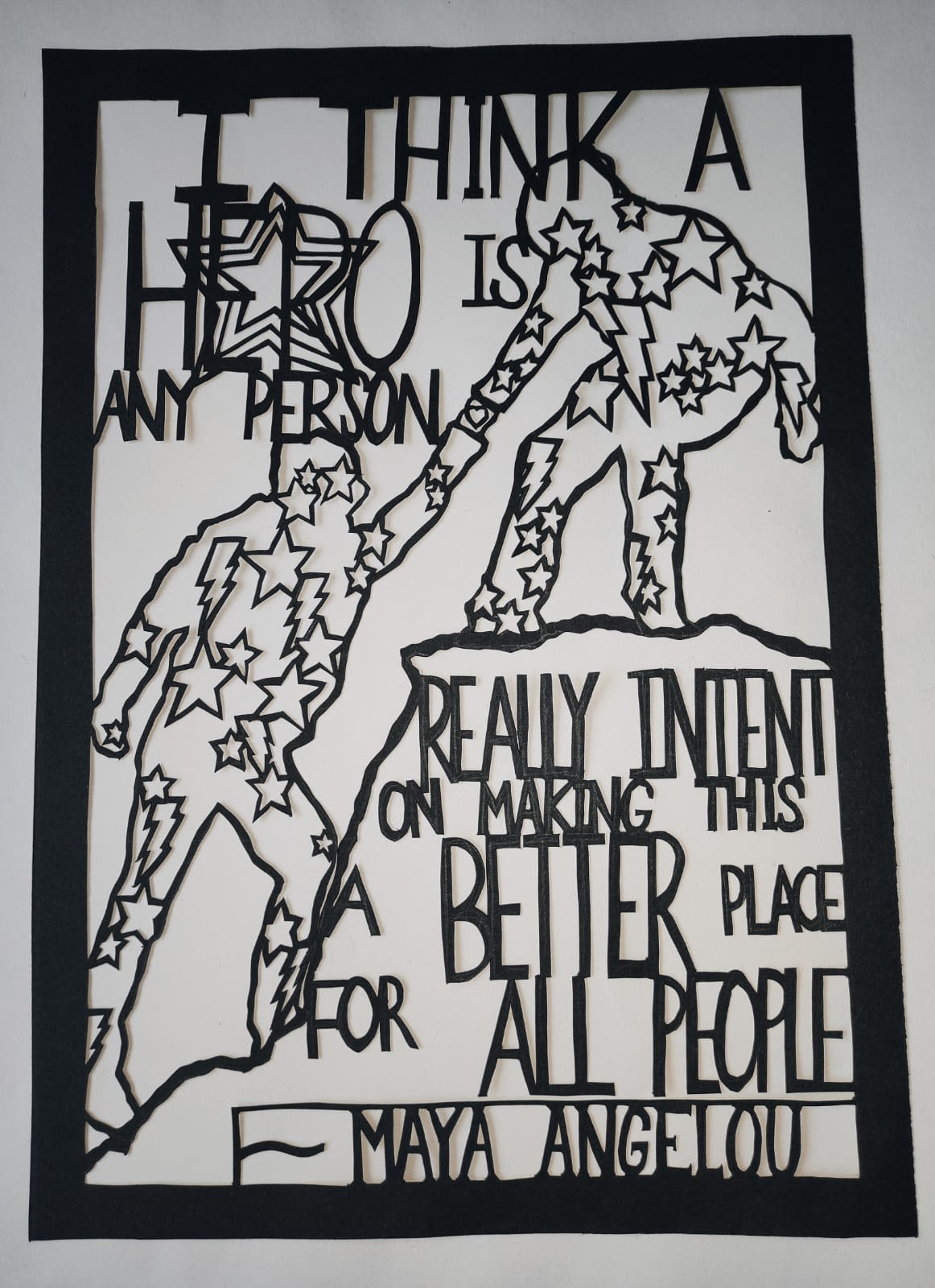 A Hero Is Any Person by Nicole Wu
A Hero Is Any Person by Nicole Wu
Off the Clock by Madeleine Ramsey
Off the Clock by Madeleine Ramsey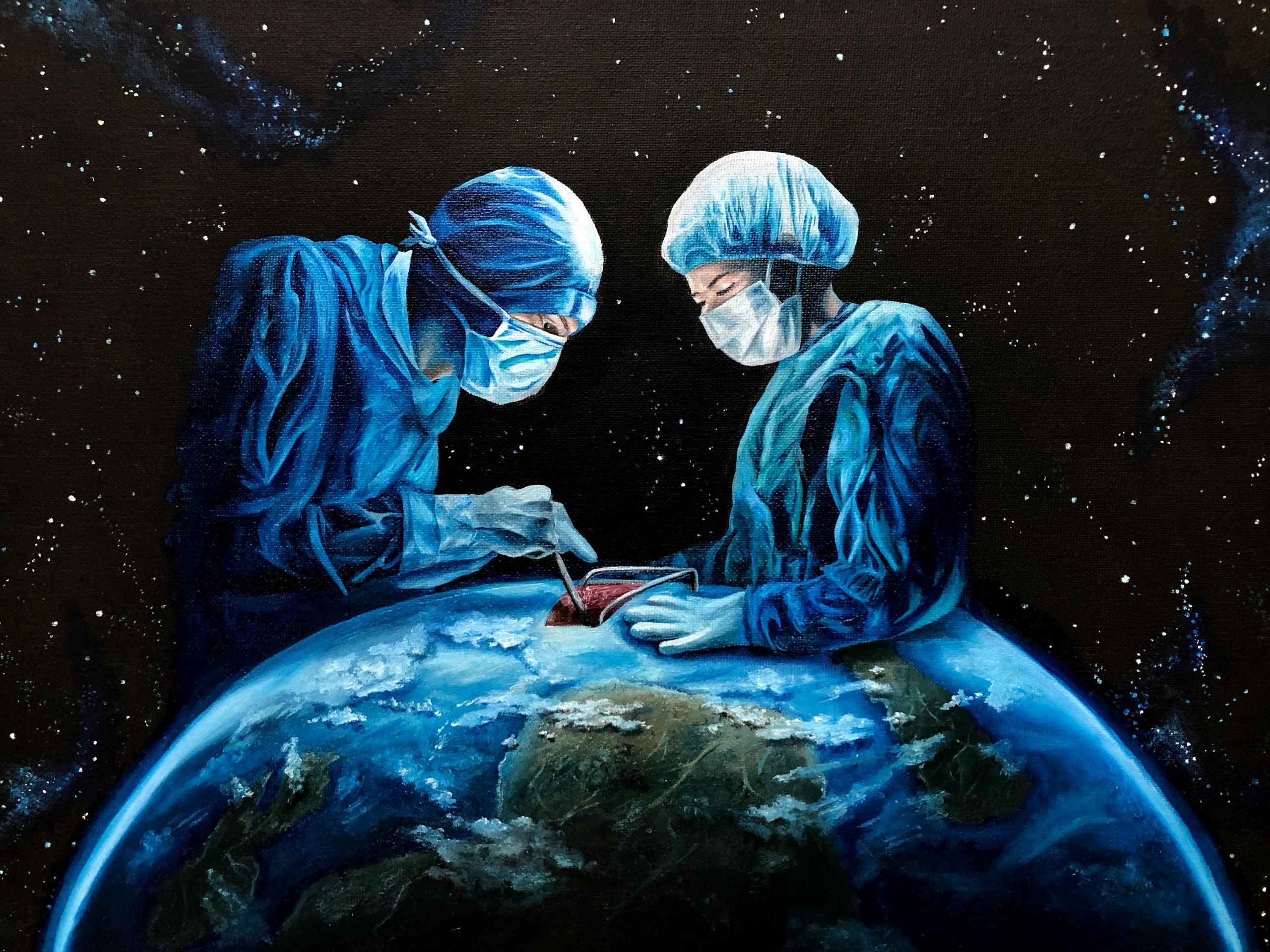 Global Operation by Lucy Baker
Global Operation by Lucy Baker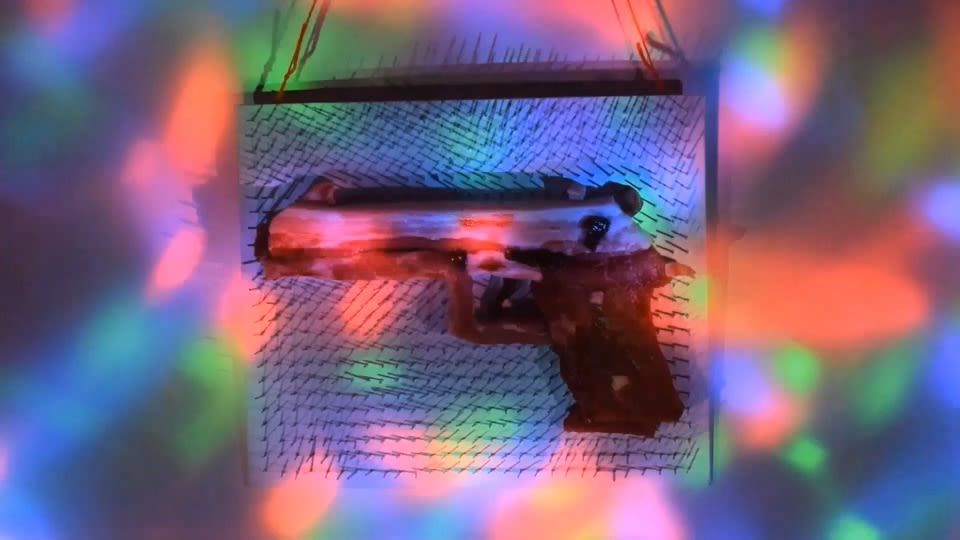 Meatgun Died for Our Sins by Marshall, de Falbe and Shukla
Meatgun Died for Our Sins by Marshall, de Falbe and Shukla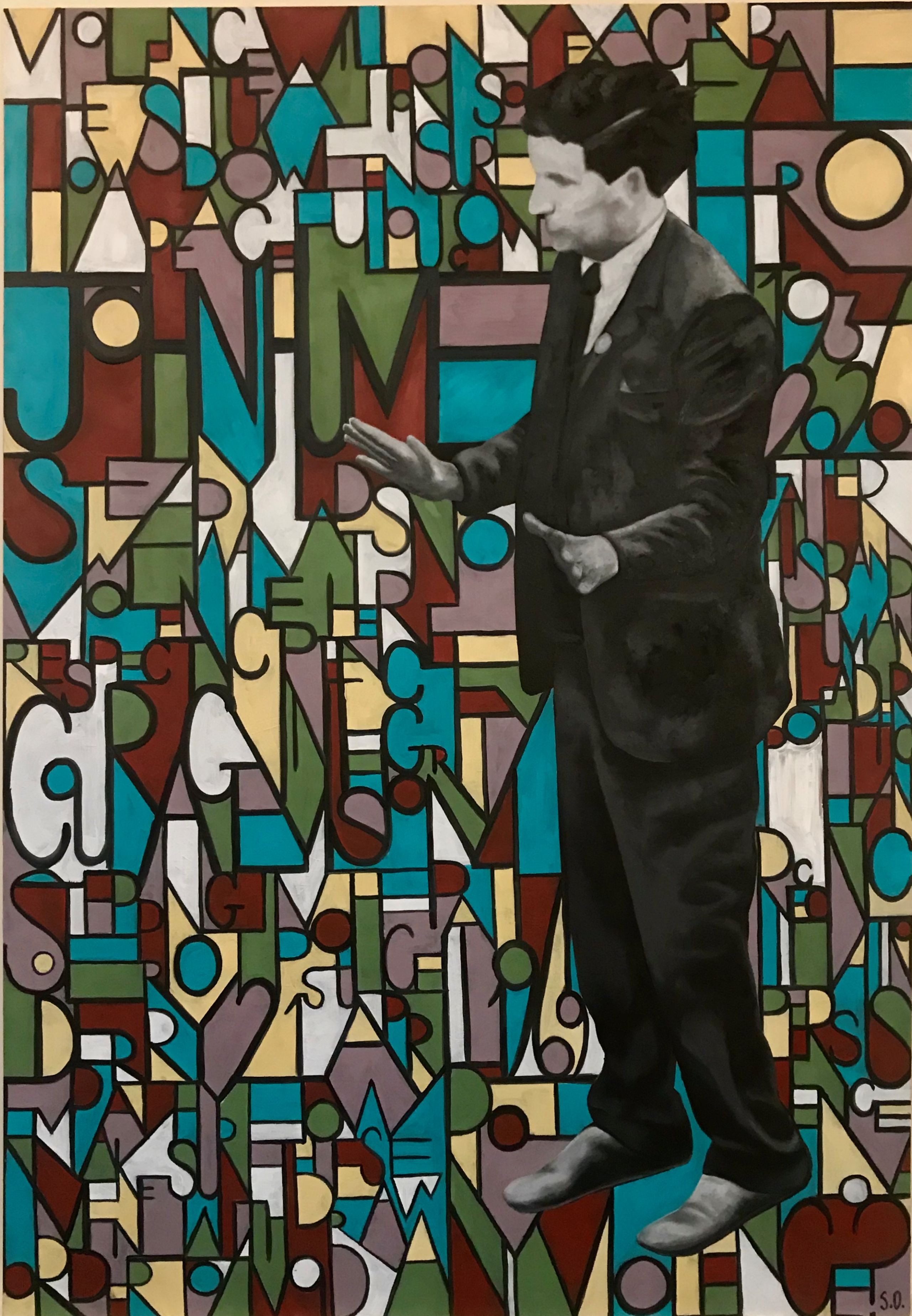 John Hume, Derry, 21st April 1969 by Shoun Obana
John Hume, Derry, 21st April 1969 by Shoun Obana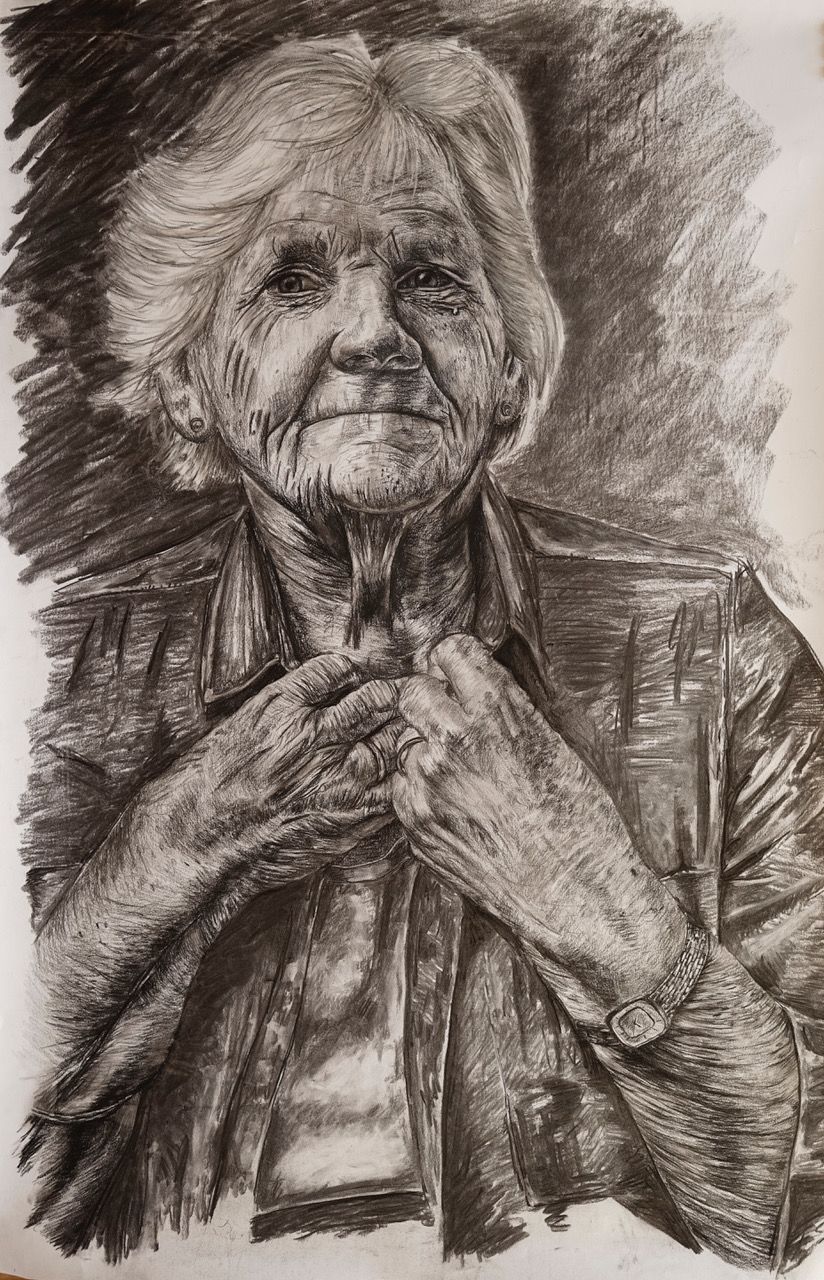 Grandma Alan by Lucy Adams
Grandma Alan by Lucy Adams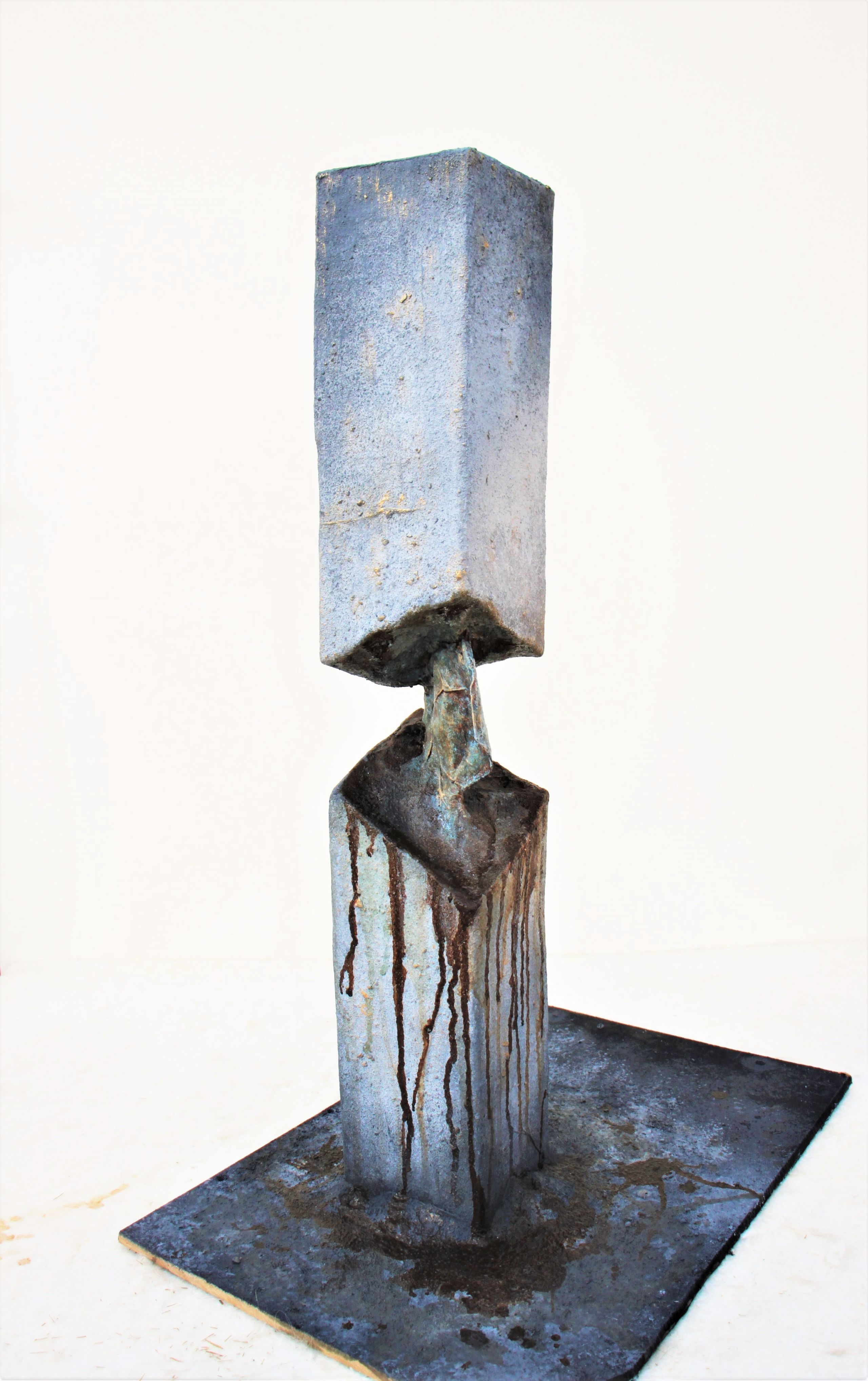 Agapē or Love Unconditional by Matthew Fackrell
Agapē or Love Unconditional by Matthew Fackrell