STUDENT
ART PRIZE
2021/22
HIDDEN


Welcome to the Student Art Prize 2021/22 online exhibition!
This digital exhibition showcases the shortlisted entries to Durham University's third annual Student Art Prize. The theme chosen for this year is 'hidden', a subject intended to enable a wide range of interpretative exploration and personal reflection.
The artworks shown here were selected from almost 80 entries by a judging panel of university and non-university representatives, artists, curators and creatives.
Each award is generously donated by Alumni to support the continued growth of student visual arts. We give thanks to the continued generosity of our founding sponsor, Alumnus Richard Roberts, who has confirmed his commitment and support to the development of the Student Art Prize for many years to come. Development of the prize in 2021/22 has enabled the establishment of the premier 'Richard Roberts Prize', in honour of its namesake. In addition, new awards for photography have been introduced.
The awards for 2021/22 are as follows:

The Richard Roberts Prize an overall £1500 cash prize, selected from both art and photography categories.
Art
1st place £750
2nd place £500
3rd place £250
Photography
1st place £750
2nd place £500
3rd place £250
People's Vote is a £200 cash prize, selected by the public.
The final prize-winners where announced on 14 June 2022.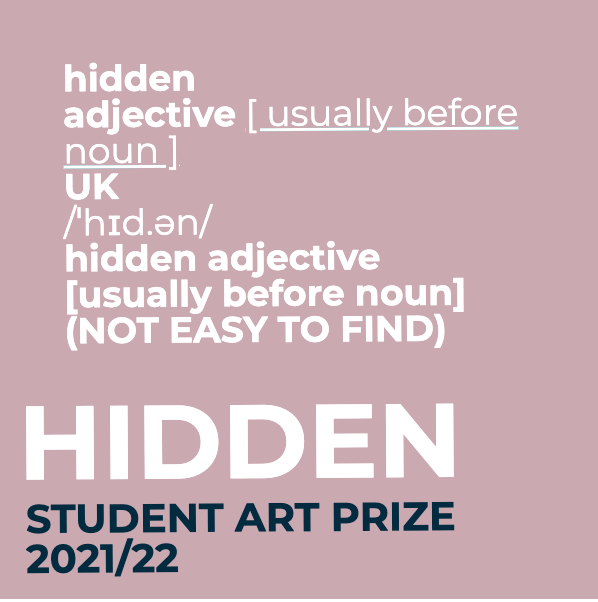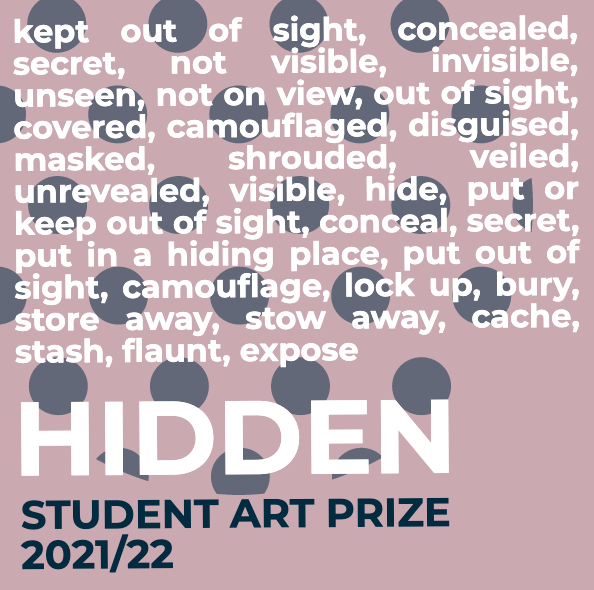 Scroll down to view the artworks, read the student artist's own words and explore our five exhibition themes...
Obscured, Camouflaged, Concealed, Unheard and Disassemble.
Disclaimer: All artworks and captions displayed as part of the Student Art Prize online exhibition are the unique works and opinions of the individual artist and not the views of the wider University. The images, artworks, films and materials on this site are the property of the artists or the property of Durham University and are subject to copyright.


Obscured
We often do not promote our vulnerabilities. Society might deem them uncomfortable or perhaps we subconsciously choose to hide them from ourselves and and the people around us.
In this section, we experience the world through the eyes of others, exploring mental health, disability, physicality, homelessness and the LGBTQ+ community.
Listen to curator Gemma Lewis discuss a collection of previously unseen objects in the Museum of Archaeology.

These objects were kept out of site for thousands of years, hidden underground. They are now on display, enabling their ancient stories to be heard once again.
Becky Morgan Art 3rd Place Prize
Self- portrait of the third face (2022)
Oil on card
"Self-portrait of the third face" depicts the part of myself I keep most hidden. The Japanese say you have three faces. The first face, you show to the world. The second face, you show to your close friends, and your family. The third face, you never show anyone. This artwork shows of myself in a depressive episode; an observer's view of my third face. This is a state no one (including myself) has seen me in.
Almost everyone my age, that I have met, has struggled with their mental wellbeing at some point. During the Covid-19 pandemic, the mental health epidemic my generation is facing has become even more apparent to me. Additionally, Covid-19 brought more attention to the existence of hidden disabilities. So, this piece relates to the theme "HIDDEN" in that I am bearing what I myself keep most hidden and so, am refusing to hide this anymore.
I created this piece firstly as a way to confront my third face and so accept its existence. Secondly, to use the painting of a self-portrait to spend time and retry a practice I had lost enjoyment in. If those who have felt similarly, could relate to my painting, then this would make my refusal to hide even more meaningful to me."
Luke Armitage
Out of Step (2022)
Digital Photograph
"The intention of this artwork is to explore the concept of 'hidden' from a disability perspective, and particularly through my experience as a wheelchair user of being simultaneously hyper-visible and invisible.
When considering the question of whether one should wish to assimilate into abled culture, there is the problem of whether some of us actually can – with this issue of inescapable (hyper) visibility not being limited only to disability, of course, but also relevant for those marginalised based on race, and/or gender non-conformity (for example). The (my) wheelchair in this image is jarringly out of sync with the surrounding public space.
Yet, it is not a contradiction for the marginalised individual to simultaneously be invisible, in a culture that is primarily designed to accommodate groups that they are excluded from – the vector of difference may glaringly be called attention to, but often the actual person is 'hidden'. Based on this, I used a long exposure to create the residual impression of the wheelchair user (myself)."
Ellen Wall-Row
Locked in/out (2022)
Digital Photograph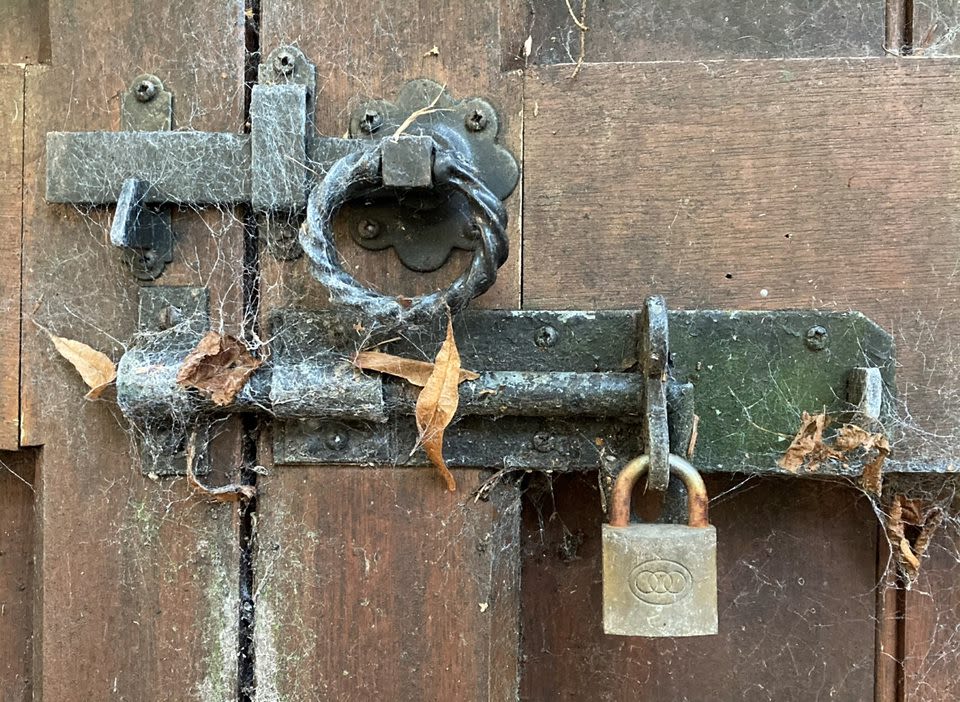 "Covered by dust, cobwebs and leaves, this bolt is somewhat hidden, a redundant lock on a redundant gate. Over the last two years, much of our daily lives have been hidden, carried out behind closed doors. Hidden from each other, hidden from the wider world. Since things began to open up, anxiety has complicated the mix. Once a keen walker, I now spend most of each day in the house or garden -where I found this lock-and rarely step outside the gate. A rusty bolt, speaking volumes about life now. Hidden. Redundant. Locked in/out."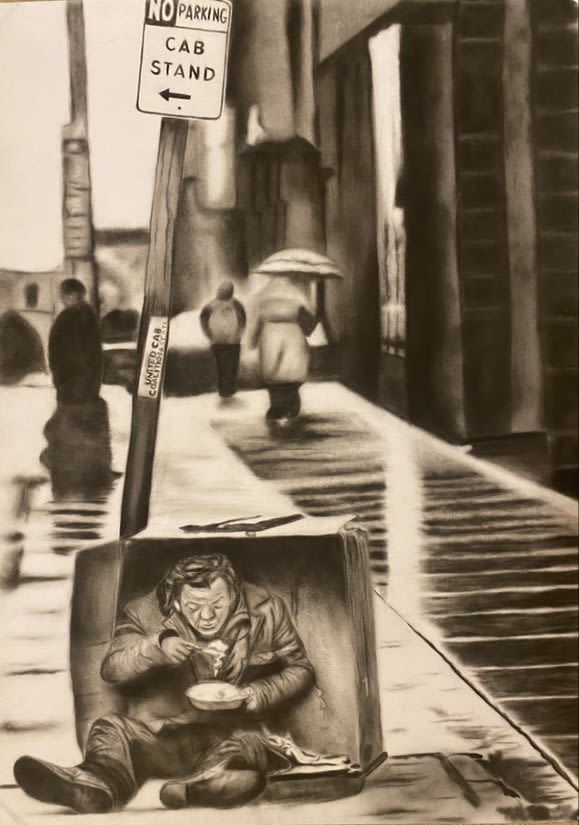 Amir Ghasemi People's Vote
Out of sight, out of mind: The hidden homelessness (2022)
Charcoal drawing on Fabriano paper
"Since 2010, the official number of street homeless people has risen by a catastrophic 134 per cent. To spend time in any town or city centre in the UK now is to come face to face with the people whose precarious living situations form these shocking statistics. as of April last year, while 4,500 people were sleeping rough in Britain, more than 300,000 were in hostels, temporary shelters or unsuitable and overcrowded accommodation. These figures do not include those sofa-surfing who are not registered by local authorities as being in need of housing assistance.
The latest reports suggest that young people form a disproportionate share of the hidden homeless population – with young LGBTQ+ people at particular risk.
I made this drawing to say we need to focus our resources and look at youth hidden homelessness distinctly. Because these young people are not entrenched in homelessness as yet – and I will try to prevent them becoming entrenched in homelessness."
Carrie Cheung
Even in another time (2022)
Acrylic paint on canvas
"They will remember us, I say, even in another time"
"As a queer Chinese person, this quote from Sappho has always resonated with me. I cannot point to any specific figures in my histories who are like me, because they have had to hide, camouflaging themselves like the metallic gold detail that cannot be seen unless you tilt your head right. But by painting this – two Chinese girls hiding a kiss in the dark, even behind closed doors - it feels as if I have reached through time to the unseen people left out of history books who also felt like they had to hide their love, so long ago."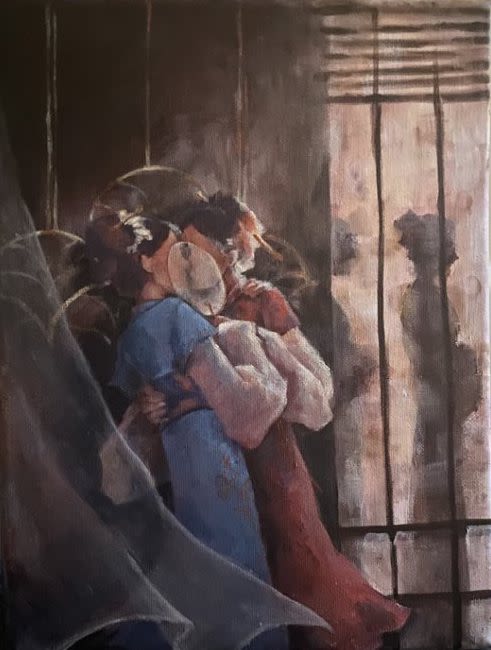 Camouflaged
Look closer, can you see what is hidden in these works? The natural world uses camouflage to hide and protect an abundance of secrets hidden just beneath the surface.
No [one] has the right to dictate what other [people] should perceive, create or produce, but all should be encouraged to reveal themselves, their perceptions and emotions, and to build confidence in the creative spirit.
Listen to this mini-series made by Durham University student Alice Pappon, and explore some of art history's hidden stories.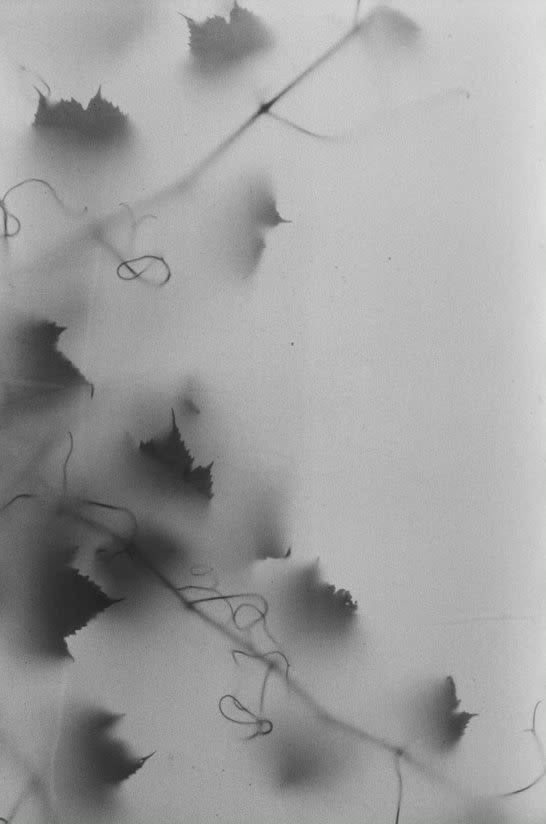 Martin Endersby Photography 1st Place Prize
Marquee (2021)
Film Photograph
"Vine, obscured through the roof of a white canvas marquee- a café in Totnes, Devon.
Covid-19 has highlighted the characteristics of a unique social space: the marquee. Marquees and tents in a post-2020 world have the feel of being both indoor and outdoor spaces: indoor enough to protect us from the elements, but outdoor enough to allow air ventilation and protect us from each other.
From within this half-outside space, the true outside world is felt, but not much seen. Through the marquee we feel the fresh air, we hear dogs barking, we smell not-so-summery barbecues cooking- but visually, everything remains at least partially hidden.
We may glimpse a tree leaning or a bird alighting on the roof, but in the shadow play behind our canvas shelter only the parts of nature that dare come closest to the canvas are visible, with muted colours and fading outlines. Nor can we see the sky through the roof which protects us from it.
Under a marquee, we hide away from nature's discomfort, and in turn much of its beauty hides above our outdoor ceiling.
Perhaps instead of through visual clarity, we can find beauty in that which is hidden."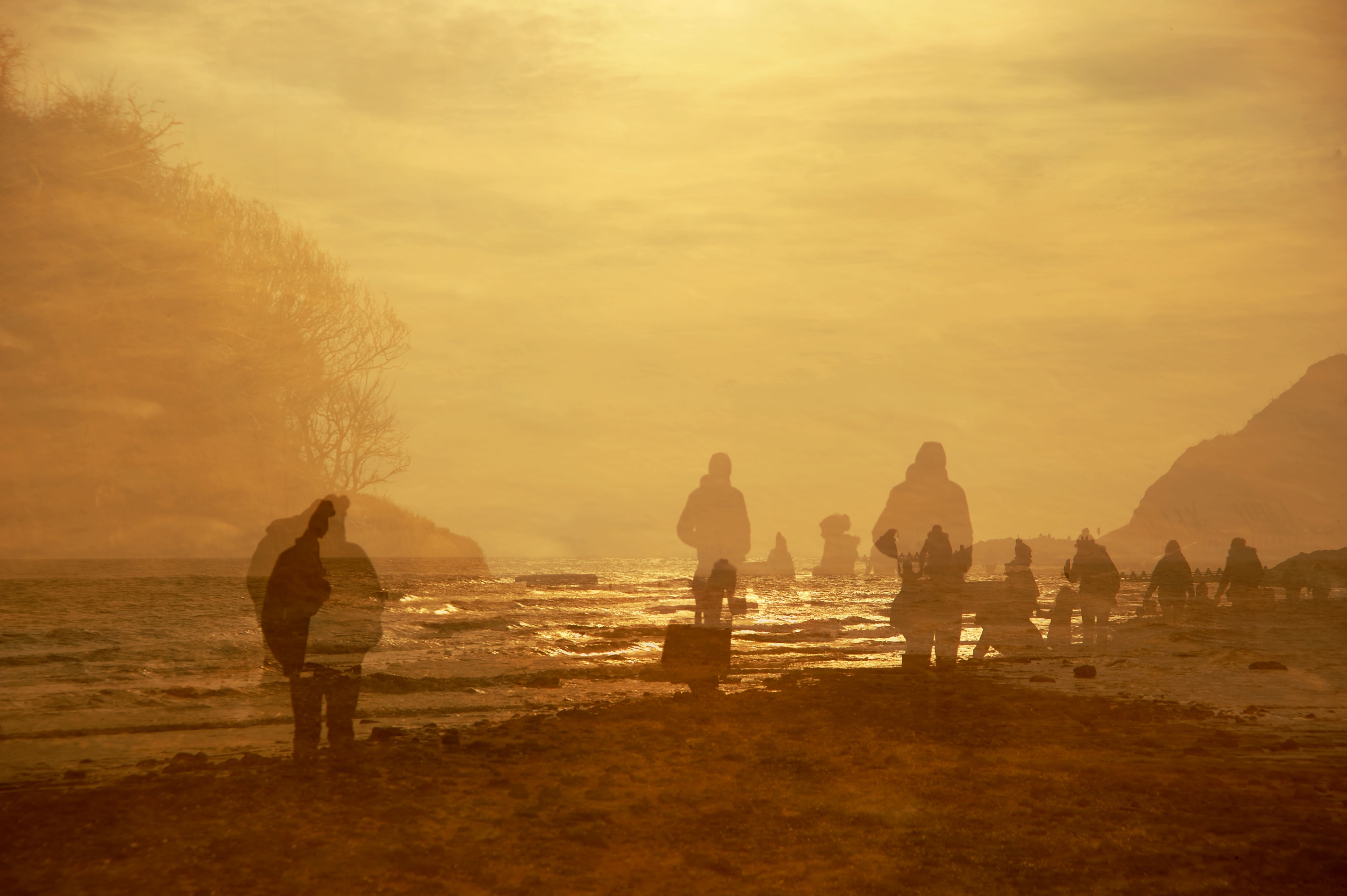 James Bailey, In Antiquity (2019), Digital Photograph
James Bailey, In Antiquity (2019), Digital Photograph
James Bailey Photography 3rd Joint Place Prize
In Antiquity (2019)
Digital Photograph

"My entry is a multiple exposure featuring walkers at Walton-on-the-Naze, Essex. Walton is a Wild Place – every year the coastline recedes, and every year treasures of antiquity wash from a clay-buried-slumber to be exposed to their first sunlight in millennia. Shark's teeth, megalodon teeth, fossilised wood, whale bones – I once heard rumour that a Woolly Mammoth tooth had been found after a storm, although I have never managed to verify this. Walton is a confluence of eons – paths through a hidden past meet there in the present day. In this sense Walton-on-the-Naze reveals objects long concealed, and breathes light back into what was long dark. I talk about the place as if it were a person; in some ways I think of it so. This really comes through in my entry.

In place of the walkers moving on the surface of the landscape, in my photograph (as in reality) the landscape moves through the walkers. Instead of moving through their surroundings, different directions and perspectives of their surroundings shine through them. Static they stoop to hunt fossils, or stand and look out to sea, or back at crumbling cliffs, and reveal the hidden compositions that bring this place to life."
Théo Rousseau
Hide-and-seek in the Jungle (2018)
Digital Photograph
"During a long walk through the Costa Rican jungle during my humanitarian trip, I tried to distinguish the wildlife among the thick bushes. I kept playing hide and seek with these curious racoons who would flee as soon as I looked at them. Taking a good photograph was a real challenge; I had to play as well and hide in the bushes. However, I learnt from that experience that to be a photographer is not always hiding behind the camera but also actively participating with the environment. Photography is not a passive art. As Ansel Adams said:
You do not take a photograph, you make it.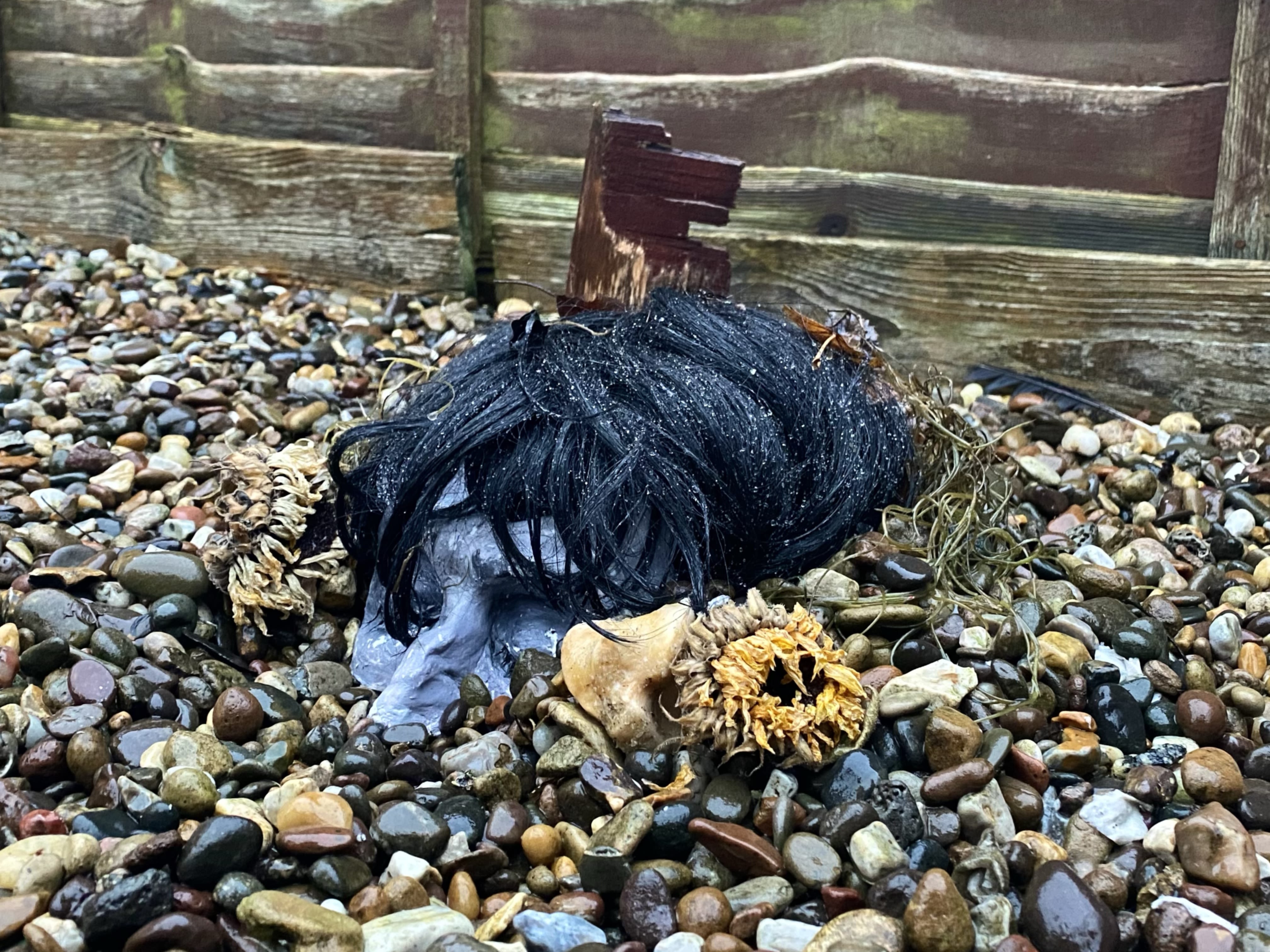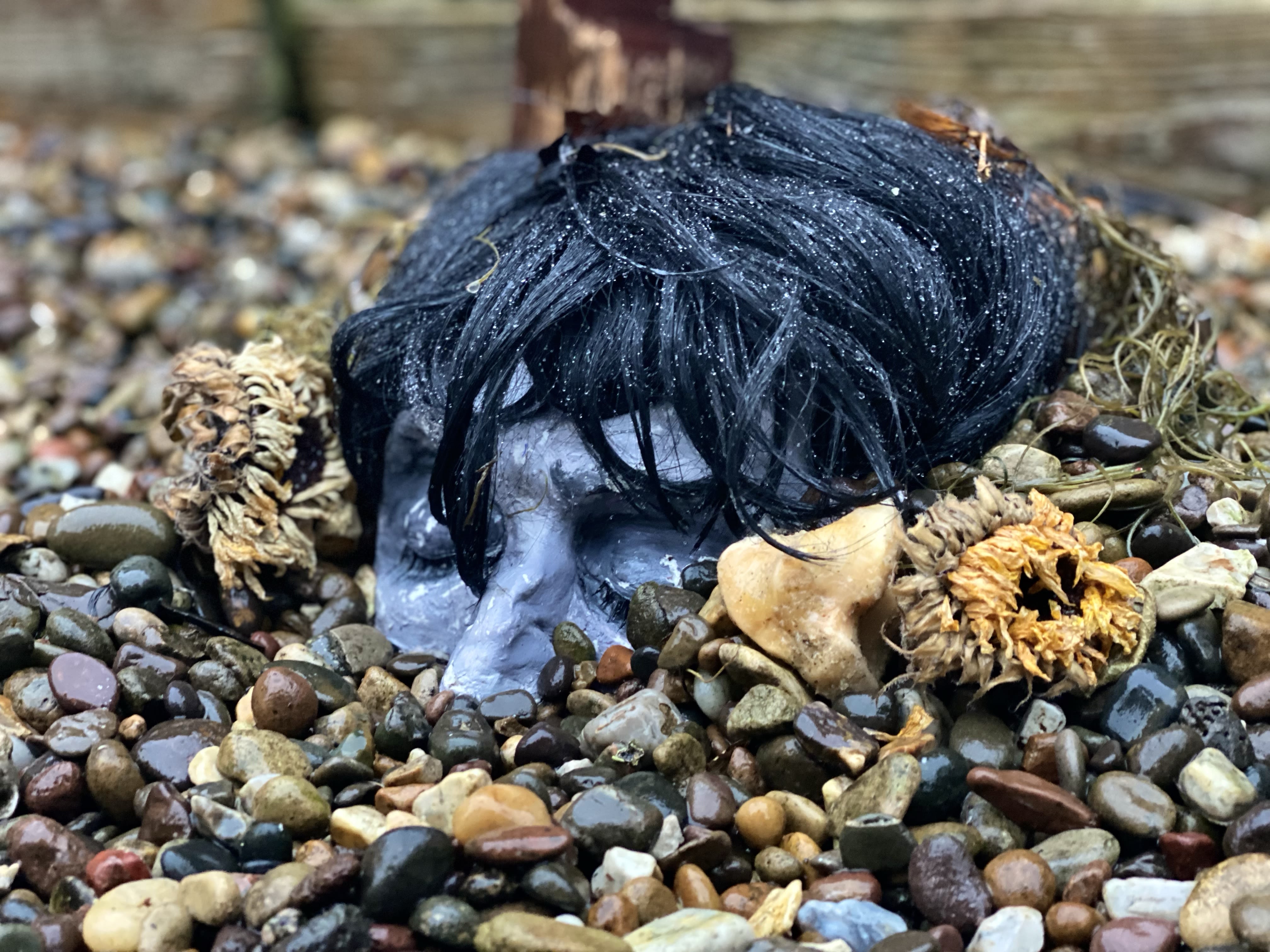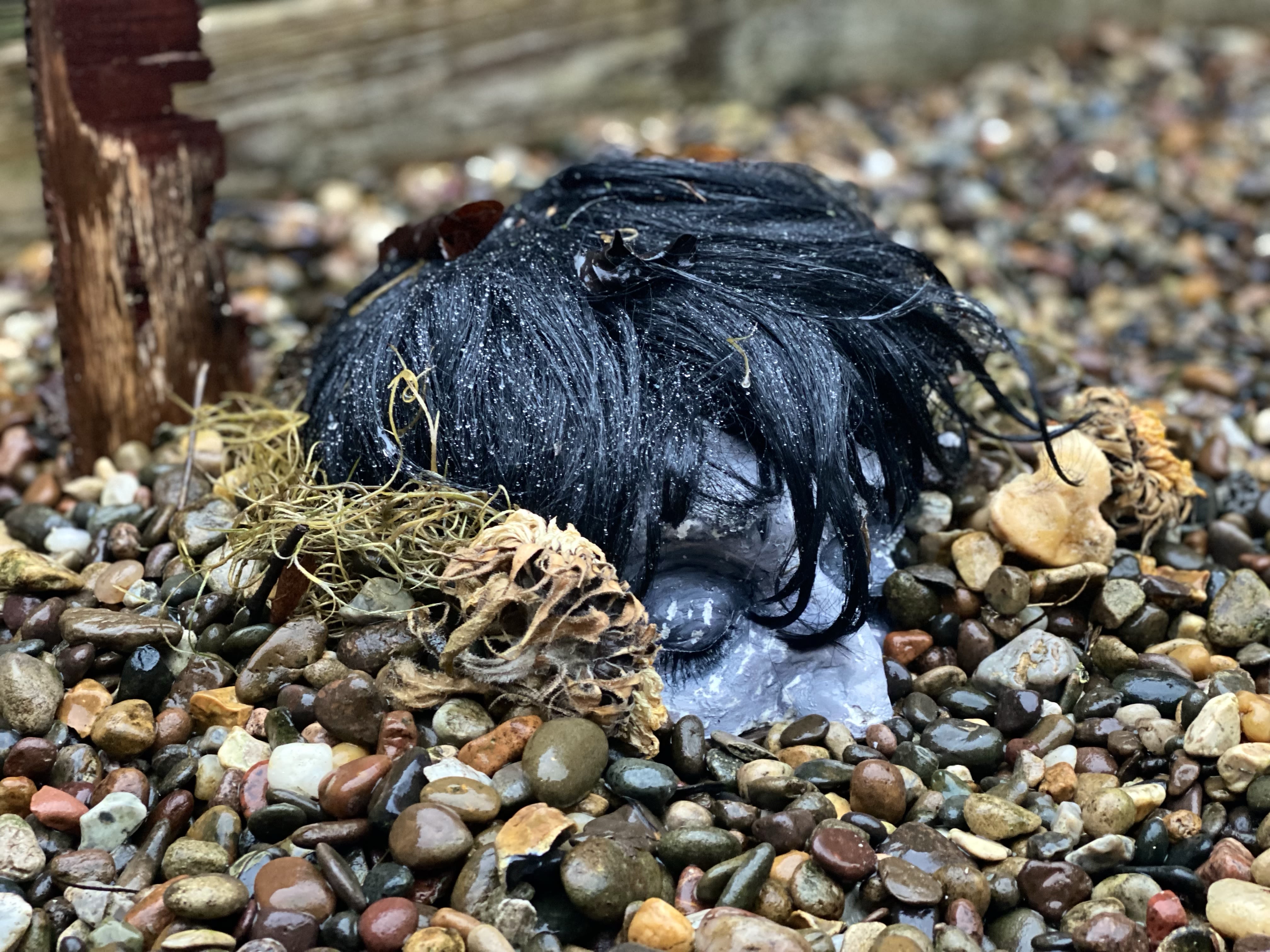 Adeline Ruidong Zhao Art 1st Place Prize
Grafton (2022)
Modelling Clay, polyurethane, natural objects
"Last summer, I found a signed copy of Jeremy Seabrook's Loneliness. Among all lonely interviewees' monologues, Mrs Grafton's chapter about her struggle with unexplained mental illnesses and the ongoing journey to find the hidden meaning of life strongly resonated with me. This inspired me to experiment on an artistic manifestation of unseen mental struggles under the influence of the contingent surroundings. The sculpture had been created and buried in garden gravel since October. The snow and rain rinsed off most of the coat of foundation originally applied to the face; windstorms have severed the surface. This course of slow deterioration illustrates Mrs Grafton's feeling of 'breaking down gradually'.
The windstorms have also blown withered flowers, tangled weed, a piece of broken fence, and a bone into the garden. I have them arranged around the sculpture. In a metaphorical sense, great adversities helped some hidden bits and pieces surface. To my surprise, they oddly contributed greatly to the aesthetics of the artwork, resonating Mrs Grafton's closing verse of her poem:
'a key must be found/ To unlock the secret'.
The marks and scrapes caused on the sculpture cannot heal, but something hidden has been attained."
Aelfred Hillman
Beneath the Thistle's head (2022)
Oil on Board
"Approaching this theme, I wanted to find a way to visually exalt my unseeable relationship with the myriad interconnectivity of nature. How might I capture life's hidden networks, those systems deep below the earth that seem so incomprehensible to our mortal terms of geography and time? Attempting to imagine the subterranean, I quickly realised these intersections might only be engaged with as they spring forth before me; interceding through ones spontaneous recognition of beauty and instinctive delight. Choosing a plant of majestic intricacy, I began to paint it with an aesthetic disregard, ignoring compositional rules and employing a restricted pallet. Beginning at the plant's root, I allowed my observations to build, moving outwards into a green swath of intricate complexity.

Seeming to defy common delineations of realism and abstraction, the structures dance out into an incomprehensible expanse, so that the process of detailed observation might infinitely evolve, eternally mapping the restructuring of natural forms. That the work must end, obliged into completion by the temporal restrictions of the mortal artist, allows the work to signify nature's void, its concealed potentiality; becoming an imaginative double for hidden energies slowly migrating through the earth, exploding before us into a vision of ecstatic complexity."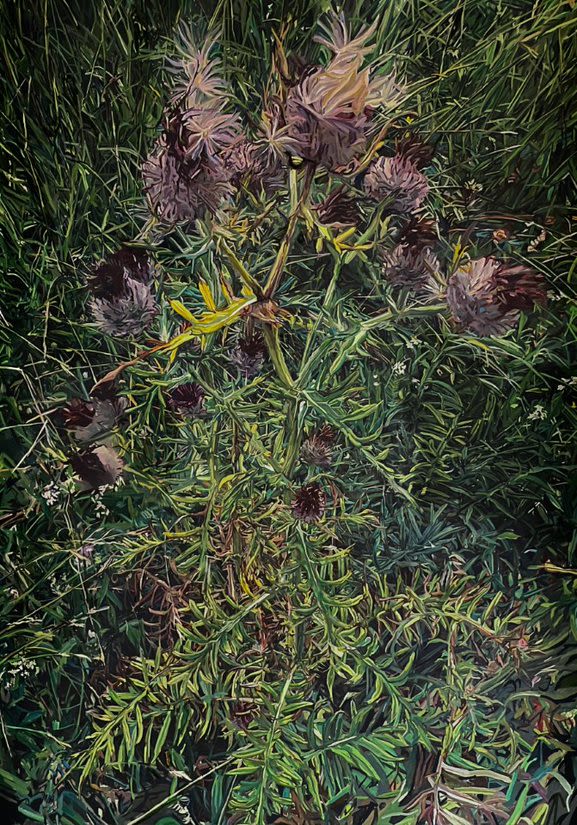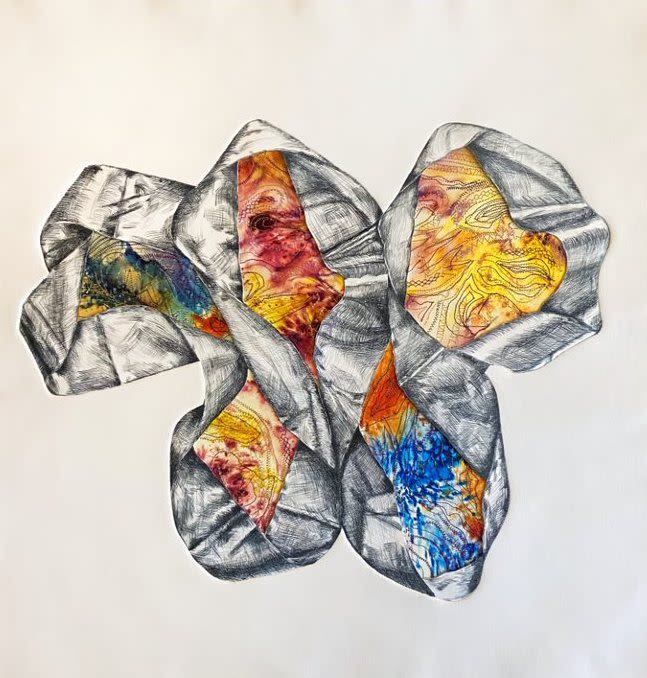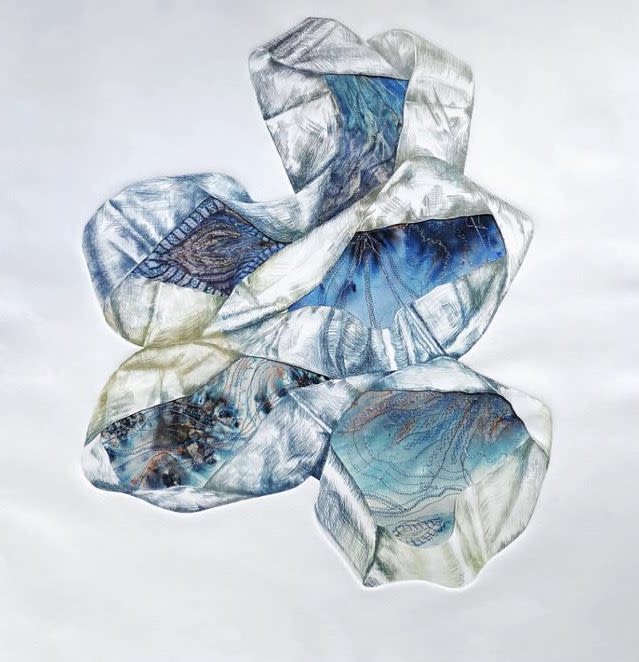 Lucy-Mae Bly
Windows of Joy (2022)
Mix media piece including dry point printing, brusho and textile image transfer and machine embroidery
"In creating this artwork, I wanted to represent how we must continue to look beyond man made obstructions to see the constant beauty of nature that eternally lies HIDDEN within.

Here the ribbon represents urban sprawl that too often obscures the beauty of nature, depicted in the embroidered reveals. Inspired by the forms, patterns and colours within nature, the piece depicts both macro geographical patterns of whole landscapes and micro details of leaves. The use of ribbon also symbolises a gift and that underneath its wrapping, the joy is often found within. Release the ribbon and expose the hidden potential and pockets of serenity, connection and beauty that can be lost in our everyday lives.

Through the creative process, a second layer of imagery began to emerge. The tangible nature of the satin ribbon symbolises the tangled web and complexity of modern-day life. The knots that we tie ourselves in in our daily lives, mask the texture, rich colours and details of life… the beauty of nature HIDDEN within."
Concealed
Through these artworks, each artist has shared their personal space, offering a glimpse into their own worlds and unique lived experiences.
Our own internal hopes and fears are sometimes so personal, that it can sometimes be difficult to communicate to others our truest selves.
I found a way to visit without fear, exorcising all ghosts from the past to fill my mind with something mind-blowing.
Listen to the Student Art Prize playlist. How do musicians respond to sharing their personal experiences?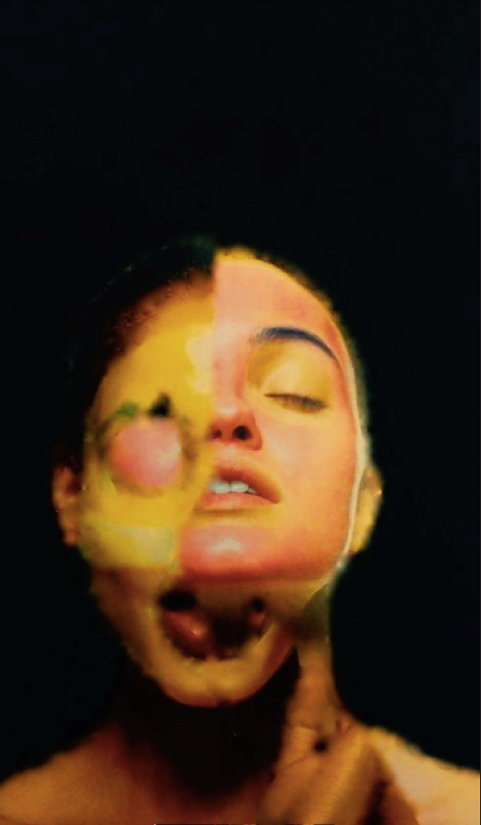 Alexandra Baker
Hidden Truth (2021)
Digital Photograph edit
'' Hidden truth is a representation of a persons hidden feelings. You truly never know what is going on in people's minds. On the outside they seem joyful and hopeful but deep down they are suffering. The pink woman is the representation of beauty, happiness and light. However, it is only a pink mask which hides the real depression and suffering. The overlapping ghost like face represents these negative and raw emotions. They are desperately trying to find a way out into the world but the pink mask traps them inside."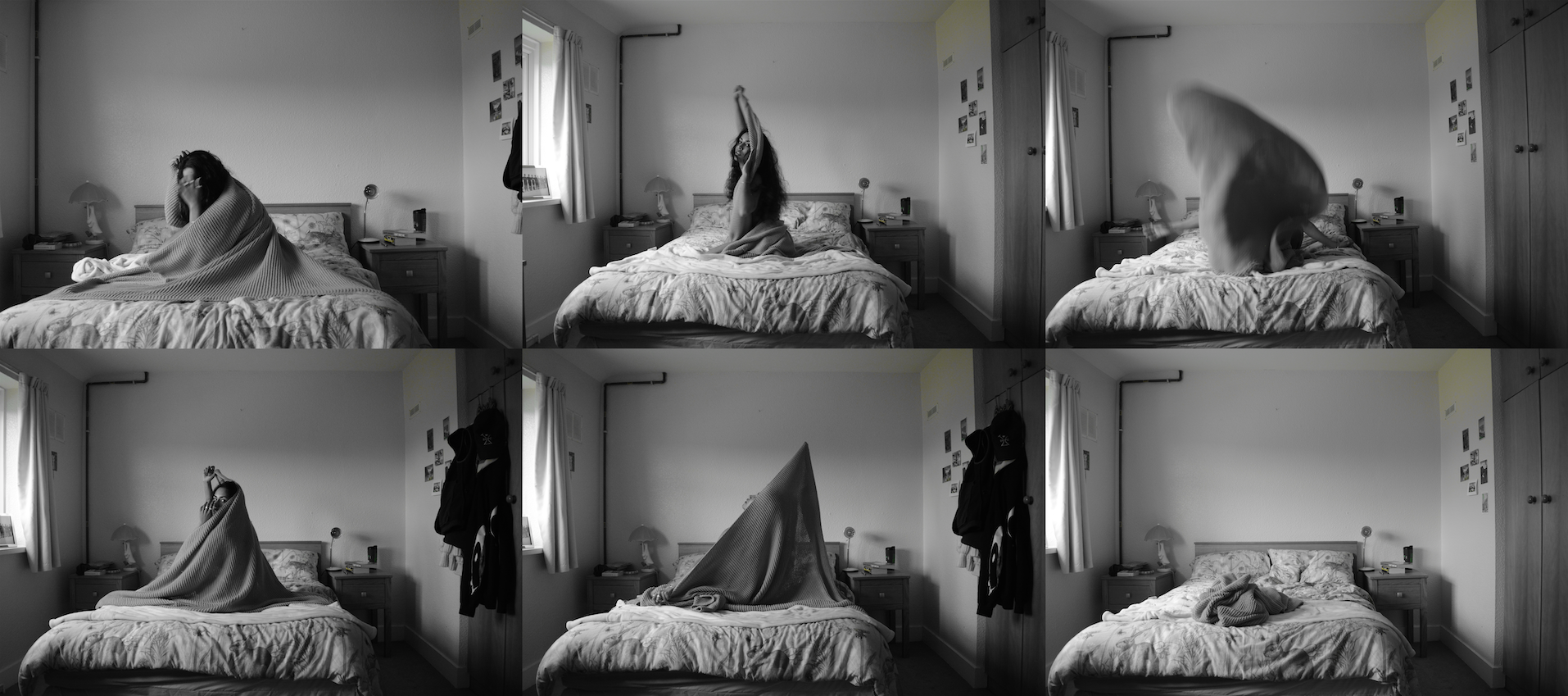 Anna Jacob, A Fragile Mind (2022), Digital Photograph
Anna Jacob, A Fragile Mind (2022), Digital Photograph
Anna Jacob
A Fragile Mind (2022)
Digital Photograph
"Inspired by the work of photographer Cindy Sherman, A Fragile Mind depicts 6 photographs representing the daily struggle inside one's mind. The photos have been taken by myself, and I feature in them as the subject.
There is only one colour present in the photos – a yellow hue, the symbolic colour of joy. However, in contrast, the photos convey melancholy and fear, a hidden desperation inside the mind, behind the eyes.
The setting should invoke feelings of warmth and comfort – there are multiple blankets on the bed, and in the background a duck shaped lamp is visible. These items are offset by a gas pipe running along the edge of all the photos, making the setting appear industrial. The lamp on the right hand side does not match the left, and it is positioned to directly face the camera, giving the appearance of an interrogation. The final photo is a blank frame with no subject, to be left to interpret by the viewer."
Hannah Jacinta Ferguson
Masking (2022)
Digital drawing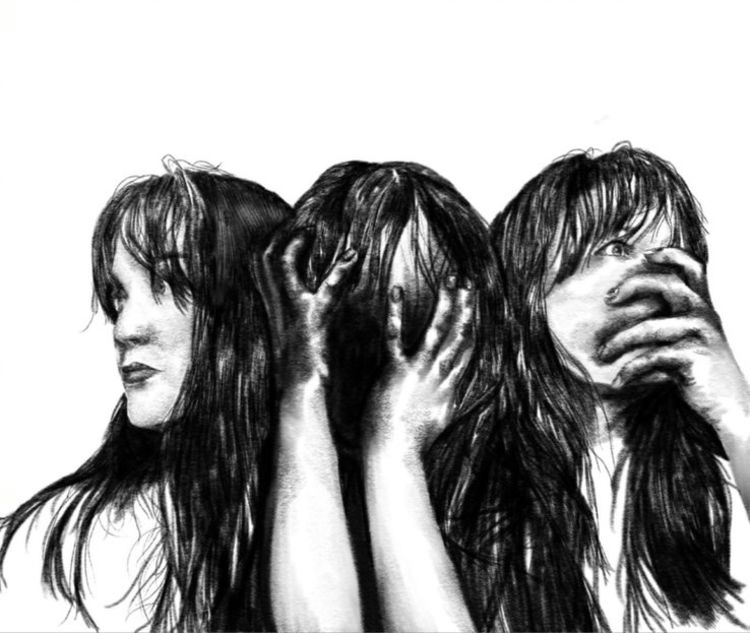 "Inspired by the theme of 'Hidden', I decided to create a piece to reflect on my own personal experiences as a young, Autistic woman, part of a group underrepresented and often over looked yet facing the same struggles as their male counterparts. The idea of the study is to depict what it is like for me personally to deal with issues of hypersensitivity and anxiety, whilst 'masking'- a common medical phrase to describe how especially female autistic people cope, as they appear to assimilate and look 'normal', like the left third of the portrait, when in reality we may often feel like the second parts, just that is more hidden from view. This hopefully illuminates how with lower rates of diagnosis and more resources tailored towards autistic males, the experience for women with autism though hidden shouldn't be overlooked."
Sophie Draper
My Mind Is I (2022)
Digital artwork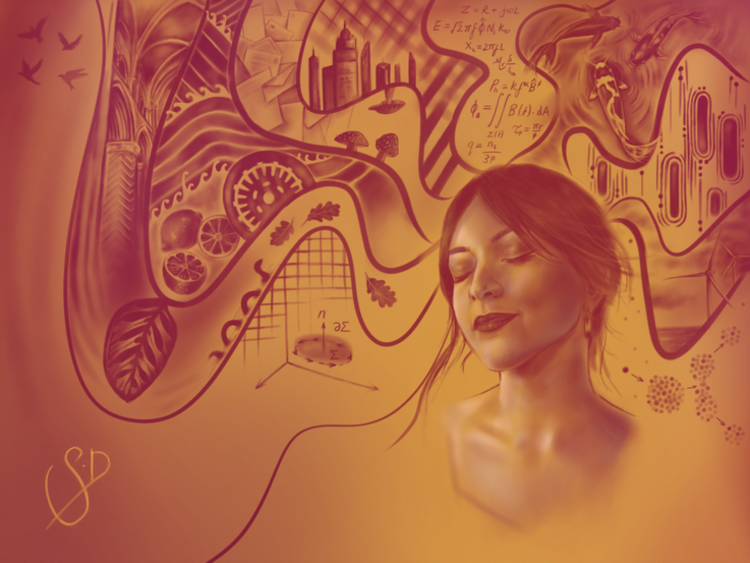 "In 2021, I was diagnosed at 25 with ADHD. Less commonly known as a dopamine dysregulation within the brain. The diagnosis helped to explain daily struggles I face with inattentiveness, distractibility, and emotions. However, the word 'disorder' in ADHD made me feel like I was 'wrong' in some way. It took me a while to realise that this isn't just a disorder when it has enriched me with an overwhelming creativity, excellence in problem solving and confidence not to turn down a single development opportunity. I have always been able to notice things others don't see, however it took me a long time to really notice myself.
This artwork is a self-portrait where I am depicted amongst a tempest of the goings-on within my mind. However, these swirling thoughts and passions cannot be seen by others. ADHD affects women differently to men, women often with mask their symptoms, they are hidden in plain sight. Despite the overwhelm, I am shown to be in a state of calm in the self-portrait. This is me expressing that I am finally content with my diagnosis and who I am. My Mind Is I."
Unheard
Are we ever really listening? If we were to listen closer, could we hear some hidden stories being told?
In rereading my diaries from the 1960s, I am reliving the angst I felt as I confronted my sexuality at a time when the words lesbian and gay were hardly mentioned. There was an enormous amount of stigma attached to the word homosexual, which was listed as a mental illness by the psychiatric association.
Linda Stein (whose work is part of Durham University's Art Collection) is an activist visual artist, writer, lecturer, performer, and videographer living in New York City. Her work often deals with themes of protection and otherness, inspired by the artists own struggles with acceptance and sexuality. Stein is the Founding President of the non-profit organization Have Art: Will Travel! Inc. (HAWT) for Gender Justice, addressing bullying and diversity.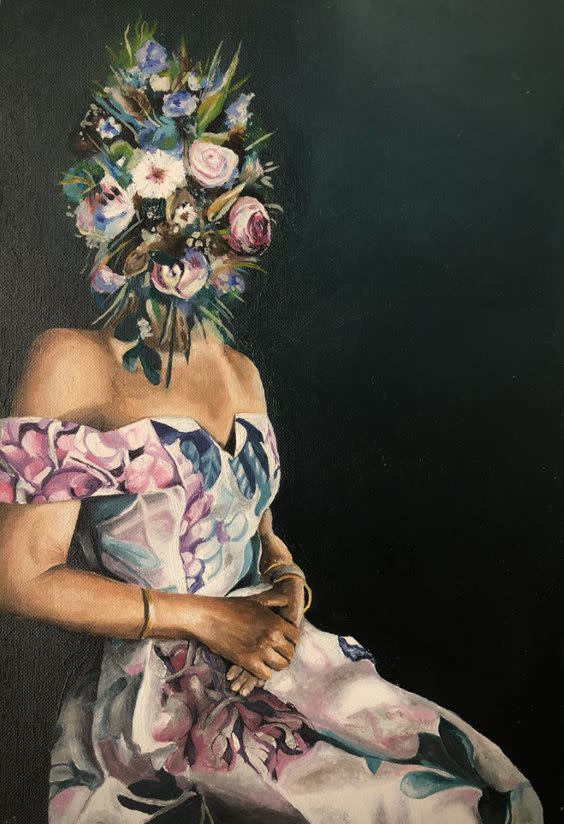 Shania Phillips
Un Visage de Fleurs (2022)
Oil on Paper
"Inspired by the work of Ewa Juszkiewicz, 'Un Visage de Fleurs', paradoxically celebrates the strength and beauty of femininity. On the surface, the artwork is reminiscent of classical portraiture as it depicts a woman in a similar restricted pose and elegant dress. However, beneath this initial pretence, this painting seeks to challenge the restricted social conventions of women, by embracing this depiction and challenging its principle through the theme of 'Hidden'.
The inclusion of a mask of flowers to hide the face protests against how, throughout history in portraiture, women's faces were typically considered the most beautiful focal point of art. However, a woman's value is not in her appearance but in her spirit, conveyed using flowers which are symbolic of femininity. As with women, flowers are frequently recognised for their delicate beauty, but they are not so often seen for their strength. In reality, flowers are resilient, useful, necessary to the circle of life, and sometimes dangerous with their alluring nature attracting its victims. The resulting lack of identify resulting from the mask of flowers allows a celebration of the female gender as a whole and not just of my beautiful mother, who is the subject of the painting."
Lucy Skrine Photography 3rd Joint Place Prize
The Man at the Camera Shop (2020)
Digital photograph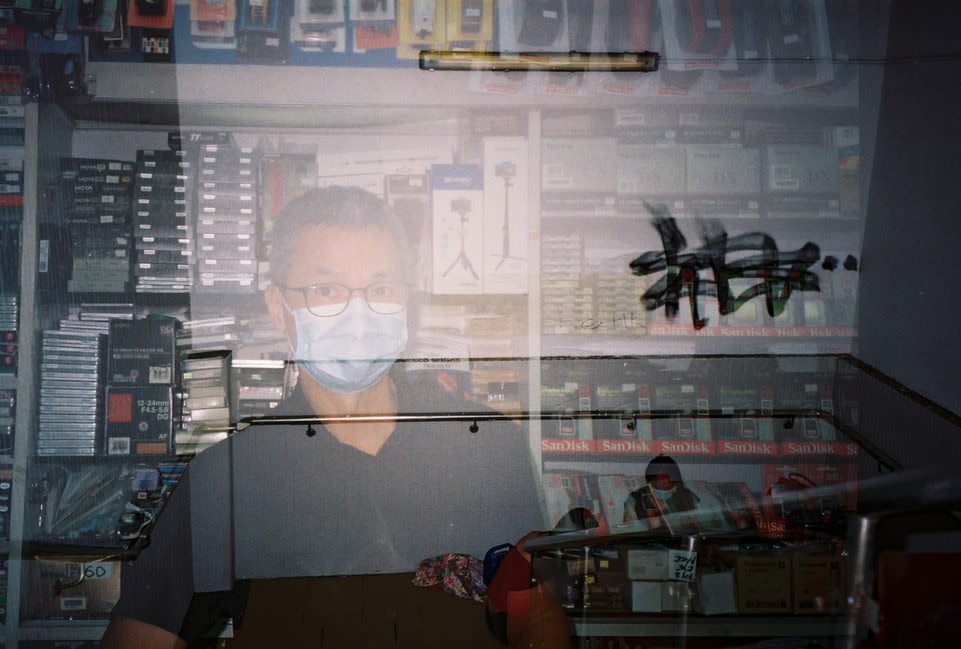 "I believe this picture complements the theme of Hidden well. The use of double exposure is a key feature in this picture and creates a sense of contrast. More specifically, the top image is of the man from the film camera shop; the bottom image is not obvious until one examines the picture more closely, forcing the viewer to actually search for the subliminal meaning themselves. It reveals the hidden population of Filipina domestic helpers, who constitute a vital part of our society, yet are frequently treated as inferior and ostracised by the people whom they serve. I believe the fact that they comprise the bottom image exhibits this point well, because they are continually alienated and undervalued.
The wealth disparity in Hong Kong is one of the greatest in the world: a tale of two cities, it is simultaneously home to obscene wealth and shocking poverty. Thus, I feel like this picture strikes a fine balance between the two poles of Hong Kong culture. Because this picture was taken discretely, I believe it corresponds to the idea of a hidden identity. This alludes to a larger concept that Hong Kong is a very diverse place, and it is difficult to truly comprehend another person's lifestyle."
Ananya Nair Photography 2nd Place Prize
Hands of Delicate Death (2018)
Digital Photograph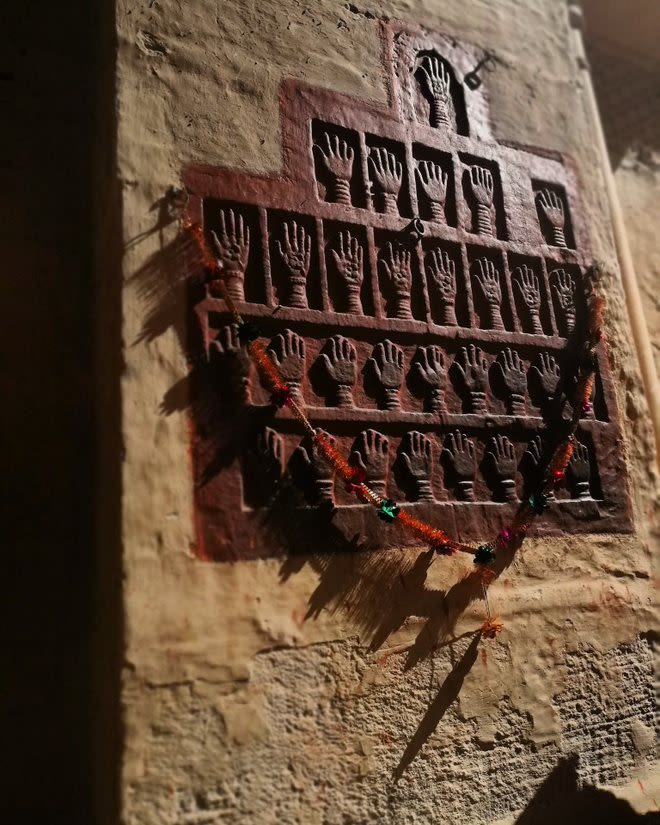 "Looking at the photograph, one would assume that it's a photo of artwork or commemoration of hand artwork. The handprints, so meticulously placed, are the prints of women from 14th Century Rajasthan (India) who committed mass self-immolation.
This mass suicide in Chittorgarh fort was common not only in Chittorgarh but throughout North-Western India, as those were areas that were frequently at war with either foreign powers (the first could presumably have been during Alexander the Great's arrival) or powers in the capital city of Delhi. The reasons why Jauhar was practised is very interesting. It was to prevent the rape or capture of women in case the kingdom was losing the war. Women ranging from the Queen to (although classist) ordinary women would take their children and jewellery and leap into a communal fire as the soldiers fought to the death.
Jauhar was seen as a duty of honour for both the women and their homeland. Witnessing this plaque is otherworldly when you learn about the deep history behind that is hidden by such an inconspicuous display of garlanded petite hands.
The angle of my photograph was deliberate to emphasise how unobtrusively the plaque was placed in the Fort's vestibule."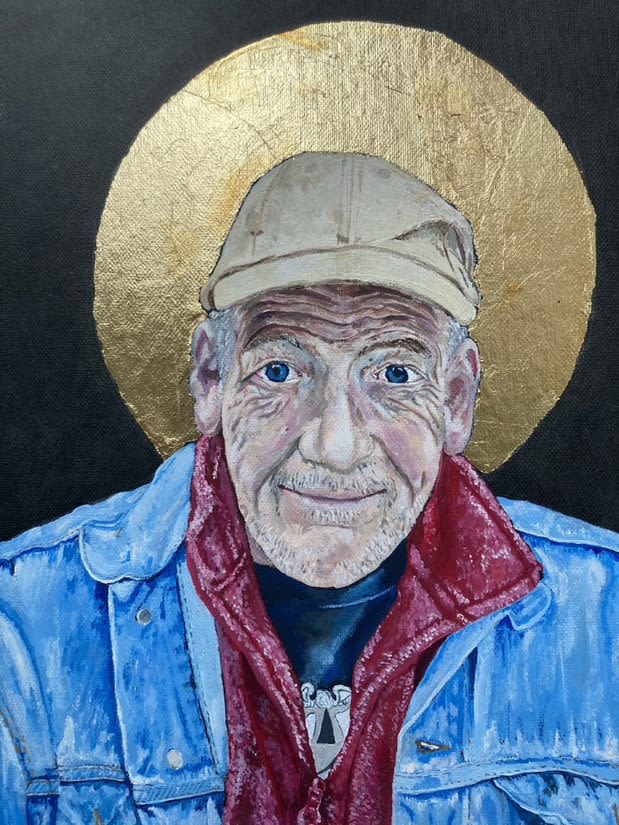 Molly Parker
Everyday Saints (2022)
Oil and gold leaf on the cover of a hardback book
" 'Everyday Saints' explores the hidden sainthood and goodness that can be found within everyday people. Sainthood is not a status restricted to larger-than-life historical and biblical figures; rather, it can be recognised in ordinary acts of everyday kindness and virtue.
In my artwork, I demonstrate a contrast between normal modern life and classical antiquity. By drawing the two together in one piece, I present the goodness that is often overlooked and therefore, hidden within the ordinary. The depiction of a man from my local market and his modern clothing creates a sense of normality that contrasts my use of classic artistic mediums and the halo outline. I decided to use gold leaf and oil paints because these mediums are used historically in religious paintings. They are also luxurious and expensive materials that serve to elevate the man's status into sainthood and therefore, allow his hidden goodness to shine through. In Early Christian art, "gold-ground" paintings used gold leaf for the background of the presented figures. However, I decided to create a halo in gold leaf that was connected to the man instead of in the background to show that his saintly aura is an intrinsic part of him."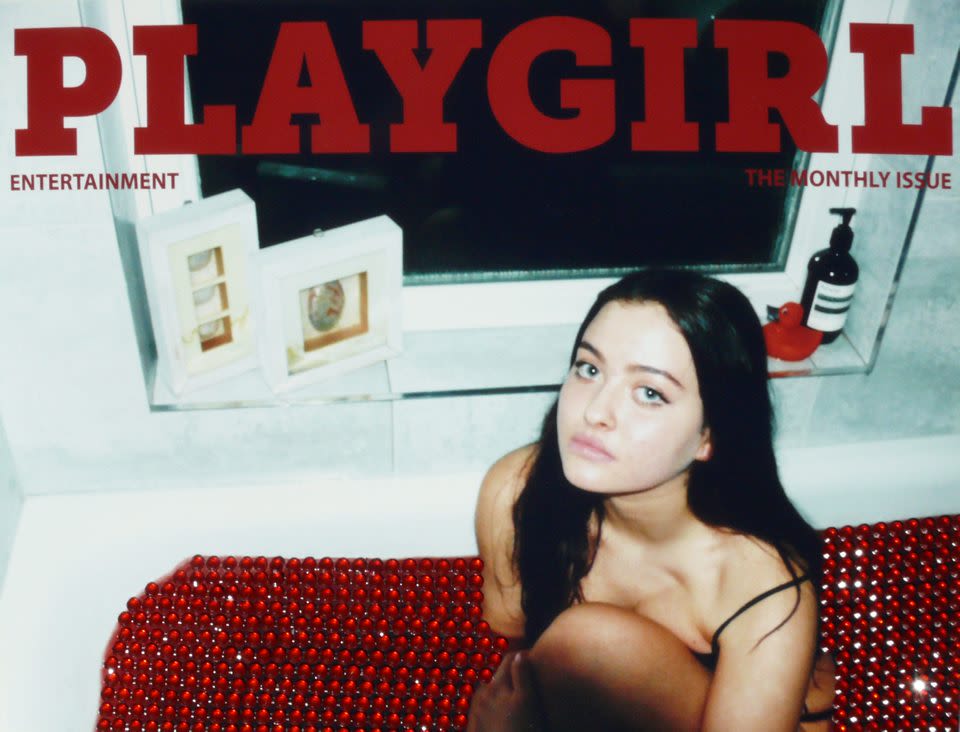 Ayse Cana Tutuncu, The Monthly Issue (2022), Digital Photograph
Ayse Cana Tutuncu, The Monthly Issue (2022), Digital Photograph
Ayse Cana Tutuncu
The Monthly Issue (2022)
Digital Photograph
"I wanted to comment on the cultural interplay between using women's bodies for erotic entertainment, versus the presence of stigmatisation and shame to euphemistically keep hidden, a very natural part of women's bodies. There is a sinisterly subliminal "hush hush" taboo that surrounds the topic of menstruation, also linking to the title 'The monthly issue'. Associating this with magazines being 'monthly issues', it represents the negativity many girls are brought up with surrounding the topic of menstruation: viewing it with embarrassment, as dirty; a weakness. Puritanical conditioning, in aiming to hide the 'dirty', is what contributes to young girls internalising something, which should be empowering, as an 'issue' thus creating an oppressive psychological bondage. This was the way I, and many of my friends felt as young girls, which is why it only made sense to have myself as the subject since this was an introspective journey for me as an artist. The embellishments further point to the interplay in two directions also; the motivation to hide and cover but contrastingly, with the sparkly surface it provides: the magical element our ancestors viewed moon cycles with."
Elizabeth Scales
Inside the Rainbow (2022)
Digital artwork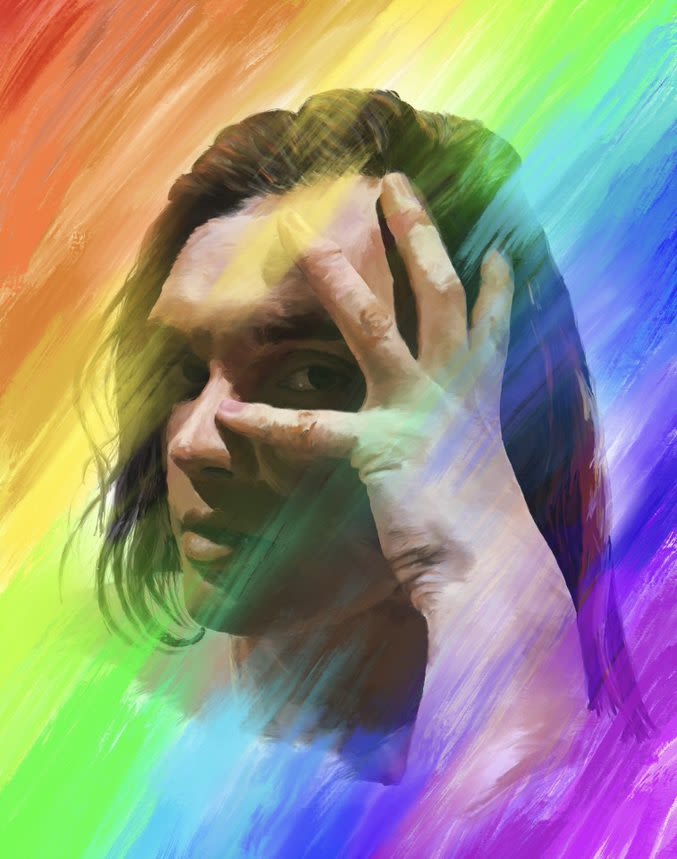 "As an LBGTQ+ member, people can prejudge you before they've had a chance to get to know you when you present in a stereotypical gay fashion, as shown in the media. The person depicted within the painting cannot hide their sexuality as they fit into the stereotypes, resulting in people having a preconceived idea of who they are. This makes it impossible to keep it a 'secret' if they wanted to; it is the first thing you see and think when you meet them. Within my art, I wanted to show that there is a person within/behind the rainbow; it does not define them. Being non-binary and gay is a significant part of their life, but it is not the only thing that makes them who they are. I want to remind people that it is important to see past sexuality to enjoy the person underneath with this artwork."
Disassembled
Our final section looks at 'hidden' from an alternative stance. Structural barriers and boundaries can be disassembled to suggest the visibility of alternative viewpoints.
Rising out of obscurity, these artworks highlight artistic processes, unknown stories and show an exploration of societal and industrial construction.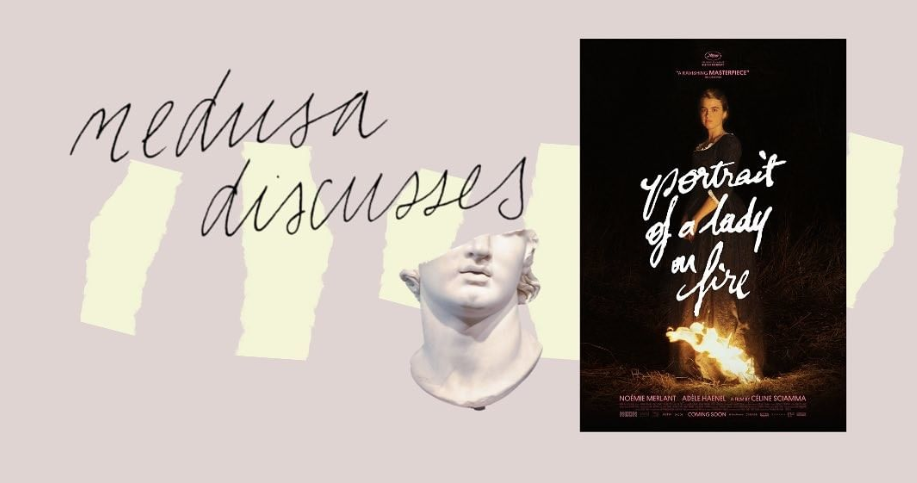 In 2022 the Art Prize Art School commissioned Durham Alumni MEDUSA, a creative partnership between Emily Walters and Eden Szymura, to create an online workshop and resources pack.

Participants took part in a film club which discussed the theme of HIDDEN in relation to Celine Sciamma's masterpiece, 'Portrait of a Lady on Fire.' You can take part and download the resource pack below.
Ludo de Falbe
Heddon (2022)
Oil on canvas
"I have heard the goal abstract art described as painting something that does not exist, and this for me connected with the theme of hidden. Colour draws us in as we search for familiar shapes and forms, making sense of the image. The more we look the more we discover new images and make new connections. The method is significant too, where many layers of lightly applied acrylic are built up until congruent, forming the underpainting for the final layer of oil. The effect of all the experimentation is concealed beneath the final product but was central to its evolution. Tomma Abts' paintings were a big inspiration for this work, specifically her use of colour where muted hues are combined in a geometric pattern to great effect. For this reason I named it like she does, after the area where it was painted, in this case at my home in North Devon."
Noor Muhmoud
ستائر جدة (satayir jida) Grandma's Curtains (2022)
Digital Photograph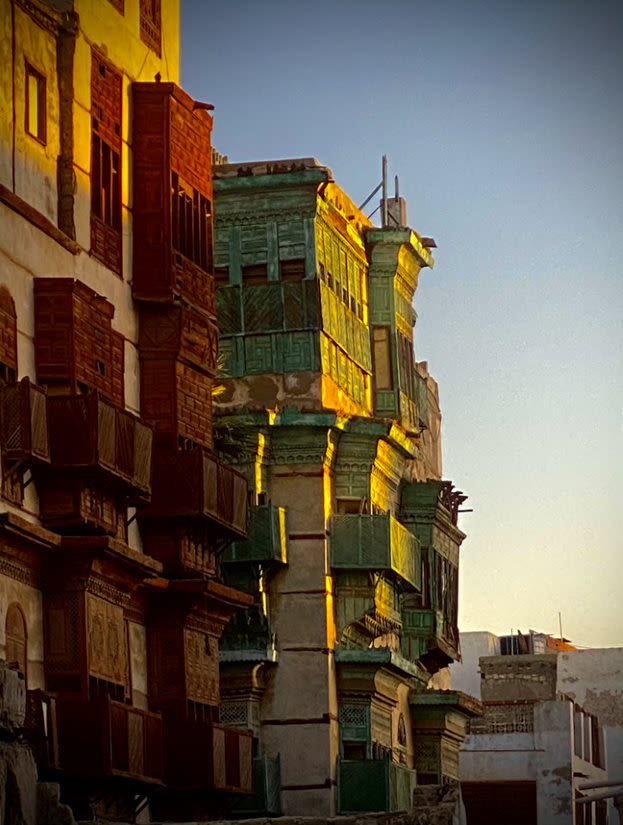 "Pictured here are Al-Rowashin, uniquely carved wooden windows that are endemic to Jeddah, Saudi Arabia, my hometown. The city sits on the coast of the Red Sea, where the temperature is stifling, but the breeze sweeps through and cools down the long days. These windows are both beautiful and practical. They are meant to allow the light and breeze through the homes, yet the small holes work as a barrier from sand and prying eyes. Homes are considered sacred in my culture and privacy is deeply respected. Many are familiar with these notions through the traditional clothes we wear. The windows hide those most private, family moments from the public.
In addition, their beauty is the perfect representation of what one finds within: heaven. I chose to share this picture as these show an alternative perspective of my culture. They represent love and beauty and the poetic life in which we live. The photograph shows the detailed windows as the sun sets. I've named it Grandma's curtain as Jeddah means grandmother in Arabic, as legend says that the city is the burial place of Eve."
Emily Buckley Bunn
The Hidden Essence of Being (2022)
Film artwork
"My artwork explores the hidden inner world of the individual; the world in which thoughts are born and the outside world is made sense of. As a Philosophy student, I am interested in how, despite being at our very core, consciousness remains something truly mystical, to the extent that there are aspects of ourselves which even we are not aware of. Hidden images thrown up in the subconscious through dreams, memories hidden away in the dark corners of our minds which resurface years later and come as a surprise.
This piece aims to capture the hidden and mystical nature of consciousness, the self and being. I am interested in the interplay between sound and images. I think music has a powerful way of resonating with the inner self and can bring out hidden feelings. I began the piece by creating the music and then made the visuals based on the images and sensations that my mind produced when listening to it. I was inspired by dreams and the surreal in creating this piece, hoping to make something strange yet universally resonant with our hidden inner worlds."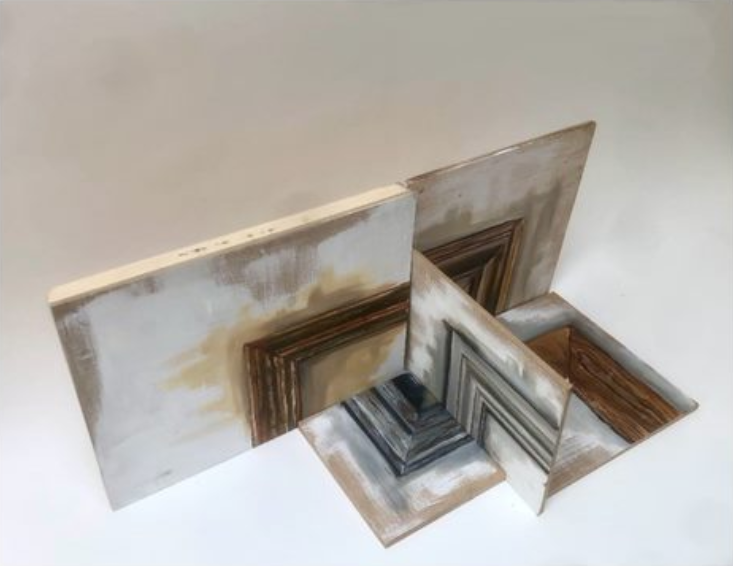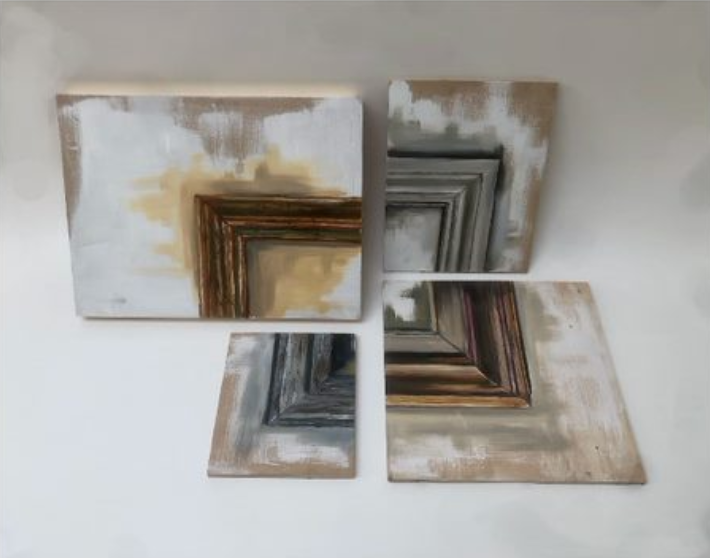 Jasmine Byk Richard Roberts Prize
Don't Cut Corners (2022)
Oil on wooden boards
"Art typically surrounds the wonderful, the fantastical, the elements of life that jump out and scream to be interpreted, the big questions we face. But art can also be about the small things, the mundane things, the overlooked elements of life that, though practical, might not be considered worthy of artistic representation. Through this piece, focusing on the somewhat forgotten yet crucial element of the frame and the "corner"in general,I have aimed to highlight these humble details, extracting the extraordinary from the most ordinary and hidden of places, creating art from something only usually used to display it."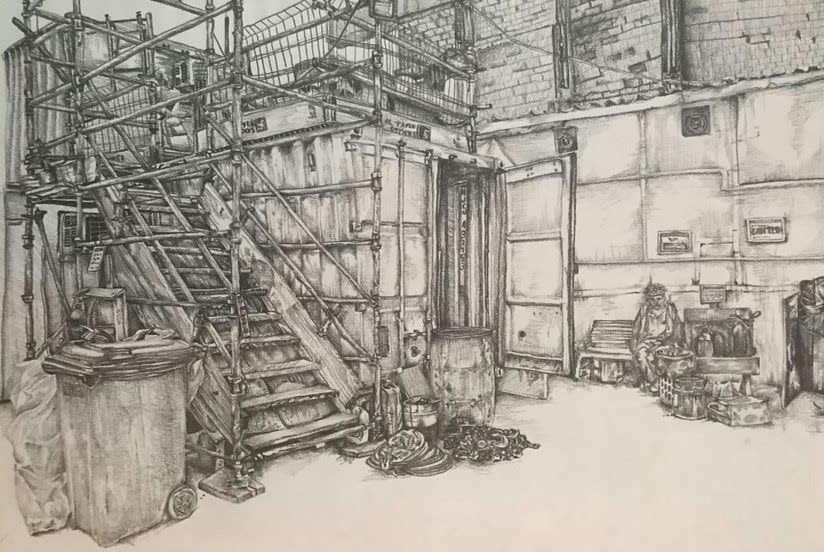 Charlotte Hide, Skeletons within Perfection (2021), Graphite on Paper
Charlotte Hide, Skeletons within Perfection (2021), Graphite on Paper
Charlotte Hide Art 2nd Place Prize
Skeletons within Perfection (2021)
Graphite on Paper
"This artwork depicts the construction in progress of a school in the UAE, where buildings are often only recognised for their perfect final appearance. I chose to include one of the labourers I often saw working on the site. As a group they aren't recognised as individuals and treated as a tool for modern urbanisation. The skeletal structure of metal poles and structures also represent the hidden fragility of the modern world, where the vulnerable skeletons of beautiful structures of a modernised city such as Dubai are forgotten, hidden within perfection. Despite the flawless perception of its new modernised world, Dubai is nicknamed the 'City of Cranes', hiding each individual worker and labourer in plain site as part of ant-colony mass by reducing them to the symbolic structure of a looming crane. The monotonously consistent grey medium demonstrates how even with just one worker in the image he is reduced to object machinery amongst the rubble and scaffolding. The labourers are hidden within the construction before the construction is hidden within the perfection of modernity."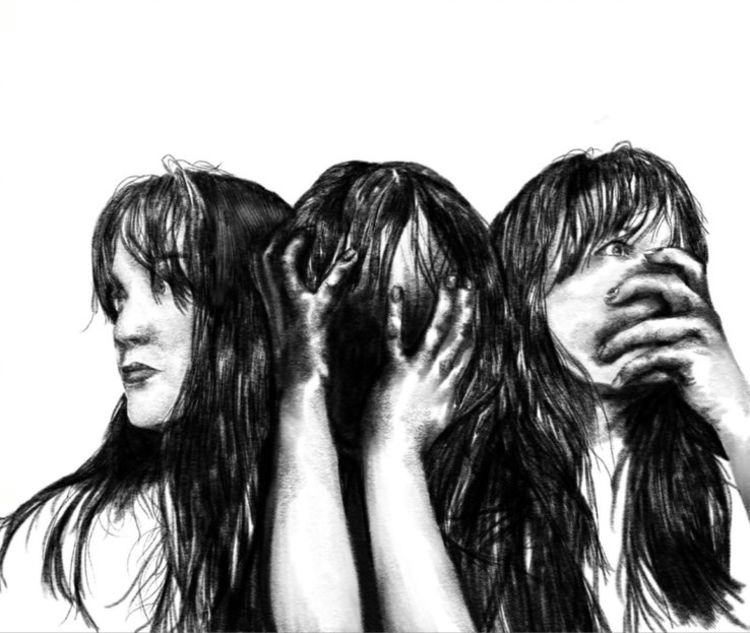 Hannah Jacinta Ferguson, Masking (2022), Digital drawing
Hannah Jacinta Ferguson, Masking (2022), Digital drawing
Charlotte Hide, Skeletons within Perfection (2021), Graphite on Paper
Charlotte Hide, Skeletons within Perfection (2021), Graphite on Paper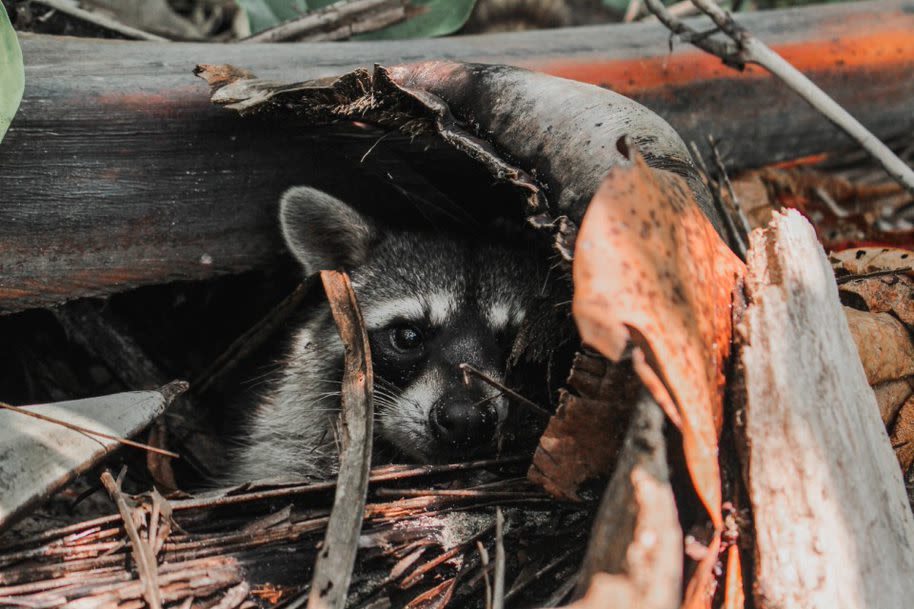 Théo Rousseau, Hide-and-seek in the Jungle (2018), Digital Photograph
Théo Rousseau, Hide-and-seek in the Jungle (2018), Digital Photograph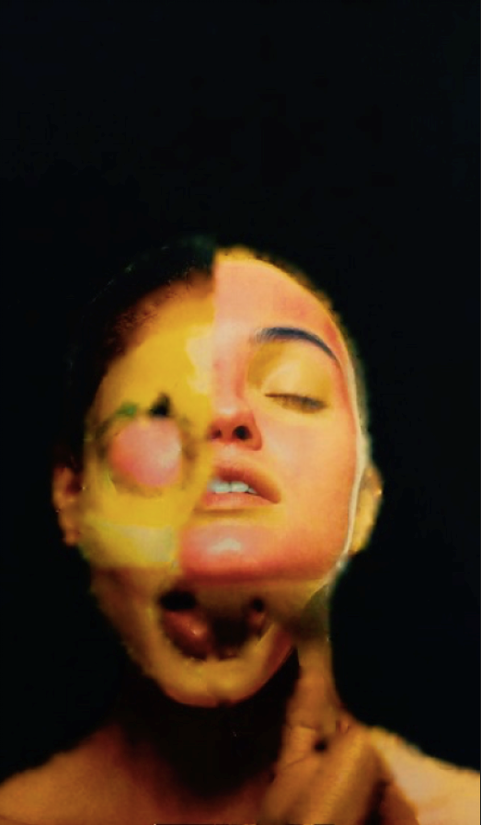 Alexandra Baker, Hidden Truth (2021), Digital Photograph edit
Alexandra Baker, Hidden Truth (2021), Digital Photograph edit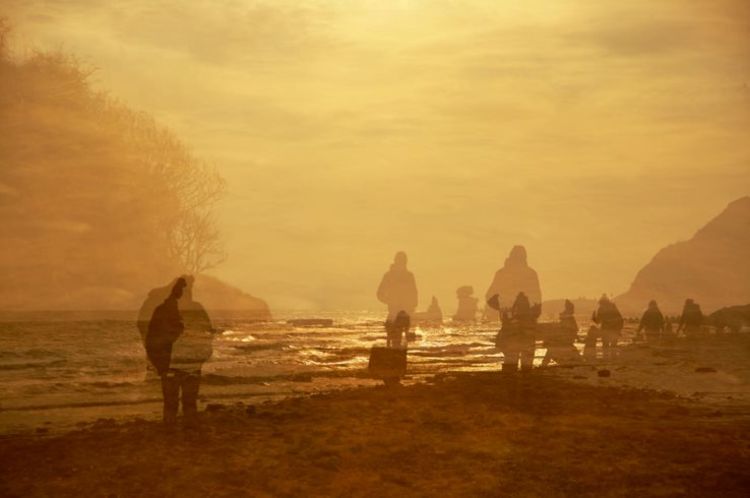 James Bailey, In Antiquity (2019), Digital Photograph
James Bailey, In Antiquity (2019), Digital Photograph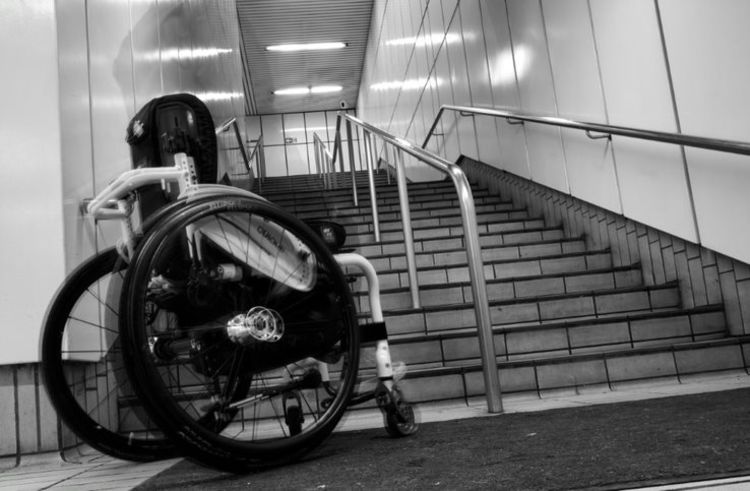 Luke Armitage, Out of Step (2022), Digital Photograph
Luke Armitage, Out of Step (2022), Digital Photograph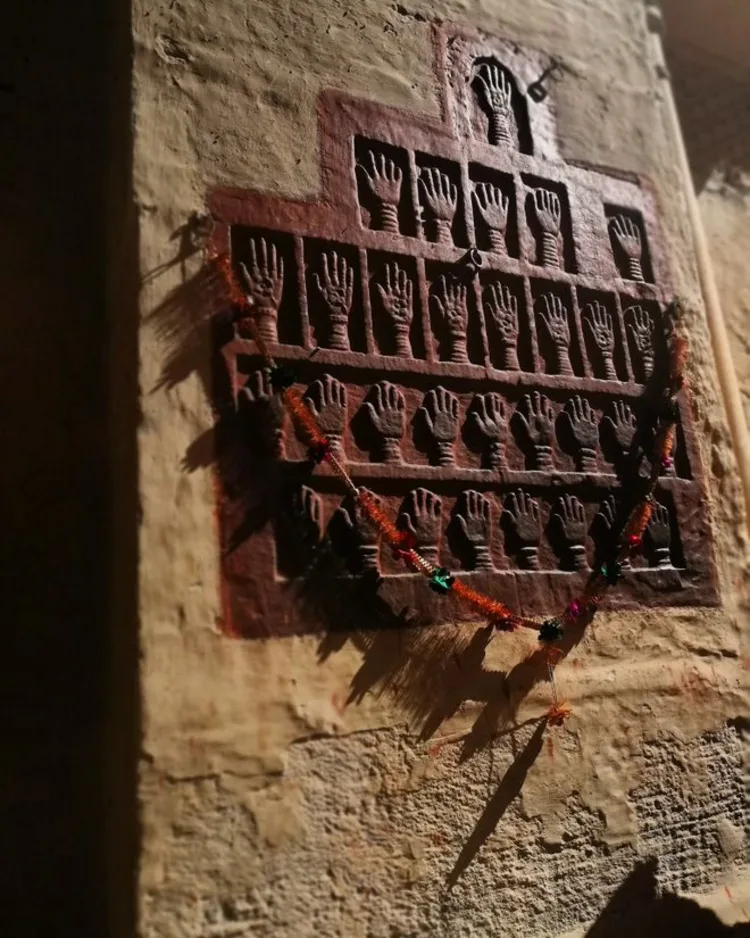 Ananya Nair, Hands of Delicate Death (2018), Digital Photograph
Ananya Nair, Hands of Delicate Death (2018), Digital Photograph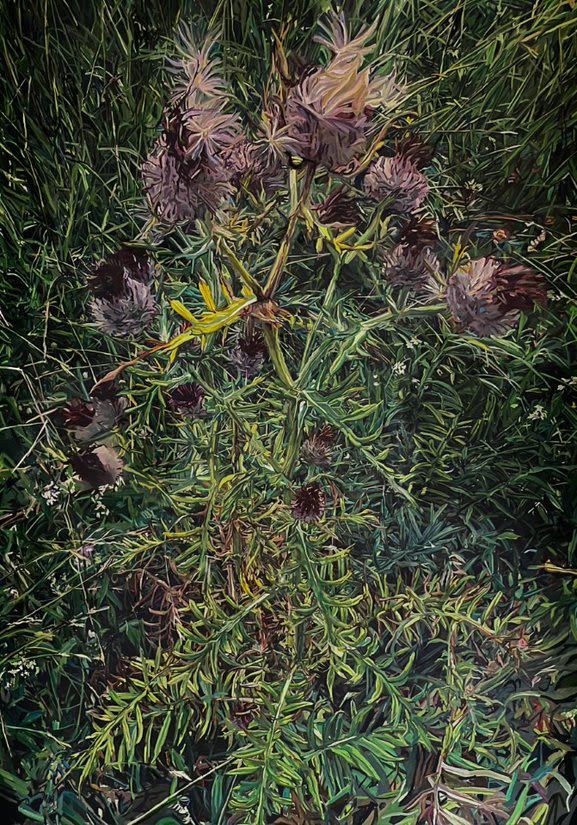 Aelfred Hillman, Beneath the Thistle's head (2022), Oil on Board
Aelfred Hillman, Beneath the Thistle's head (2022), Oil on Board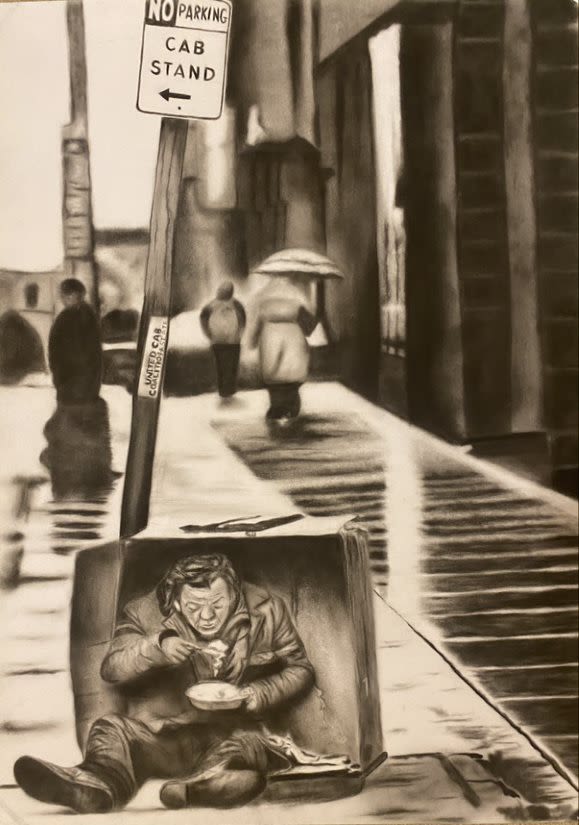 Amir Ghasemi Out of sight, out of mind: The hidden homelessness (2022) Charcoal drawing on Fabriano paper
Amir Ghasemi Out of sight, out of mind: The hidden homelessness (2022) Charcoal drawing on Fabriano paper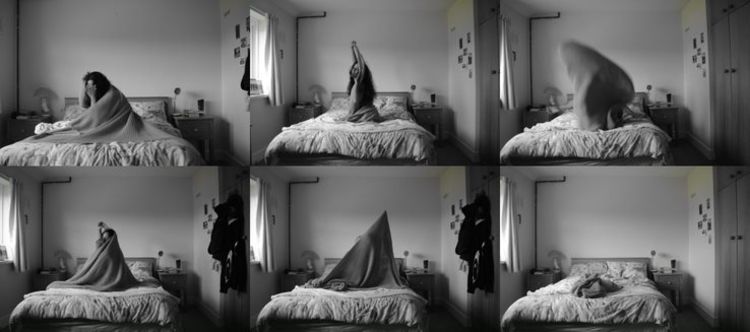 Anna Jacob, A Fragile Mind (2022), Digital Photograph
Anna Jacob, A Fragile Mind (2022), Digital Photograph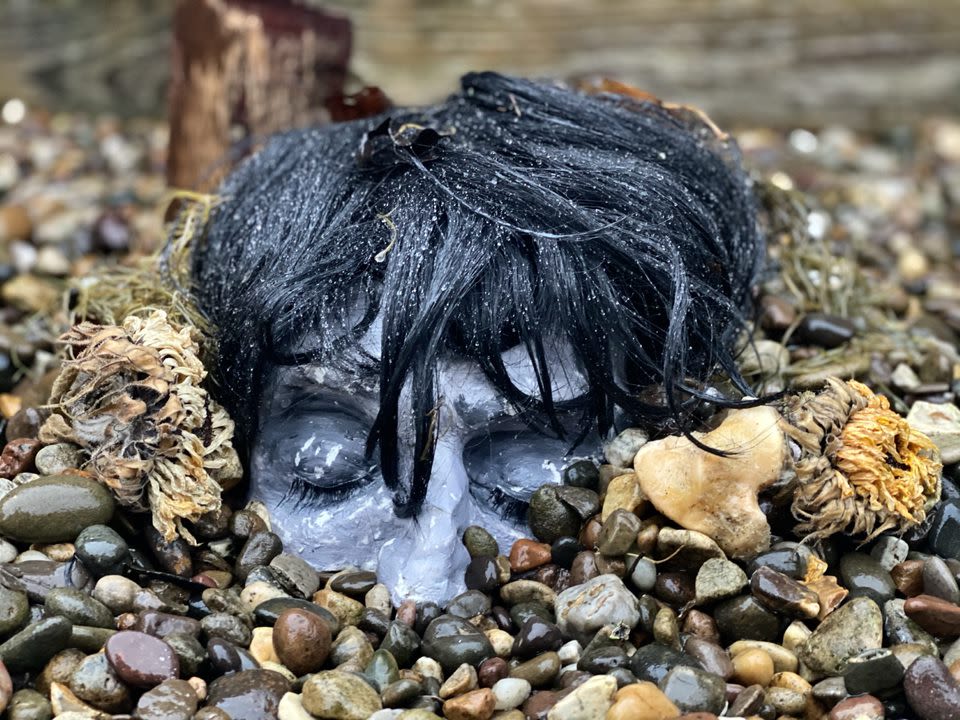 Adeline Ruidong Zhao, Grafton (2022), Modelling Clay, polyurethane, natural objects
Adeline Ruidong Zhao, Grafton (2022), Modelling Clay, polyurethane, natural objects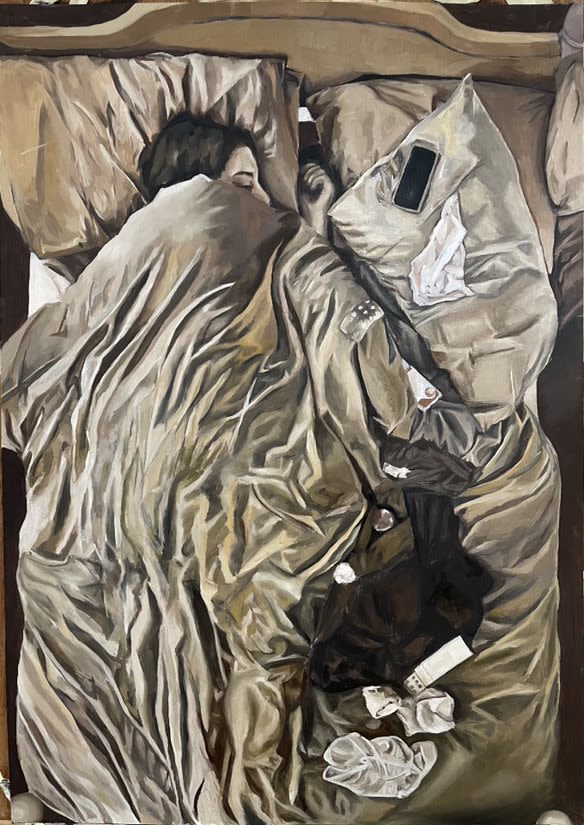 Becky Morgan, Self- portrait of the third face (2022), Oil on card
Becky Morgan, Self- portrait of the third face (2022), Oil on card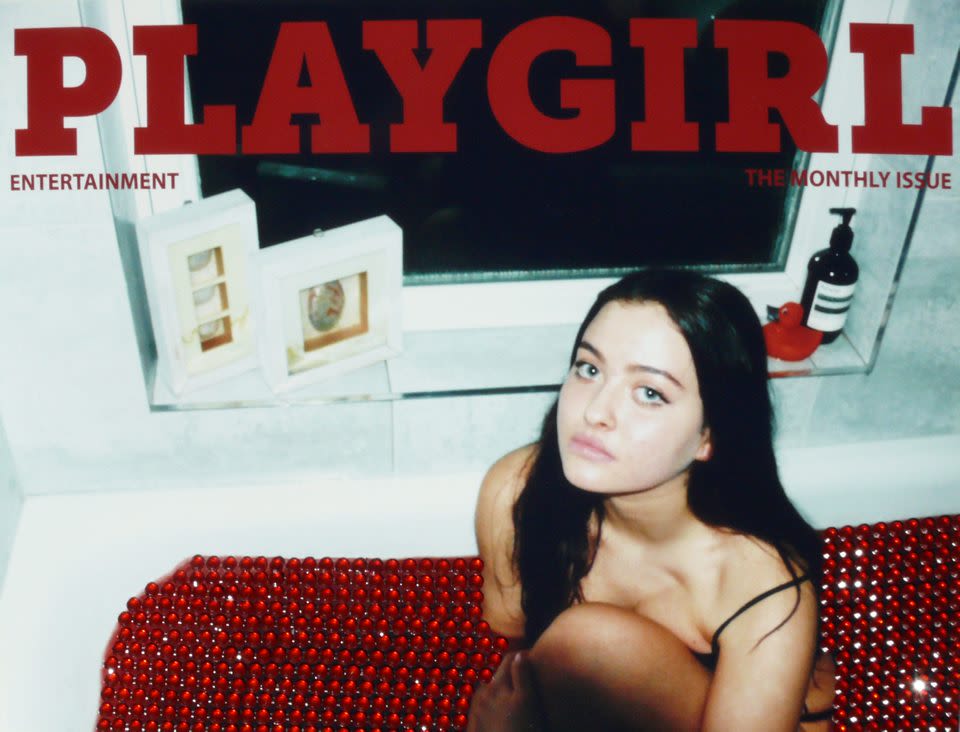 Ayse Cana Tutuncu, The Monthly Issue (2022), Digital Photograph
Ayse Cana Tutuncu, The Monthly Issue (2022), Digital Photograph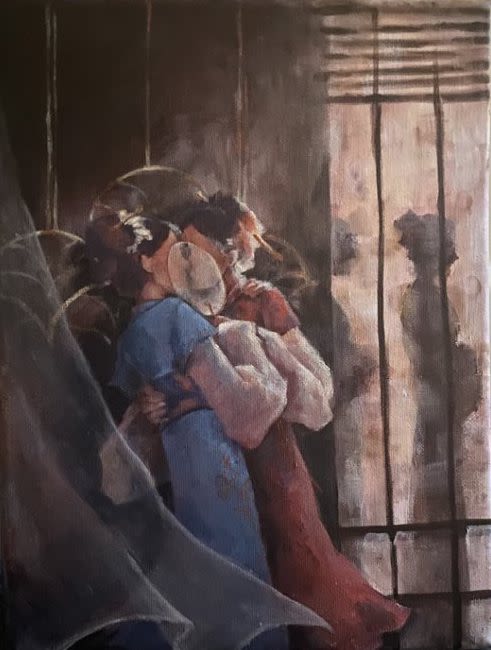 Carrie Cheung, Even in another time (2022), Acrylic paint on canvas
Carrie Cheung, Even in another time (2022), Acrylic paint on canvas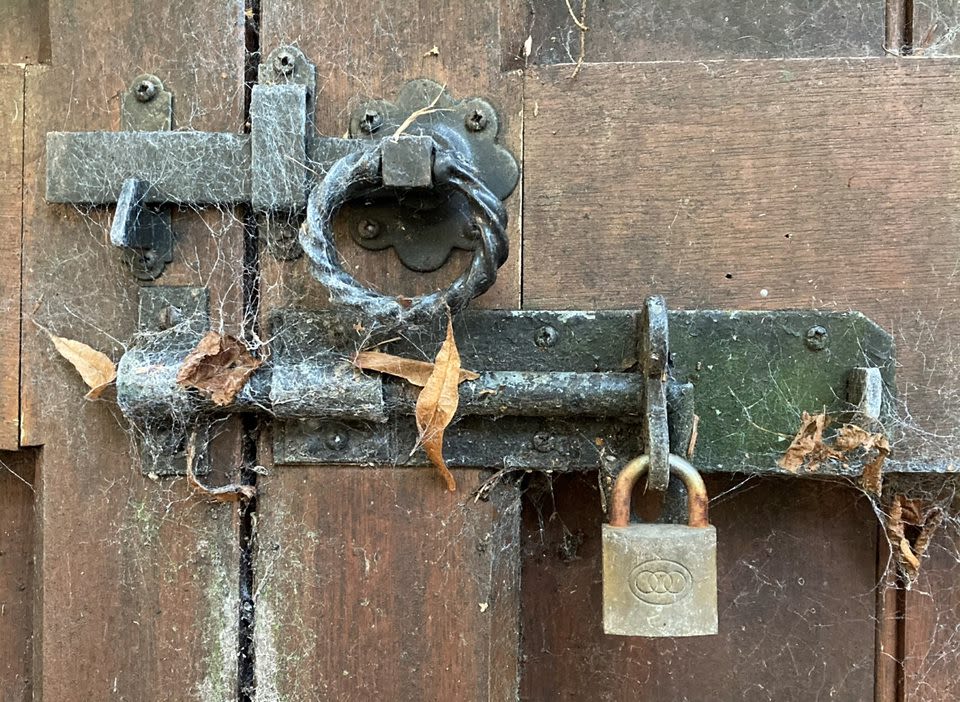 Ellen Wall-Row Locked in/out (2022) Digital Photograph
Ellen Wall-Row Locked in/out (2022) Digital Photograph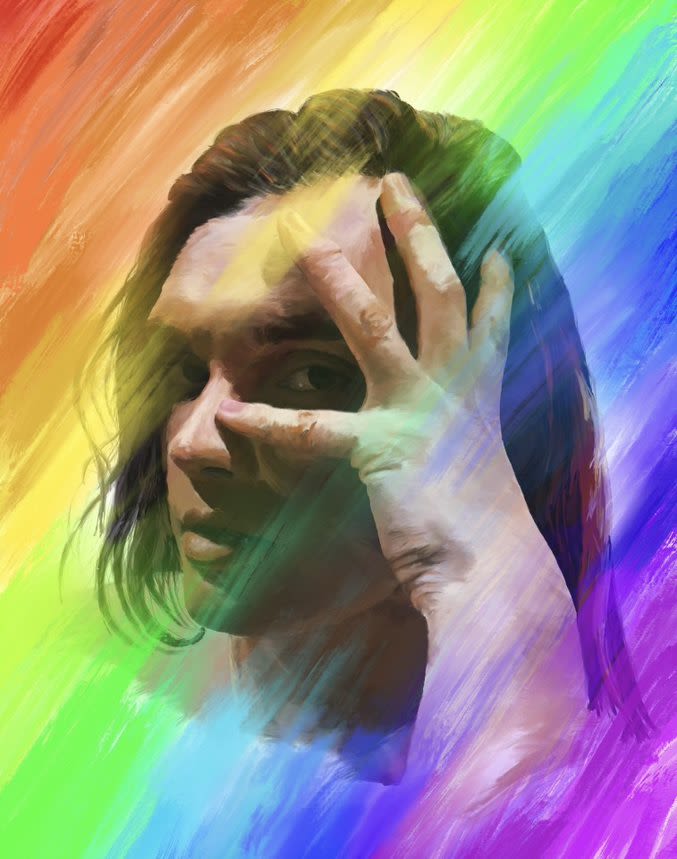 Elizabeth Scales, Inside the Rainbow (2022), Digital artwork
Elizabeth Scales, Inside the Rainbow (2022), Digital artwork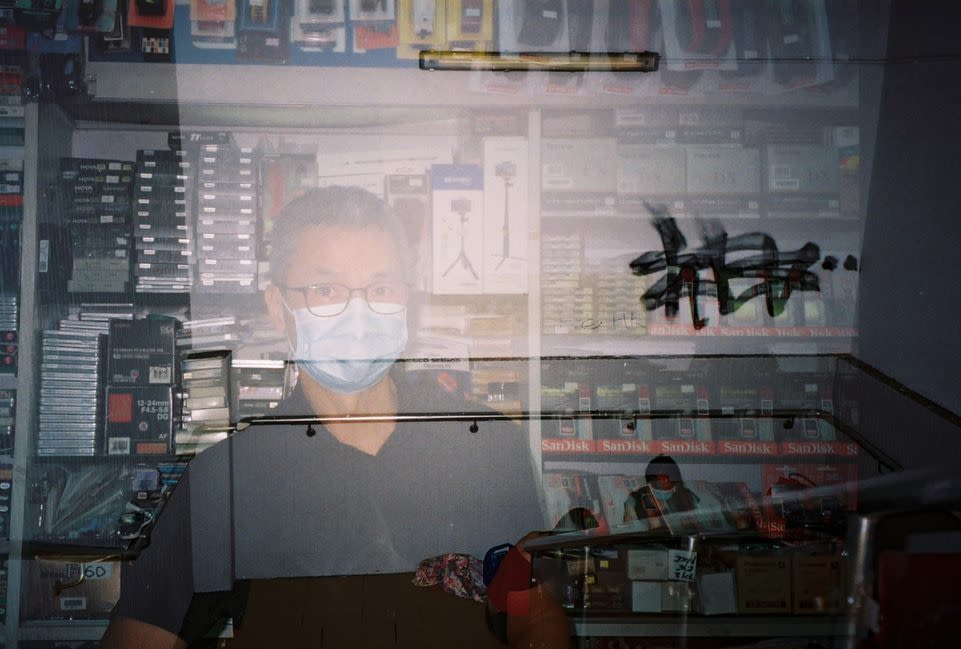 Lucy Skrine, The Man at the Camera Shop (2020), Digital photograph
Lucy Skrine, The Man at the Camera Shop (2020), Digital photograph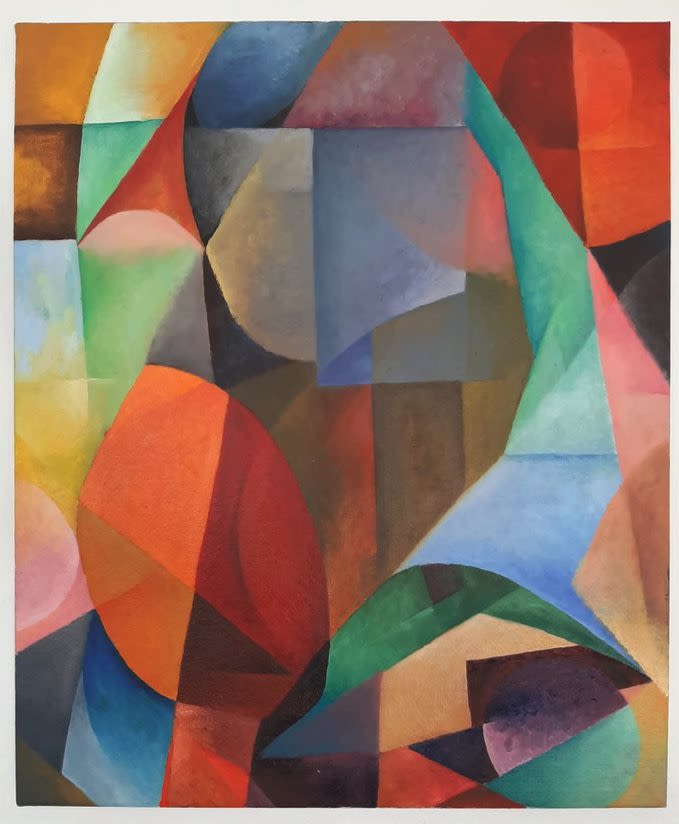 Ludo de Falbe, Heddon (2022), Oil on canvas
Ludo de Falbe, Heddon (2022), Oil on canvas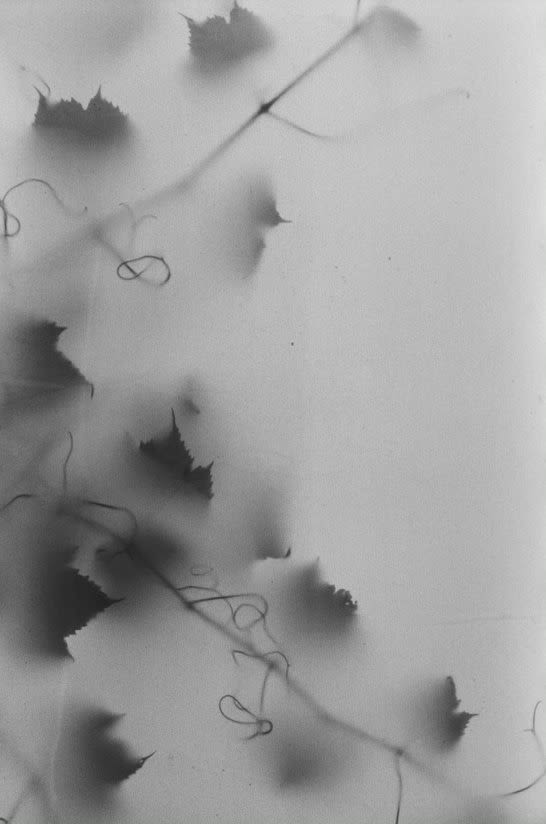 Martin Endersby, Marquee (2021), Film Photograph
Martin Endersby, Marquee (2021), Film Photograph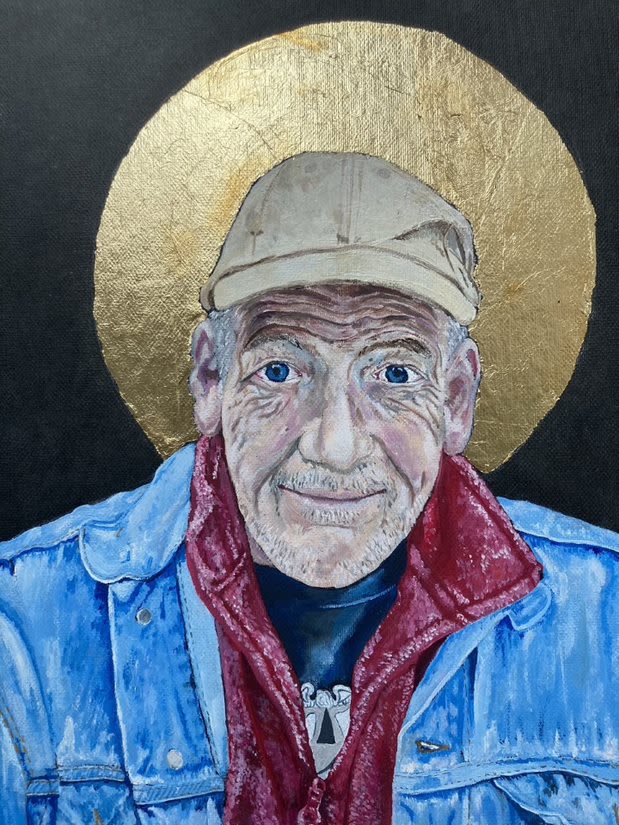 Molly Parker, Everyday Saints (2022), Oil and gold leaf on the cover of a hardback book
Molly Parker, Everyday Saints (2022), Oil and gold leaf on the cover of a hardback book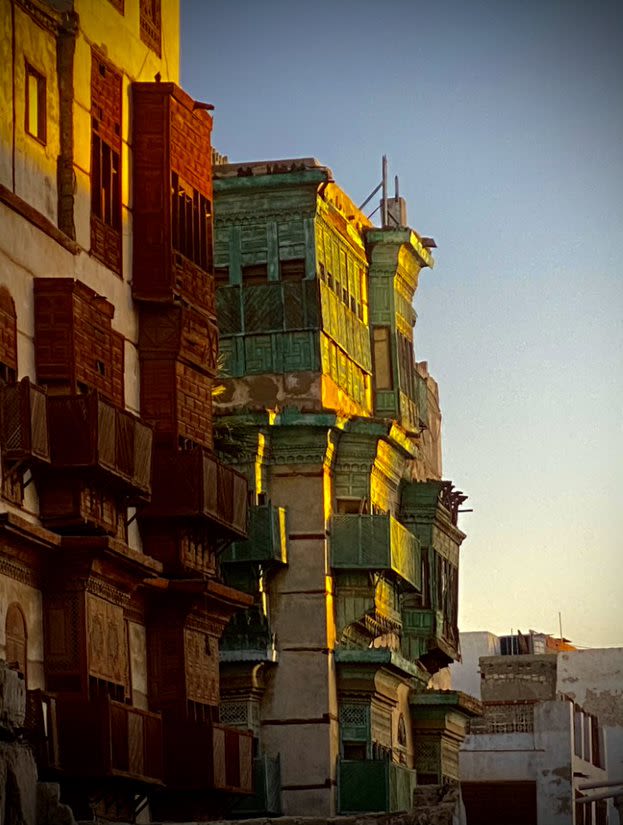 Noor Muhmoud, ستائر جدة (satayir jida) Grandma's Curtains (2022), Digital Photograph
Noor Muhmoud, ستائر جدة (satayir jida) Grandma's Curtains (2022), Digital Photograph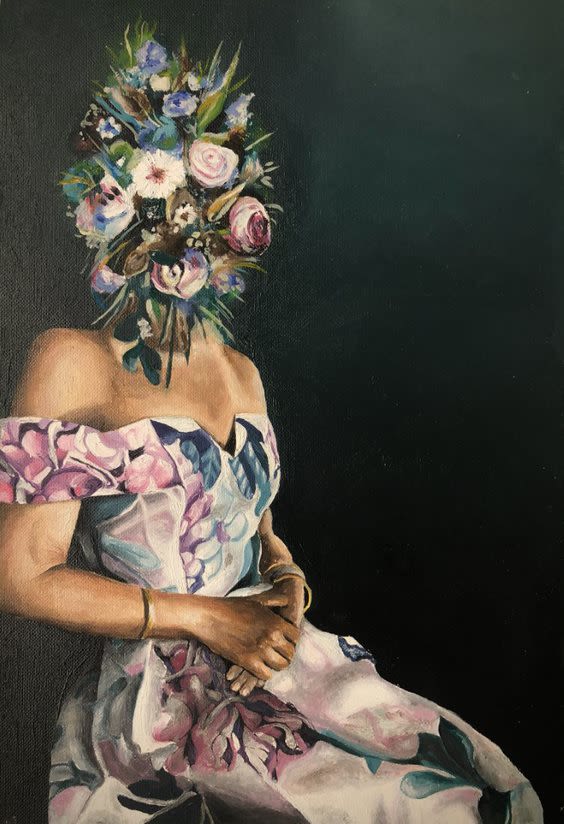 Shania Phillips, Un Visage de Fleurs (2022), Oil on Paper
Shania Phillips, Un Visage de Fleurs (2022), Oil on Paper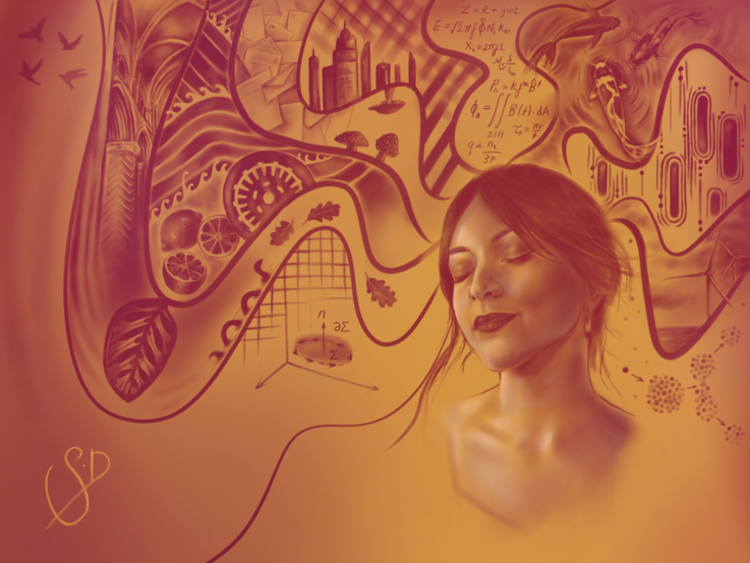 Sophie Draper, My Mind Is I (2022), Digital artwork
Sophie Draper, My Mind Is I (2022), Digital artwork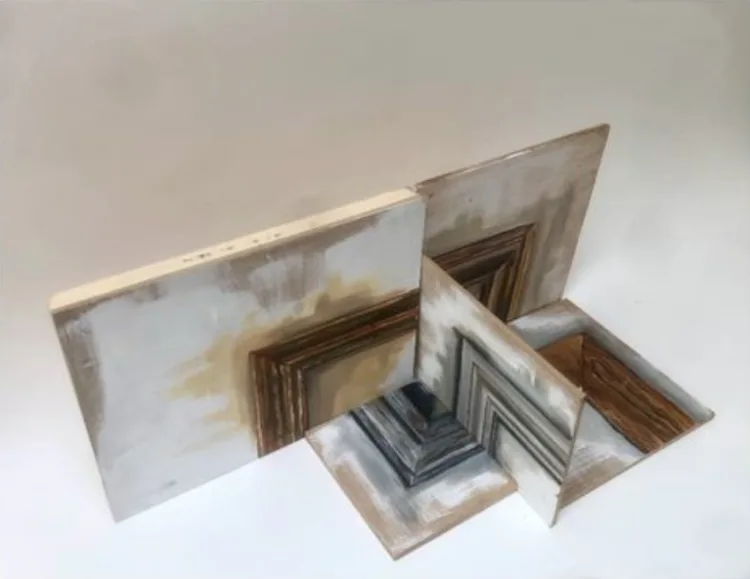 Jasmine Byk, Don't Cut Corners (2022), Oil on wooden boards
Jasmine Byk, Don't Cut Corners (2022), Oil on wooden boards